How to double your phone's battery life
These smartphone cases pack a backup supply of juice, ready to recharge your device when you need it. Here's how they compare in price and performance.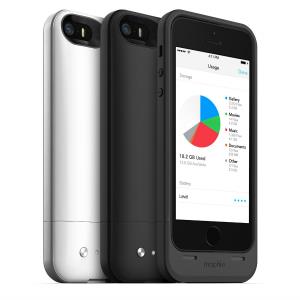 By Joanna Stern, The Wall Street Journal
Battery-life panic disorder. You won't find it in any medical textbook, but I assure you, when a smartphone's battery indicator turns red, the corresponding feeling of complete powerlessness is real.

I used to suffer quite badly from it, sitting on dirty floors as my phone charged at whatever power plug that happened to be available. But I've since found relief: iPhone and Android phone cases that can double your battery life.
Often called a "Mophie," because of one of the first companies to release them, the case connects to your phone via the power port. When the battery is low, you turn it on and before you know it, you're back in the green. It'll usually double the thickness of your phone, but if these cases were a prescription drug, that would be considered a minor side effect.
Mophie is no longer alone. In fact, the competition is outrunning it, and that's good news. I tested 11 cases and discovered you can put more power in your pocket while spending less with cases made by others.
Mophie's new iPhone model, called the Space Pack, does something no other case can, though. The $150 cover not only has a battery baked in but also 32 gigabytes of extra storage. You have to use Mophie's app to shift photos and other files to the outboard drive, but it's helpful, especially for unloading photos. As a result, the Space Pack's battery is smaller than the ones in any other case I tested.
The other standout iPhone cases included the Mophie Juice Pack, the powerhouse Lenmar Meridian and the stylish Boostcase. I also threw in a bargain-basement case, which can be spotted in multiple listings on Amazon.com (AMZN), sometimes under the brand PowerBot or Power Bank. It cost me $15.
And although my core tests were done using identical new AT&T (T) iPhone 5S models, I also tested some cases for the most popular Android phone, the Samsung (SSNLF) Galaxy S4.
The two Mophies did the poorest in my tests -- neither could fully charge a dead iPhone and that's the baseline expectation of a battery pack. The $90 Lenmar passed that test. Though it's about the same size as the $120 Mophie Juice Pack, it has a bigger battery. It charged the iPhone to 100 percent and had a little juice to spare, though not much.
The Mophie cases were the fastest to charge, however. The company says the faster output can make the cases slightly less efficient and recommends users constantly charge the phone throughout the day, rather than all at once when it's dead or nearly dead.
The $100 Boostcase seems to be the only stylish option for saddling up a phone with a big battery. Available in a palette of fashionable colors, including "mint" and "wine red," when you are done charging, you can swap out the battery attachment for a little wallet. It got a dead phone up to nearly -- but not quite -- a full charge in under two hours.
The real Cinderella story came with the generic case from Amazon. Not only is it thinner than many pricier competitors, but it charged a dead phone up to 100 percent. The only downside was that charging took twice as long.
There is some concern over no-name battery cases such as this one, however. It is unclear who makes the generic case, as it is sold by many vendors in prices ranging from $9 to over $50. And I couldn't confirm if it has gone through proper third-party testing.
The cases from Lenmar and Mophie are certified by the Underwriters Laboratory, a safety certification organization, and have reliable one-year warranties.
John Drengenberg, consumer safety director for UL, cautions there are fire and explosion hazards with the lithium batteries in mobile products. That's why it's important to confirm that products like this come from a reputable manufacturer and are independently tested, Mr. Drengenberg says.
With that warning, I can also tell you I know two people who have used these generic battery cases for months with no problems.
On the Android side, Mophie also lagged behind. The $90 Incipio offGRID was able to push the Galaxy S4 past the 85 percent mark, as opposed to the Mophie's 68 percent. The bulky $60 Lenmar Halo S4 has the biggest battery. But rather than charge the original battery, it extends the phone's overall battery life. In my tests, battery life was doubled.
The surprise finding is that price has very little to do with performance. When it comes to value, performance and safety, Lenmar is my top choice for the Apple (AAPL) iPhone and the Galaxy S4.
With a chunky case and the right attitude, we can fight battery life panic disorder -- or at least fend it off until smartphone makers figure out a real cure.
More from The Wall Street Journal
ABOUT TECHBIZ
Start investing in technology companies with help from financial writers and experts who know the industry best. Learn what to look for in a technology company to make the right investment decisions.