Ignore 'small victories' -- HP is a value trap
There are underlying issues that need fixing before the company can be taken seriously as a turnaround story. Management is not capitalizing on the underlying value.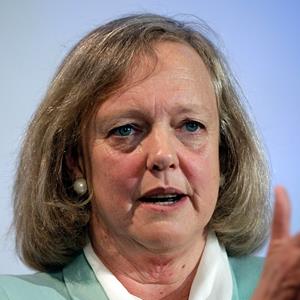 By Richard Saintvilus, TheStreet
When it comes to highlighting the problems facing Hewlett-Packard(HPQ), there's no shortage of experts. As beaten down as the company looks, it's hard for me to ignore how attractive the stock still looks. 

Yet I have no faith that the current management team can harvest Hewlett-Packard's underlying value. The company's shareholders will likely disagree.

There are two schools of thought as to what Hewlett-Packard has been able to accomplish as it scrambles for a successful turn-around strategy. It's foolish to give too much weight to what the stock has done this year without expanding the full view of where it's come from.
The 58% surge in the stock in 2013 is impressive. But I dispute the idea that somehow this affirms Meg Whitman's candidacy for CEO of the Year.
What I mean by this is, over the trailing 16 months, the stock has traded flat. So while the stock has rebounded nicely from November's low of $11.35, the third-quarter's 8% year-over-year decline in revenue suggests HP's recovery potential is still as rocky as ever. In fact, I believe the company has taken a slight step backward.
Looking for leadership 
Given HP's dire circumstances and what has been a perpetual restructuring operation, not much was expected going into the third quarter. But the company was also coming off two previous earnings reports where it not only beat expectations but raised guidance. Essentially, by virtue of some "small victories," the company had raised its own bar. So I won't apologize for having expected better results than those that came in merely in line with estimates.
Given the year-to-date surge of the stock, I have to say the performance of every business segment, in my opinion, was a disappointment. This includes the 11% decline in PC revenue, which was not a surprise. But the 4% and 9% declines in printing and services, respectively, were much worse than I projected.
To add a bit of context to my disappointment, I need to point out that it's not so much that HP's numbers were that egregiously bad. But it's the fact that Dell (DELL), which has been left for dead, has essentially outperformed HP in every meaningful category. In fact, and much to the dismay of Michael Dell, Dell actually beat revenue expectations in the recent quarter -- a performance led by an 8% surge in enterprise services.
By contrast, HP's enterprise business disappointed, dropping 9% year over year. To make matters worse, HP's 16% decline in operating margin and flat gross margin makes it tough to offer any sort of endorsement for the progress of Whitman's restructuring efforts. I appreciate that HP's growth efforts are not going to happen overnight.
But I can look at a company like, Lenovo (LNVGY), which has just as much exposure in the PC market, and see how Lenovo has been able to transition into the mobile market with virtual ease. Lenovo, meanwhile, gets nary the media attention even though the company continues to execute flawlessly.
Not willing to get trapped 
In the case of HP, I'm willing to credit the company for some cost-related improvements. But to the extent the company is any better off today than it were a year ago, I don't believe that to be true.

There are still plenty of underlying issues that needs fixing before this company can be taken seriously as a turnaround candidate.
This, then, brings us back to the issue of valuation, which also makes me question whether management's growth strategies will ever work. At around $22 per share, I believe there's still at least $3 to be had in this stock, even if HP manages no growth at all for the next 12 months.

But with so many other options out there, what's the point in tying your investments to such a low ceiling, especially when margins are seemingly going nowhere, if not down? I want to like this story. But I'm not willing to get trapped.
More from TheStreet.com
DATA PROVIDERS
Copyright © 2014 Microsoft. All rights reserved.
Fundamental company data and historical chart data provided by Morningstar Inc. Real-time index quotes and delayed quotes supplied by Morningstar Inc. Quotes delayed by up to 15 minutes, except where indicated otherwise. Fund summary, fund performance and dividend data provided by Morningstar Inc. Analyst recommendations provided by Zacks Investment Research. StockScouter data provided by Verus Analytics. IPO data provided by Hoover's Inc. Index membership data provided by Morningstar Inc.
ABOUT TECHBIZ
Start investing in technology companies with help from financial writers and experts who know the industry best. Learn what to look for in a technology company to make the right investment decisions.