Intel hits the reset button
Intel hopes sales of processors for servers, tablets and smartphones will compensate for sliding PC sales. But a downward revision in sales projections is an admission that its chips haven't made it into many mobile devices.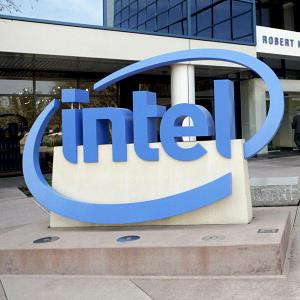 By Chris Ciaccia, TheStreet

For Intel (INTC), the second half of 2013 is all about resetting market expectations. No matter what that does to the company's share price.
Intel's second-quarter earnings report, released July 17, was largely in line with analysts' expectations. The world's largest maker of chip sets and microprocessors for personal computers and servers reported earnings of 39 cents a share on $12.81 billion in revenue. Gross margins came in at 58%, up 2% sequentially, but down 5% year over year. 
New CEO Brian Krzanich sought to reset market expectations for the current quarter, acknowledging the effect of the slowdown in PC sales. Still, Kraznich said, Intel expects its own sales to rise modestly in the third quarter. Intel named Krzanich, formerly the chief operating officer, to the CEO post in May. He replaced Paul Otellini.
Looking beyond PCs
Deutsche Bank analyst Ross Seymore notes that Intel's new leadership team is showing spending restraint, something Wall Street may like down the line. The company has pared back its capital-spending plans by roughly $1 billion to $11 billion.
"While this (revenue) guide is mildly disappointing, we believe (Intel) has now set the bar realistically and, importantly, shown continued signs of cost control by trimming capex/opex," Seymore wrote in his note. "Consequently, we believe the transition into faster growing markets (ultra-mobile, foundry etc.) will require patience, but expect the shares to slowly rise as signs of success emerge." He has a "buy" rating on the stocks and a $26 price target.
Intel is betting that it can offset the decline in PC sales with sales of its processors for servers, tablets and smartphones. The downward revision of the company's outlook is an admission that its chips haven't made it into many mobile devices.
"I've made it Intel's highest priority to create the best products for the fast growing ultra-mobile market segment," Krzanich said in a statement.
Krzanich and CFO Stacy Smith made it a point in both the earnings release and on the conference call to talk about how Intel is adapting to new markets, particularly mobile and the foundry business. Krzanich said the foundry business, where Intel builds chips for other companies, is "moving from crawl space to walk space."
For shareholders, this transition requires patience, with a 12 to 18-month lag between when a customer is signed and revenue flowing from the foundry.

Focus on the Atom processor
The mobile business is another story. Intel is working hard to get its Atom chip sets into tablets, and smartphones, segments that have traditionally been dominated by ARM Holdings (ARMH)-designed chip sets. 
Smith said that Intel's working hard to get Atom in the $500 and below market, an area that has plagued the company in the past. Intel even mentioned getting into tablets in the $150 and below price point range. The firm's chipsets have traditionally been more expensive than ones based on ARM's intellectual property, like those from Qualcomm (QCOM), Broadcom (BRCM) and others, so this is a marked change.
Intel's aggression around the mobile business, however, could cannibalize revenue in its PC Client Group, which is still the company's largest segment. Citi analyst Glen Yeung, who rates Intel "neutral" with a $24 price target, believes Intel's mix in the second half of 2013 is worthy of attention, depending on how it positions Atom in low-end PC's and tablets.
Though Intel revised full-year revenue guidance lower, expecting revenue growth to be "approximately flat year-on-year, down from prior expectations of low single digit percentage increase," the company was unusually bullish on the second-half of 2013 from a macro perspective. Intel expects to see 15% growth in its data center business, with half of that growth coming from macro improvement. It doesn't seem like the world's economies are going to get that much stronger in the next six months, so Intel's bullishness may be a little overly optimistic.
"We believe the 2H guide could be aggressive, given lower PC supply chain expectations and more challenges with pricing and new tablet form-factors," wrote Sterne Agee analyst Vijay Rakesh who lowered his estimates following the report. He cut his third-quarter estimates to 50 cents a share and full year to $1.83 a share, down from $1.88 per share in earnings.
Intel tried its best to rest market expectations for the full year, hinting on the call that the guidance could be conservative. With shares down sharply following the reset, it's up to Krzanich and his team to deliver on the new areas of growth, notably foundry and mobile.
Otherwise, Intel may not be "inside" as many portfolios as it once was.
More from TheStreet
·         Benanke talks recovery as Congress plays politics
·         Cramer: AT&T leaps for more spectrum
DATA PROVIDERS
Copyright © 2014 Microsoft. All rights reserved.
Fundamental company data and historical chart data provided by Morningstar Inc. Real-time index quotes and delayed quotes supplied by Morningstar Inc. Quotes delayed by up to 15 minutes, except where indicated otherwise. Fund summary, fund performance and dividend data provided by Morningstar Inc. Analyst recommendations provided by Zacks Investment Research. StockScouter data provided by Verus Analytics. IPO data provided by Hoover's Inc. Index membership data provided by Morningstar Inc.
ABOUT TECHBIZ
Start investing in technology companies with help from financial writers and experts who know the industry best. Learn what to look for in a technology company to make the right investment decisions.