Investment lessons in Google's KitKat deal
Google's decision to name the upcoming version of its Android operating system after a candy bar owned by Nestle catches many observers by surprise.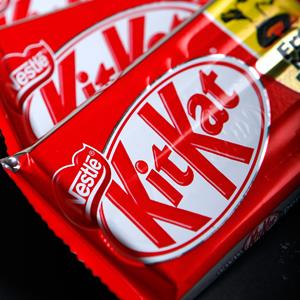 By Dana Blackenhorn, TheStreet
When Google (GOOG) announced this week it would re-name the next version of its Android software KitKat, after a candy bar, many media outlets got the story wrong.

TheStreet wasn't among them because we merely went with the press release.
I suspected such a thing would happen because I had spent the weekend in York, England, at the Chocolate Museum. The KitKat bar was invented in York, by a candy maker called Rowntree's that wanted something local miners could take down for lunch during the Great Depression.
Rowntree licensed the KitKat name for the United States to Hershey (HSY) in the 1970's, but when that company was sold, in 1988, it sold the rights to rival Nestle (NSRGY) (although calling Hershey and Nestle rivals is a bit like comparing York's own League Two Minstermen to Manchester United: The game's the same, it's just played on a different scale.)
Under terms of the Google agreement with Nestle, Hershey continues to produce the Android-themed candy in the United States and Nestle will continue to do so everywhere else. (Critics pounced on the tech company's decision to abandon a generic naming scheme for a trademark brand name, especially since the brand is owned by food company.)
You should also know that a Nestle KitKat can be quite different from a Hershey KitKat. Nestle once licensed KitKat to a Japanese company called Fujiya, which produced it in dozens of flavors,  from sweet red beans to wasab flavoredi. Nestle bought out Fujiya's KitKat share in 2000, but maintained the strange flavors; it also incorporates flavors like orange in Europe.
Big, and into lots of things
Nestle is a Microsoft (MSFT) among food companies in that it is enormous and into everything. It has a market cap of $207 billion and 339,000 employees, involved in making everything from Purina dog food to HotPockets hand-held snacks to Gerber baby food..
Nestle shares trade like Microsoft's, too, heavily but within a fairly narrow range. (Microsoft owns MSN Money.) Nestle had revenue of $101 billion last year, bringing $11.6 billion of that to the net income line, $3.62 per share, so its trailing price-to-earnings multiple is 17.88, well ahead of the software company.
Hershey is more comparable to Micron (MU), the memory-chip company, because it focuses on one key area, in this case sweets. Its market cap is $20.3 billion, it has 12,100 employees and it got out of its biggest diversification, the Friendly chain of ice cream parlors, a quarter-century ago.
Unlike Micron, however, Hershey has been a great investment over the long run. Since the market lows of late 2009, Hershey stock is up 153%.
Hershey revenue last year was $6.6 billion, of which it brought $661 million to the net income line, $2.89 per share. Investors are paying a premium P/E of 28.3 for those earnings, which is actually higher than Google's own 27. This might be due to Hershey's tasty dividend, 49 cents per share, giving a yield of 2.2%.
The nature of the KitKat deal does say something important, namely that we all look at investment through regional and industry blinders, which we shouldn't do.
Many investors also think of the food business as being a fairly staid, low-profit area, while in fact the profits can be fairly fat and the price paid for earnings higher than those of the biggest tech companies. Of all the companies mentioned in this article, the best investment over the last five years has been Hershey.
You can take a lesson from this. If you're a small investor, try a little more diversification, and don't assume that fast change means fat profits. Also, be wary of buying Japanese KitKats for your kids, unless they really like red beans and wasabi.
More from TheStreet.com

DATA PROVIDERS
Copyright © 2014 Microsoft. All rights reserved.
Fundamental company data and historical chart data provided by Morningstar Inc. Real-time index quotes and delayed quotes supplied by Morningstar Inc. Quotes delayed by up to 15 minutes, except where indicated otherwise. Fund summary, fund performance and dividend data provided by Morningstar Inc. Analyst recommendations provided by Zacks Investment Research. StockScouter data provided by Verus Analytics. IPO data provided by Hoover's Inc. Index membership data provided by Morningstar Inc.
ABOUT TECHBIZ
Start investing in technology companies with help from financial writers and experts who know the industry best. Learn what to look for in a technology company to make the right investment decisions.