Macy's testing in-store iPhone shopping
The retailer is testing new Apple-based technology which alerts customers to nearby bargains as they shop -- and possibly more.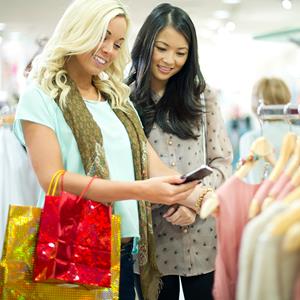 By Gary Krakow
NEW YORK (TheStreet) -- It won't be long before retailers will be able to send special sale information directly to your smartphone as you walk through the store. Macy's (M) is currently testing a Bluetooth-based system that alerts Apple (AAPL) iPhone and iPad users of nearby sale items as they stroll down the aisles.

The wireless notification system is called "shopBeacon" from a privately-owned firm named Shopkick. It's based on Apple's iBeacon -- a low-power, Bluetooth micro-location-sensi​tive technology which is standard in iOS 7 devices. Unlike other indoor location-sensing technologies, Apple's system doesn't rely on in-store GPS signals to track customer movements. 

The system is capable of greeting shoppers as they enter the store as well as offering discounts and recommendations as they shop. There is also an at-home component which allows customers to "like" an item in their home and then have their iPhones remind them when they approach the item when they're in the store shopping.

For retailers, shopBeacon consists of a small, battery-powered transmitters which mounts on a wall or any flat surface. Batteries are projected to last five years with constant use.

The pilot program is currently in a "closed Beta" mode while being tested in Macy's Herald Square and Union Square, San Francisco, flagship stores.

Major League Baseball is also on board with iBeacon technology. The NY Mets' Citi Field will be used as a test platform to determine different ways of improving the baseball fans' experience while attending a game. 

A number of industry experts think the same Apple technology could also be used to create a future mobile payment system including links to a user's iTunes account.
More from TheStreet.com
DATA PROVIDERS
Copyright © 2014 Microsoft. All rights reserved.
Fundamental company data and historical chart data provided by Morningstar Inc. Real-time index quotes and delayed quotes supplied by Morningstar Inc. Quotes delayed by up to 15 minutes, except where indicated otherwise. Fund summary, fund performance and dividend data provided by Morningstar Inc. Analyst recommendations provided by Zacks Investment Research. StockScouter data provided by Verus Analytics. IPO data provided by Hoover's Inc. Index membership data provided by Morningstar Inc.
ABOUT TECHBIZ
Start investing in technology companies with help from financial writers and experts who know the industry best. Learn what to look for in a technology company to make the right investment decisions.