Meet the 'Uber rich'
These early investors in the black-car startup -- now valued at about $17 billion -- own stakes worth up to 2,000 times their initial investments. Want to know what else they're backing?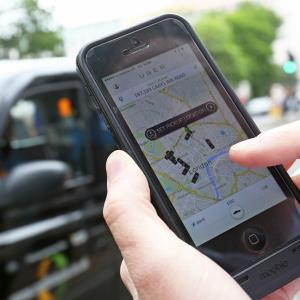 By Erin Briffith, Fortune
The valuation of Uber is poised to hit an eye-popping $17 billion in its latest round of funding. That makes the four-year-old black-car startup one of the most valuable private technology companies in the world.

As a result, the startup's early investors, whose shares are now worth as much as 2,000 times their initial investment, are looking pretty smart.
Similar to the way early bets on Facebook FB 0.75%  (FB) solidified the status of top-tier investors like Jim Breyer, Marc Andreessen, Peter Thiel, Reid Hoffman and David Sze, Uber is the game-changing home run for dozens of angel investors.
Set aside whether Uber's reported $17 billion valuation is too frothy. After all, this latest round of funding will be led by mutual funds, which have a different return profile than seed-stage investors.
As Fortune noted in February, Uber's first angel round of investment -- a $1.5 million deal led by First Round Capital -- came with a $4 million valuation. Investors in that round, assuming reasonable dilution, saw their investments grow to between 400 and 600 times in the later round that valued Uber at $3.5 billion. At $17 billion, they're worth around 2,000 times, according to people familiar with the deal.
That means even a tiny little $20,000 angel investment is now worth around $40 million. Even investors from the $3.5 billion round have now almost quintupled their money in less than a year.
There's one company that is conspicuously not on this list: Universal Music Group, which owned the domain name "Uber.com" prior to 2010. That year, Uber bought the domain from Universal using Uber stock, which Universal Media Group later sold back to the company for a small profit. According to a person familiar with the transaction, if Universal had held onto its stock, it would now be worth more than $100 million.
For some early investors, the bet on Uber means the opportunity to run their own fund: David Cohen, an early seed investor in Uber, is now raising $150 million for a fund called Bullet Time Ventures 2014. Founder Collective was also an early investor; the firm doubled the size of its last fund with its most recent one.
Early investor First Round Capital will have no problems raising a large new fund later this year. Shervin Peshivar, who led Menlo Ventures' Series B investment in the company, has branched out to raise his own fund under the name Sherpa Ventures.
For others, it simply means bragging rights, and a massive potential payoff. Notably, a number of Uber's investors are connected by common portfolio companies: Path, Yammer, StyleSeat, Zappos, Eventbrite and Warby Parker show up several times. Oh, and Britney Spears.
Here are the angel investors that are, on paper at least, "Uber rich."

Mitch Kapor: Kapor, already a famous angel investor, founded Lotus Development Corporation and co-founded the Electronic Frontier Foundation. 



Chris Sacca

: Sacca invested in Uber through his fund, Lowercase Capital. He was also an early investor in

Twitter

(

TWTR

), Path and

Instagram

.

Naval Ravikant: Ravikant founded AngelList, the crowdfunding social network for angel investors. He's also an investor in Yammer, Twitter and Wanelo. 



Babak Nivi: Nivi co-founded AngelList with Ravikant. 



Alfred Lin:

Lin, an investor at Sequoia Capital, served as chairman, COO and CFO of Zappos before it sold to

Amazon.com

(

AMZN

). 

Cyan and Scott Banister: The married couple are active angel investors. Scott Banister is known for sitting on the board of PayPal. Together they've backed almost 100 companies, including Zappos. 



Shawn Fanning: Fanning was the co-founder of Napster. He's a co-founder of Path.



Jason Calacanis: Calacanis recently launched Inside.com, a news app. He's led several syndicates of angel deals on AngelList, and in addition to Uber, backed Chartbeat and Whisper.   



Mike Walsh: Walsh founded an enterprise software company called Leverage, which sold in 2011 to Telligent Systems. He's also invested in SurfAir and Salesforce. 



Oren Michels:

Michels co-founded Mashery, which sold to

Intel

(

INTC

) in 2013.

Josh Spear: Spear runs a digital consulting firm called Undercurrent. As an angel investor, he has backed Path, Percolate, Little Bits, Warby Parker, Behance, StumbleUpon, Quirky and Circa. He recently joined venture firm OATV as a special partner. 



Scott Belsky:

Belsky founded

Behance

, which sold to

Adobe

(

ADBE

) in 2012. He invested in a follow-on to Uber's seed round, and is now an advisor to Founder Collective (which also was an early investor in Uber). 

Matt Ocko: A managing partner at venture firm Data Collective, Ocko invested in Uber's 2011 Series B. He was also an early investor in Facebook. 



Zachary Bogue:

Bogue co-manages Data Collective with Ocko. He's also invested in AngelList and

Square

, and is married to

Yahoo

(

YHOO

) CEO Marissa Mayer. 

David Sacks:

Sacks founded Yammer, which sold to

Microsoft

(

MSFT

) for $1.8 billion. (Microsoft owns and publishes MSN Money.) He's also invested in

Palantir Technologies

,

SpaceX

and

Houzz

. 

Jeremy Stoppelman:

Stoppelman is the co-founder and CEO of

Yelp

(

YELP

). Other notable deals include Eventbrite, Palantir Technologies,

Pinterest

and

Airbnb

. 

Chris Hollod: Hollod manages A-Grade Investments, the startup investment vehicle of Ashton Kutcher, Guy Oseary and Ron Burkle. The fund has backed Foursquare, Soundcloud, Warby Parker and Fab.com.



Gary Vaynerchuk:

Gary V, as Vaynerchuk is known by his one million Twitter followers, runs a social media consulting agency and a $25 million venture fund. Other investments

include

Twitter,

Tumblr

,

Birchbox

,

Buddy Media

and

Medium

.

Bobby Yazdani: Yazdani founded a software company called Saba Software. His investments include Dropbox and Bonobos. 



Troy Carter:

Known as Lady Gaga's former manager, Carter has made a name for himself as a venture investor through his fund,

AF Square

, which has backed Fab, Warby Parker and

Dropbox

. 

Kevin Hartz: Hartz co-founded Eventbrite. He's also backed Yammer, Pinterest and Airbnb. 



Dror Berman: Berman co-founded Innovation Endeavors alongside Eric Schmidt. 



Adam Leber: Leber, who has worked as a producer for Britney Spears, has also backed Path and Everlane. 



Robin Sloan Bechtel: Bechtel works with musicians on digital strategy. She helped Britney Spears partner three of her investments: Path, Everlane and Uber. 



Khaled Helioui: Helioui is managing director of Bigpoint, a European game developer. He previously worked with technology companies at TA Associates. 



Nihal Mehta: Mehta co-founded Eniac Ventures, a New York-based venture firm focused on mobile startups. 
More from Fortune
DATA PROVIDERS
Copyright © 2014 Microsoft. All rights reserved.
Fundamental company data and historical chart data provided by Morningstar Inc. Real-time index quotes and delayed quotes supplied by Morningstar Inc. Quotes delayed by up to 15 minutes, except where indicated otherwise. Fund summary, fund performance and dividend data provided by Morningstar Inc. Analyst recommendations provided by Zacks Investment Research. StockScouter data provided by Verus Analytics. IPO data provided by Hoover's Inc. Index membership data provided by Morningstar Inc.
ABOUT TECHBIZ
Start investing in technology companies with help from financial writers and experts who know the industry best. Learn what to look for in a technology company to make the right investment decisions.