More companies offer IPO shares to customers, fans
Video camera maker GoPro is the latest company to open up the IPO process -- long the domain of insiders and institutional investors -- to customers before going public.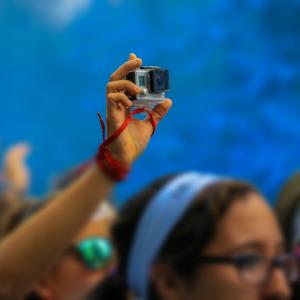 By Cadie Thompson, CNBC
Once exclusively for big institutions and large investors, initial public offerings are starting to be somewhat more democratized.

Some companies planning to go public are opting to include employees, fans and customers in their IPO, giving them access to shares at the same time and same price as Wall Street.
Most recently GoPro, whose IPO is expected this year, said it would be opening up the offering to fans and customers.
The company plans to offer 17.8 million shares at a price of $21 to $24 each, according to an SEC documents filed Wednesday.
"While with most IPOs 'friends and family' are defined as a few select people, with our IPO, you're all our friends and family," CEO Nick Woodman said in announcing the IPO deal for the company, which makes wearable video cameras.
While the direct-to-investor model for IPOs is still rare relative to the number of traditional ones, there is a shift in how companies are thinking about going public, said Barry Schneider, chairman and CEO of Loyal3, a start-up that makes small amounts of IPO shares available to investors who are typically shut out of the process.
"Whether it's a user, or an employee or a supplier, every company has people that are passionate about it and that's why Loyal3 exists to give small investors the opportunity to have access to IPOs and other companies at large," he said.
Loyal3, which is helping take GoPro public this year, played a part in taking
AMC Entertainment
(
AMC
) public in December (priced at $18, now trading at $24), and in January it was part of the
Santander Consumer USA
(
SC
) IPO (priced at $24, now trading around $19). It's scheduled to take four companies public before the end of June.
Loyal3 underwrites IPOs alongside Wall Street banks and allows investors with as little as $100 to invest in the companies it helps take public. It also allows investors with as little as $10 to invest the opportunity to buy shares in companies using its platform. There are no fees to buy, sell or transfer stock, Schneider said.
"We want to help you put your toe in the water to start investing in companies that you care about and know about and over time eventually graduate to some bigger things," Schneider said.
"Two hundred million people could buy stock that are of age in the U.S., 35 million have brokerage accounts currently," he said. "Our interest is targeting the 165 million that don't."
Including small investors in the process hasn't always worked out for the better.
In 2006 Vonage (VG) let small investors participate in its IPO. The stock opened at $17 and fell more than 20 percent the first day. On Monday Vonage shares were trading at about $3.38.
Schneider said this isn't the norm.
"The presumption is IPOs are more vulnerable than normal stock and therefore why should an ordinary investor have that opportunity," Schneider said. "But if you look at the facts, the structure of an IPO is to be priced at 15 percent discount to market and if you look at the returns over 10 years, on average they track higher. So I look at this and think that it's an opportunity."
And if a small investor does get taken, so to speak, in a volatile IPO, then there's no one to really blame but the investor, said Aswath Damodaran, a finance professor at the Stern School of Business at New York University.
"I don't see these online platforms as doing something that bankers don't do already. If they are going to attract small investors, and investors buy into their sales pitch, then that's a chance they take," Damodaran said. "If they want to play the game, let them play the game."
More from CNBC
DATA PROVIDERS
Copyright © 2014 Microsoft. All rights reserved.
Fundamental company data and historical chart data provided by Morningstar Inc. Real-time index quotes and delayed quotes supplied by Morningstar Inc. Quotes delayed by up to 15 minutes, except where indicated otherwise. Fund summary, fund performance and dividend data provided by Morningstar Inc. Analyst recommendations provided by Zacks Investment Research. StockScouter data provided by Verus Analytics. IPO data provided by Hoover's Inc. Index membership data provided by Morningstar Inc.
ABOUT TECHBIZ
Start investing in technology companies with help from financial writers and experts who know the industry best. Learn what to look for in a technology company to make the right investment decisions.