Motorola unveils new budget smartphone
The $150 Moto E marks an attempt to tap the rapidly growing low-end smartphone market around the world.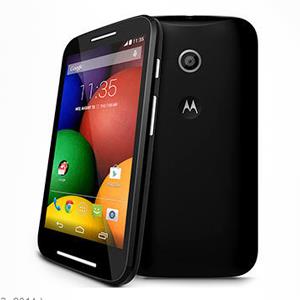 By Arjun Kharpal, CNBC
Motorola launched an £89 ($150) smartphone on Tuesday, in a plan to exploit the explosive potential of the low-price device market, particularly in emerging markets.
The Moto E runs the latest version of Google's (GOOG) widely-used Android operating system and comes with a high-resolution 4.3 inch display. Its battery lasts all day without needing to be recharged, and the phone comes fitted with a 5-mega pixel rear-facing camera.
The smartphone also has a colorful interchangeable back, and runs Qualcomm's (QCOM) Snapdragon 200-processor with up to 1.4GHz dual-core processors. It has a microSD slot for up to 32GB of memory.
The Google-owned company's launch is an attempt to tap the rapidly expanding budget smartphone market, which is expected to grow 23.5 percent between 2014 and 2015, as consumer across the developed world seek cheaper devices.
"Latin America is very important to us, just as some of the other emerging markets are critical to our future as well," Marcus Frost, senior marketing director for EMEA at Motorola, told CNBC in a phone interview.
Motorola's move came on the same day as a similar move by struggling rival BlackBerry (BBRY). The Canadian firm launched a budget touchscreen device called the Z3, in Jakarta, Indonesia, and is expected to be priced below $200.
As well as an emerging market play, analysts told CNBC that Motorola's low-end gamble was likely to appeal in Europe. The phone launched across both developed and developing markets on Tuesday, including the U.K., Spain and Germany in Europe, the U.S. and Brazil in the Americas, India, Malaysia and Australia in Asia-Pacific and Saudi Arabia and Turkey in the Middle East.
"The Moto E looks like a very capable phone and I think the important part is that it really shows that the big manufacturers are paying a lot of attention on the lower price points," Daniel Gleeson, mobile analyst at IHS, said in a phone interview.
"The emerging markets are a big part of this and that is where the new fight is going to be. With Nokia struggling, there is a huge opportunity. But it also appeals to prepaid users in Europe for whom paying 500 euros upfront for an iPhone is out of reach."
Motorola is planning to release its new product in 40 countries. It may also find its way to China, as Chinese smartphone maker Lenovo (LNVGY), which is in the process of acquiring Motorola, has indicated it plans to re-introduce Motorola into China after a long absence.
Competition in China is however very stiff, with localized players strong in the market.
Low-end opportunity
Motorola has had a chequered history, struggling in the top-end of the smartphone market, which is now dominated by the likes of Apple (AAPL) and Samsung (SSLNF). Notably, Lenovo is set to buy Motorola for $2.91 billion, considerably less than the $12.5 billion Google paid in 2012.
However, the smartphone maker has been buoyed by the success of the Moto G, which is its best-selling smartphone this year. Along with its release of the Moto E on Tuesday, Motorola also unveiled an upgraded 4G version of the Moto G, which will price at £149 ($251).
"If you have a look at the knockout success of the Moto G, which gave a no-compromised smartphone at a truly affordable price, it is apparent there are some sub-sections of the value segment that we can better do a job with. They want an ultra-aggressive priced smartphone," said Frost.
Meanwhile, analysts said the new Moto E offers a good product at a low-end price, and could prove competitive in a tough market.
"Where the smartphone market is at the moment, there is space for more players to define what a low-end phone is," Roberta Cozza, research director at Gartner, told CNBC in a phone interview. "I think users will like it at this price bracket. It is a device that can potentially do very well."
Cozza added: "Lenovo needs to understand how it wants to position the brand. It will also aim to go higher up, which is a segment Motorola didn't do very well in previously."
More from CNBC
ABOUT TECHBIZ
Start investing in technology companies with help from financial writers and experts who know the industry best. Learn what to look for in a technology company to make the right investment decisions.