Nasdaq can kiss Twitter goodbye
The social network reportedly wants a low-profile event when it goes public. That's why the Nasdaq's recent technical glitches would seem to make it unlikely that the exchange will be getting the Twitter IPO listing.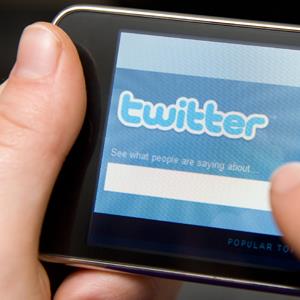 By Chris Ciaccia, TheStreet
Nasdaq OMX Group (NDAQ) has had a rough go of it in the past 18 months. First the Facebook (FB) IPO debacle. Now, the trading glitches on Thursday that caused Nasdaq-listed equities and options to temporarily stop trading. As Twitter gets set to go public, the chances of the Nasdaq getting the listing appear slim.

The New York Post reported this week that Twitter wants a "low-profile" IPO. Given the nature of the company, its influence in social media and, more importantly, media in general, Twitter's initial public offering is likely to be anything but low-profile.

Twitter has helped lead revolutions in foreign countries, particularly the one seen in Egypt, and was recently the subject of a CNBC documentary, named #TwitterRevolution. Twitter's importance in media has grown exponentially over the past few years, as news now breaks on Twitter and people find out about events faster than they ever did in the past.
The executive team at Twitter, led by CEO Dick Costolo, CFO Mike Gupta and operations head Ali Rowghani, are right to express concerns about its offering. The problems that plagued Facebook are still fresh in their minds, and Facebook only recently regained its IPO price of $38 per share, after having reported exceptional second-quarter financial results last month.
Presumably, Twitter doesn't want to wait over a year to regain its IPO price as Facebook had to do, and may wind up leaving significant amounts of money on the table to accomplish that goal.
The Nasdaq's second technological error in nearly a year casts a poor light on the electronic exchange. The exchange, once known for getting all of the popular technology IPOs and listings, now has increased competition from the New York Stock Exchange when it comes to technology companies.
A reputation to protect
TheStreet is predicting that Twitter will file documents this year to go public, as the company seeks to increase its coffers, raising money to fuel further growth. Recent equity trades on private exchanges have put Twitter's valuation around $10 billion, but a true initial public offering could see Twitter's valuation well north of that $10 billion figure.
Costolo, 49, has been a steady hand at the helm of Twitter, as he turns the company from a way to share thoughts, news and funny remarks into a media powerhouse. According to research firm e-Marketer, the San Francisco-based Twitter is expected to generate $582.8 million in advertising revenue this year, and close to $1 billion 2014. Costolo is responsible for keeping the perception of the company high, as brands look to the service to advertise to consumers.
Costolo will do what he can to make sure that Twitter doesn't suffer the same market cap drop that happened to Facebook. Part of that decision will be choosing what exchange to put its listing on.
The Nasdaq will eventually recover from this, as CEO Bob Greifeld continues to make the media rounds, informing people that the right precautionary steps were taken. However, this is another blow to the reputation of the exchange itself, and that recovery may not come in time for the Twitter IPO.
More from TheStreet.com
ABOUT TECHBIZ
Start investing in technology companies with help from financial writers and experts who know the industry best. Learn what to look for in a technology company to make the right investment decisions.