Nest moves to become master of the smart home
The Google-owned company will allow third-party devices to communicate with and through its smart appliances, positioning them as hubs of the connected home.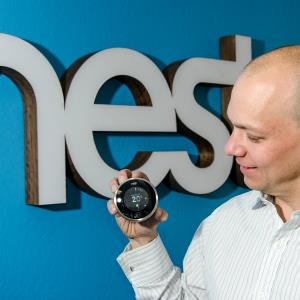 By Parmy Olson, Forbes
Nest Labs is taking the next step in its quest to become a hub for the smart home, by letting other gadgets and services access its learning thermostat and smoke detector for the first time.

With the long-awaited developer program Nest is launching Tuesday, other apps and devices will be able to access what Nest detects through its sensors, including vague readings on temperature and settings that show if a person is away from their home for long periods. These services will even be able to talk to one another via Nest as the hub.
Nest, founded by former Apple (AAPL) executive Tony Fadell, has long been seen as one of the leading companies in the smart home revolution. Google (GOOG) bought the company for $3.2 billion in January, and last week Nest bought video monitoring service DropCam for $555 million to (for better or worse) learn how people behave in their homes -- for instance, by reportedly tracking how doors are open and shut.
Crucially, Nest is not letting third parties get access to the motion sensors on its thermostat and smoke alarm, says co-founder Matt Rogers -- though it's unclear what sort of access Nest might eventually give to DropCam's video footage. "We've been building it for about a year," he says. "One reason it's taken us this long to build is we realized we had to be incredibly transparent with our user about data privacy."
That means plenty of reminders to developers about what data can be used for, and requirements that they get user permission before sharing data with Nest. It will be a private, but very open platform, says Rogers. Apple's own foray into smart homes with a service called HomeKit will likely have far more restrictions.
"Also," he points out, "ours is not vaporware."
Nest is expecting myriad developers to start building integrations into its two main devices, but it's already done some early integrations with eight other companies, including wearable-fitness tracker firm Jawbone, Mercedes-Benz and Google Now, the digital mobile assistant that learns about a person's routines and notifies them of important information. The pitch from Nest: "create a more conscious and thoughtful home."
As of today, the Jawbone UP24 band will have a setting that turns on the Nest thermostat when it senses its wearer has woken up from a night's sleep. Mercedes-Benz's cars will be able to tell Nest when a driver is expected home, so it can set the temperature ahead of time. Smart lights made by LIFX can also be programmed to flash red when the Nest Protect detects smoke, or randomly turn off and on to make it look like someone is home when Nest's thermostat is in "away" mode.
Developers are excited about the program because it means they can learn more about users than they could before. One partner in the program, who didn't want to be named, said that the extra data they could collect from Nest's devices could help them become more competitive in their own field. "We can't live with just the information we get naturally," the partner said.
Another developer also saw Nest's program as a "gateway" to learning more about potential customers and interacting with them. "Nest understands where people are in home, who's in the home, what time they leave the home," says Grant Wernick, co-founder of local-search and leisure-recommendati​on service Weotta. "As they open more of this up, companies like us could be able to plug into some of this data that people can opt into. We can make proactive recommendations of things people can do on Friday night."
Opening up to other services is integral to Nest's re-invention of the humble thermostat, which some say parallels the way Apple reinvented the mobile phone. "It's going to be a huge, huge game changer and it's only the beginning," Wernick says, adding that the role of the smart thermostat may be gradually morphing "to being a controller for your house and lifestyle."
Google Now is the key link back to Nest's parent company Google, but Nest insists Google won't get greater powers over its platform. Google Now could connect to other appliances through Nest and, for instance, turn off the LIFX lights, a spokesperson said, but that's up to the individual developers to work out between themselves.
The bigger advantage for Google is what it can learn through Nest and potentially through other devices connected to it. Wernick believes Google Now will eventually be able to use Nest as just another sensor point to learn more about people's lifestyles, so it can better predict habits. "It's going to understand your behavior better to help guide you in your life," he says.
Would Google Now be able to use Nest's data to serve Google's all-important advertising ambitions?
"Nope," says Nest's Rogers. "We're clear our data can only be used for what a developer will use it for." He added that Nest has a small team that will monitor what sort of tie-in services developers build. "We don't want anyone to make the rob-my-house app," he says.

Still, there may be reasons to be wary of Nest offering to share its platform with any other service with a web connection.

"Nest is sticking its toe in home automation, which opens them to all the same problems that home automation companies are dealing with," says Dan Tentler, founder of security company Aten Labs and expert on SHODAN, the search engine for Internet-connected devices.

With the explosion of API connections, could Nest's platform be hackable? "At this point it's a wait and see," says Tentler. "Nest has a lot of user data and that user data could be parenthetically valuable to a variety of different people."

Tentler points out he has yet to hear of anyone in the InfoSec community trying to openly attack Nest. But, he adds, "when something goes live, the pressure is on."
More from Forbes
DATA PROVIDERS
Copyright © 2014 Microsoft. All rights reserved.
Fundamental company data and historical chart data provided by Morningstar Inc. Real-time index quotes and delayed quotes supplied by Morningstar Inc. Quotes delayed by up to 15 minutes, except where indicated otherwise. Fund summary, fund performance and dividend data provided by Morningstar Inc. Analyst recommendations provided by Zacks Investment Research. StockScouter data provided by Verus Analytics. IPO data provided by Hoover's Inc. Index membership data provided by Morningstar Inc.
ABOUT TECHBIZ
Start investing in technology companies with help from financial writers and experts who know the industry best. Learn what to look for in a technology company to make the right investment decisions.