Oculus rode Kickstarter donations to $2B payday
Less than two years ago, the fledgling virtual reality company was soliciting $10 to $300 contributions on the crowdfunding site.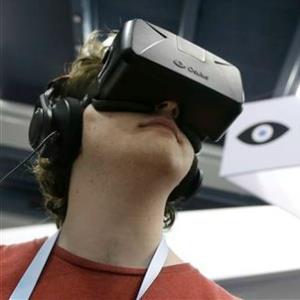 By Tom Gara and Lora Kolodny, The Wall Street Journal
On Aug. 1, 2012, a fledgling company called Oculus took to crowdfunding site Kickstarter to raise money to get its virtual reality headset off the ground.
What did you get in return for an investment? Everybody who funded the company with $10 was promised "a sincere thank you from the Oculus team" and regular updates on the project.
When the funding period closed at the beginning of September, 1,009 people had kicked in ten bucks each. A $25 investment got you a t-shirt as well as a thank you.
The real action was the $300 investment: For that, you we promised an early "developer kit" including a prototype headset and access to the software development tools needed to build games for the headset. 5,642 people signed up for that. In total, the campaign raised $2.4 million from 9,500 contributors.
About 18 months after accepting $10 investments repaid with thanks (and with some venture capital investments along the way) the company Tuesday sold itself for $2 billion to Facebook (FB).
Those almost 10,000 early investors on Kickstarter participated in one of history's most lucrative funding rounds from the perspective of the people receiving the funding: a $2.4 million early-stage investment in what would become a $2 billion business in a year and a half, in return for 0.0 percent equity.
Who else has raised big bucks on Kickstarter? Pebble Technology brought in $10 million for its smartwatch, with more than 14,000 people signing up to buy one for $125 though the site. Ouya raised $8.5 million for its Android-based gaming console, before picking up another $15 million in regular venture capital.
But Oculus has risen the fastest, from the outstretched hands of a Kickstarter campaign to the Zuckerbergian billion-dollar club. It's an incredible achievement, but not all those early backers from the $10 dollar donation days are impressed. The comment section of the Kickstarter campaign page Wednesday saw plenty of users voicing their frustrations over the deal.
"Horrible . . . HORRIBLE decision. I want my donation back," one user said. "What in hell was the point of Kickstarter if you sell out to a giant company like Facebook? This is very disappointing. I will no longer be supporting Oculus Rift in any way," another user commented.
In the history of Kickstarter, other project teams have gone on to form venture-backed companies, and to be acquired by large, public companies. For example, in June 2013, Logitech International SA acquired TT Design Labs for an undisclosed amount. The startup made smartphone accessories -- including a case, magnetic mount, earbud cord wrap and wall mount for the Apple (AAPL) iPhone 5 -- and raised $223,174 on Kickstarter in January 2012 to get started.
But nobody else has come close to a $2 billion exit.
Since it launched in 2009, a Kickstarter spokesperson confirmed, the crowdfunding platform has raised $223 million for 9,109 games, and $127 million for 4,024 technology projects. Oculus VR's Oculus Rift was the third most-funded technology project in the history of Kickstarter.
More from The Wall Street Journal
ABOUT TECHBIZ
Start investing in technology companies with help from financial writers and experts who know the industry best. Learn what to look for in a technology company to make the right investment decisions.