Pandora deal is music to Chromecast users' ears
Google's TV plug-in device now supports the popular music streaming service, in addition to Netflix, Hulu and YouTube.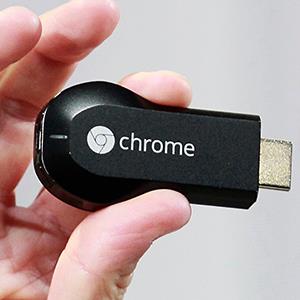 By Louis Bedigian

Pandora (P) is the newest app available for Google's (GOOG) popular streaming device.
The $35 HDMI stick, known as Chromecast, launched with only a handful of apps when it was released earlier this year. By inking a deal with Pandora, Chromecast users will now be able to stream millions of songs to their TV.
"Our mission is to provide the best personalized radio experience to our listeners, anytime, anywhere," Tom Conrad, Pandora's Pandora Chief Technology Officer and EVP of Product, said in a company release. "More than one-third of radio listening takes place in the home and we are continually innovating and investing in new platforms that help us seamlessly deliver access to Pandora across a broad range of connected devices.
"By integrating Google Cast technology into our mobile apps, users now have another easy access point to a better listening experience from the biggest screen in their living room."
Earlier this month, AllThingsD's Peter Kafka predicted that Pandora would be one of the next apps to arrive on Chromecast.
Kafka thinks that it is "reasonable" to expect Time Warner (TWX) to bring HBO Go to Chromecast in the near future.
Before Pandora, Disney (DIS), Comcast (CMCSA) and News Corp. (NWS) brought their popular streaming video site, Hulu, to Chromecast.
Amazon (AMZN) Prime, Vimeo, Vevo, Revision3 and Verizon's (VZ) Redbox Instant are among the apps that are expected to arrive this year, but they haven't come yet.
According to ReadWrite, Google is single-handedly responsible for the slow app rollout. The search engine giant is reluctant to support the official launch of too many apps on Chromecast.
This is similar to the strategy that Apple (AAPL) has taken with its iDevices, but is notably different from Google's attitude toward Android. Nearly any app can be developed for Google's mobile OS. But only four distinct apps -- Pandora, Hulu, YouTube and Netflix (NFLX) -- are currently available for Chromecast.
Read more from Benzinga:
ABOUT TECHBIZ
Start investing in technology companies with help from financial writers and experts who know the industry best. Learn what to look for in a technology company to make the right investment decisions.