So far, few fans for new Internet rules
The FCC's new proposal on net neutrality is either a massive overreach of authority or a gift to corporate broadband providers, depending on whom you ask. One thing it's not is popular.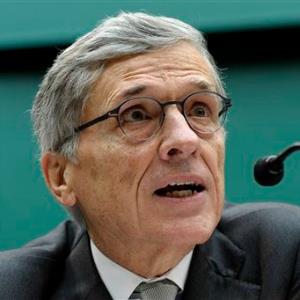 By Gautham Nagesh, The Wall Street Journal
Even before Federal Communications Commission Chairman Tom Wheeler (pictured) began circulating his latest proposal to ensure broadband providers don't block or slow down individual websites, politicians and interest groups began weighing in.
The verdict: There are few fans so far -- with criticism coming from those who say the commission is overstepping, and those who say its regulatory hand should be stronger in favor of consumers.
The divergence of views is perhaps a reflection of Wheeler's attempts in the proposal to find a middle ground in the so-called open Internet rules, which govern how broadband providers treat traffic from various content companies. The issue has become something of an albatross for the agency since President Barack Obama took office. He campaigned in 2008 on the principle of net neutrality -- the idea that all Internet traffic should be treated equally by broadband providers -- but the D.C. Circuit Court of Appeals has thrown out the FCC's last two attempts to enforce the rules.
Wheeler's latest proposal would bar broadband providers from blocking or slowing down specific websites, but would open the door for them to strike deals to give some content companies preferential treatment. That quickly drew fire from net neutrality advocates, who argue the deals will inherently result in discrimination against companies that don't pay to play.
"Openness is the Internet's heart and nondiscrimination is its soul, and infringements on either of these features undermines the spirit and intent of net neutrality," Sen. Edward Markey (D-Mass.) said in a statement. "The Internet's rules of the road must not open up fast lanes to those who can pay, leaving others stuck in traffic."
"Like many Internet users, I fear that the latest round of proposed net neutrality rules from the FCC will not do enough to curtail discrimination of Internet traffic, but rather leave the door open to discrimination under more ambiguous terms," Rep. Anna Eshoo (D-Calif.) said.
On the other side of the issue are conservatives, who argue the FCC is once again overstepping its authority and that the net neutrality rules are unnecessary altogether. The Republican leadership of the House Energy and Commerce Committee criticized the proposal in a statement on Thursday.
"We have said repeatedly that the Obama administration's net neutrality rules are a solution in search of a problem. The marketplace has thrived and will continue to serve customers and invest billions annually to meet Americans' broadband needs without these rules," Chairman Fred Upton (R-Mich.) and Rep. Greg Walden (R-Ore.) said. "Chairman Wheeler's approach to regulation seeks to freeze current market practices, which will cast a chill on technological breakthroughs and cause American consumers to lose out."
Michael Weinberg, vice president for the consumer advocacy group Public Knowledge, said the new proposal won't protect users and is again based on shaky legal ground. He predicted the broadband providers would once again seek to challenge the rules in court.
"I don't think this is going to work. I don't think these rules would protect the open Internet. The closer they get to protecting the open internet, the more likely they are to be overturned," Weinberg said.
Such interpretations prompted Wheeler to write a blog post on Thursday "setting the record straight." Even if he achieves that, however, he's not likely to satisfy everyone.
More from The Wall Street Journal
DATA PROVIDERS
Copyright © 2014 Microsoft. All rights reserved.
Fundamental company data and historical chart data provided by Morningstar Inc. Real-time index quotes and delayed quotes supplied by Morningstar Inc. Quotes delayed by up to 15 minutes, except where indicated otherwise. Fund summary, fund performance and dividend data provided by Morningstar Inc. Analyst recommendations provided by Zacks Investment Research. StockScouter data provided by Verus Analytics. IPO data provided by Hoover's Inc. Index membership data provided by Morningstar Inc.
ABOUT TECHBIZ
Start investing in technology companies with help from financial writers and experts who know the industry best. Learn what to look for in a technology company to make the right investment decisions.