Streaming-only cable service could come in 2014
After years of speculation, industry experts say Internet-based TV could become reality by the end of next year.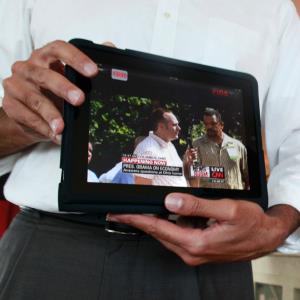 By Jim Probasco

Speculation about so-called over-the-top or streaming cable via the Internet has been around for years. 
According to some TV-industry experts, it may be about to happen -- as early as in 2014.
Viacom (VIA) CEO Philippe Dauman started the ball rolling at the UBS media conference in New York this week saying, "I think there's a very strong chance of that," speaking about the possible rollout of over-the-top service next year.
Debate has already begun about who would be the first to offer the service. The first name mentioned was that of Verizon (VZ), which has mobile rights to primetime NFL games.
Verizon was also reported to be in talks with Intel (INTC) for its "never launched" OnCue pay TV service. OnCue, which was slated to include TV and mobile streaming over an Internet connection, never got off the ground because Intel failed to secure content agreements with providers -- something Verizon would be in much better position to do.
In addition to Verizon, there has also been speculation about interest on the part of Dish Network (DISH), Comcast (CMCSA), Sony (SNE), Microsoft (MSFT) and even Apple (AAPL). (Microsoft owns and publishes MSN Money.)

After Dish and Comcast however, the others were considered less likely to be first in line with a streaming service. Of course, once somebody breaks the ice, almost all major cable and telecom companies would be expected to join in, according to one source who spoke to the New York Post.
Meanwhile, Verizon recently expanded its live-TV streaming options on its FiOS service, allowing FiOS customers to watch both CBS (CBS) and Fox stations in several East Coast markets on tablets and smartphones. Also available are Spanish-language networks UniMas and Univision.
The company now offers 25 cable channels for out-of-home steaming, although none are broadcast channels or among the more popular cable channels.
FiOS subscribers in these markets can also watch up to 91 cable channels on non-TV devices at home. This comes via an agreement between Verizon and two distributors, Time Warner Cable (TWC) and Cablevision (CVC).
Cable and telecoms see the writing on the wall. As streaming Internet entertainment offerings through companies like Netflix (NFLX) and Amazon (AMZN) continue to grow, cable providers know they have to both adapt and compete.
At the time of this writing, Jim Probasco had no position in any mentioned securities.
Read more from Benzinga:
ABOUT TECHBIZ
Start investing in technology companies with help from financial writers and experts who know the industry best. Learn what to look for in a technology company to make the right investment decisions.