T-Mobile to raise nearly $2 billion for spectrum
The underdog wireless company will sell off 72.8 million shares to buy more bandwidth for its growing customer base.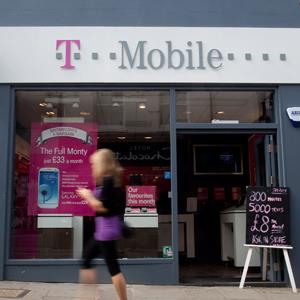 By Jim Probasco

T-Mobile (TMUS) needs more spectrum.
Spectrum -- technically electromagnetic radiation and frequency bands -- is the lifeblood of mobile service providers, and in order to compete with AT&T (T), Verizon (VZ), and Sprint (S), T-Mobile needs all the spectrum it can get its hands on.
To that end, the company said Monday it would sell 72.8 million shares of stock in an attempt to raise nearly $2 billion to buy spectrum. The sale breaks down to 66.15 million common shares, or about nine percent of outstanding shares, plus another 6.6 million shares for underwriters.
Those underwriters, T-Mobile said, would be Morgan Stanley (MS), Goldman Sachs (GS), JPMorgan Chase (JPM), Credit Suisse (CS) and Deutsche Bank (DB).
According to Reuters, Deutsche Telekom, which owns 74 percent of T-Mobile, said on Twitter that its stake would be 67 percent after the sale, but that it was not selling its shares.
T-Mobile shares were down more than three percent Tuesday afternoon, to $26.10, following the announcement of the sale. Some investors had already expressed concern about share value dilution when the company said on Nov. 5 it could raise money for a spectrum buy through an equity offer.
With a government auction of spectrum not set to occur until 2014 or later, New Street analyst Jonathan Chaplin said the company's timing was a surprise. Chaplin told 
Reuters it could mean T-Mobile merely wants to put money away ahead of an anticipated January auction that might include Dish (DISH) and Sprint along with T-Mobile.
Another option, which Chaplin said seems unlikely, would be potential involvement by T-Mobile in the December auction of LightSquared Inc. spectrum. So far, only Dish has shown interest in that sale.
All mobile operators are attempting to increase spectrum holdings to support customers who are using more bandwidth on smartphones and other mobile devices. T-Mobile, which had been losing subscribers for four years, has shown two straight quarters of gains, a good sign for the company.
In addition, T-Mobile stock has risen 66 percent since May. The company's current market value is estimated at about $20 billion, according to The Wall Street Journal.
However, as Bloomberg noted, the company is losing money. Third-quarter net losses were $36 million. That followed losses of $16 million in the second quarter. And third-quarter average individual monthly subscriber billing shrank 3 percent to $52.20 from the previous quarter. Analysts had projected billing at $52.86.
At the time of this writing, Jim Probasco had no position in any mentioned securities.
Read more from Benzinga:
ABOUT TECHBIZ
Start investing in technology companies with help from financial writers and experts who know the industry best. Learn what to look for in a technology company to make the right investment decisions.