Tesla: Carmaker or tech company?
The question comes up often, especially with the company's stock seeming to defy the law of gravity.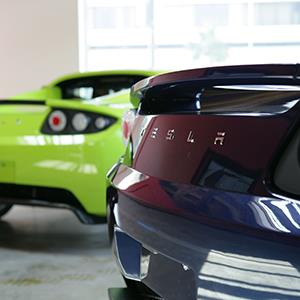 By Herb Greenberg
The question of what Tesla (TSLA) is comes up often, especially with its stock speeding along

 the investment autobahn.
And the question is understandable: its valuation makes it look like a tech company. But it makes cars. Really nice cars. Really safe, fast cars. Really safe cars that run on powerful batteries with unquestionably the best center consoles anywhere. But in the end, they're cars.
Does that make Tesla a tech company?
Of course not. Tesla is a car company that is priced like a tech company. And not just any tech company, but a really good tech company. Just as Amazon (AMZN) is a retailer that's priced like a really good tech company. And like Netflix (NFLX) is a new-age broadcaster that's priced like a really good tech company. (All of them, mind you, with no-or-low operating margins.)

What all of these companies have in common is they have used technology to disrupt. Worth a premium? Sure, but does it deserve a technology premium?
Again -- of course not. But that's an argument that is hard to win in a momentum-driven market. Historically, Wall Street is famous for packaging one thing and selling it as another. Investors love to buy into those stories. They're like Beanie Babies for grownups.
General Motors (GM) and Ford (F) also have good technology. But it's buried deep inside. Even recent rave reviews of the newest Chevy Impala are laughable when put alongside the very concept of the Tesla, even though the Impala is likely to outsell the Tesla (think of the vision of the two side-by-side on a drag strip). Also, neither GM nor Ford is run by someone as irrepressibly innovative as Elon Musk.
Reality: None of this really matters. Tesla's valuation is in the ether, everybody knows it and it will continue to confound until the day something doesn't meet expectations, at which point its shares won't be able to hold a charge. Until then, even if it really is a car company, it will be lumped in with tech stocks. It's just the way it is. 
More from TheStreet.com

The only real reason folks are even calling Tesla a Tech company is too justify the current massive run up in stock price. It's a car company whose stock is massively overpriced. However, whenever certain groups get their claws in certain stocks, that matters very little until it does. Still a great car and a great company, up to this point.

Are you sure you want to delete this comment?
DATA PROVIDERS
Copyright © 2013 Microsoft. All rights reserved.
Fundamental company data and historical chart data provided by Morningstar Inc. Real-time index quotes and delayed quotes supplied by Morningstar Inc. Quotes delayed by up to 15 minutes, except where indicated otherwise. Fund summary, fund performance and dividend data provided by Morningstar Inc. Analyst recommendations provided by Zacks Investment Research. StockScouter data provided by Verus Analytics. IPO data provided by Hoover's Inc. Index membership data provided by Morningstar Inc.
ABOUT TECHBIZ
Start investing in technology companies with help from financial writers and experts who know the industry best. Learn what to look for in a technology company to make the right investment decisions.