The reason I may finally quit Facebook
The social network's news feed gives users only the illusion of control.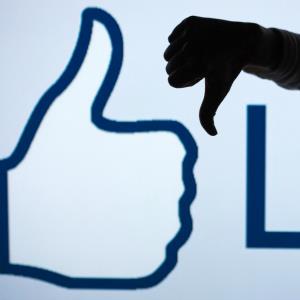 By Jason Notte, TheStreet
Well, Internet -- and Facebook in particular -- you win: I've reached Peak Outrage.
A short piece hammered out by my colleague Rocco Pendola exposed a tweeted moment of weakness that disguised a much larger truth: Facebook (FB) is burning me right out. I can spend hours on Twitter (TWTR) having conversations about topics ranging from the merits of Kate Bush's "Wuthering Heights" to the slow decline of craft beer. Frankly, I can spend hours on it just talking about beer and engaging in discussions like those you'd have face to face.
Looking at my Facebook news feed on a daily basis is like watching a "The Day After"/"Requiem for a Dream" marathon. Because it sees fit to cycle through TheStreet, Gawker, The Daily Beast, Slate, The Atlantic, The Guardian and The New Yorker in massive blocks spanning hours, it turns into an echo chamber of outrage and impotent criticism culminating only in despair and disdain for one's fellow human beings.
Facebook has a way of trivializing just about everything it touches, and its news feed does so with information just by piling it on. Click down to receive "only important updates" from various publications and you're still trapped beneath a deluge of stories that drowns just about all other content in its ensuing miasma. It's a terrible place to read news and an even worse place to start the day.

I think about the reasons I'm still on Facebook as often as I am, and they sound more like justifications for blowing up my Facebook profile as quickly as possible. I want to stay in touch with friends and family, whose updates Facebook shows me only a fraction of. I want to keep tabs on current events and my favorite publications -- though the former almost never appear in posts from the latter, thanks to the news feed's penchant for repeatedly favoring the same stories. There is absolutely no reason I should see the same vaccination story four times in four postings from one publication.
As Pendola pointed out a few weeks ago in his story "Facebook loses when it tries to be Twitter," there are ways to curate your news feed and customize your way around its ineptitude. The problem is the one thing Facebook users and just about all other online consumers are begrudgingly admitting 10 years into Facebook's lifespan: Almost nobody wants to put that much effort into it.
Pendola has previously compared Facebook with founder Mark Zuckerberg's vision of it: "The best personalized newspaper in the world." OK, but requiring a Mashable tutorial to make Facebook even resemble that high-minded ideal is like calling up a newsroom every morning and placing an order for what you'd like to see in the paper that day -- only to have the editors either miss or blatantly ignore parts of that order so they can give you more ads and fewer personally relevant stories.
Basically, Facebook became all the worst parts of actual newspapers, but with your friends and family reduced to small print somewhere in the police briefs. The big, terrible stories drive traffic and draw jerks like me into the comments fields to vent. But that's not what I or just about anyone else came to Facebook for.
Similarly, hearing the same 20 percent of Apple (AAPL) iTunes libraries on repeat isn't what people with thousands of songs on their hard drives adopted iTunes for, but it's the reason big, bulky iTunes collections are going unused and unchanged like the CD collections they replaced. Apple, Amazon (AMZN) and others who lived by the MP3 were never concerned with how you were listening to your music, but that you were listening to more of it. It's why the shuffle feature was never quite random enough, the Genius feature stuck to genres like a dumb music store CD rack and sales of digital downloads started dropping for the first time last year. It's also a disheartening turn for Apple, whose consumer ranks are filled with folks who fled the pedantic, piecemeal PC market for simpler plug-and-play Macs and iDevices.
The fact is, we don't want to curate. We say we do because it sounds like the enlightened, responsible thing to say, but we want technology to take the next leap ahead and stop making us put together mixes like a college freshman. The better corners of the Internet already do this.
As Pendola notes on several occasions, Twitter does a far better job of keeping users informed and in touch just by its nature. Those 140 characters keep things brief and skippable, reward cleverness and require everyone to get to the point or cycle to the bottom. Twitter's news feed can be broken into groups or streamlined with help from TweetDeck or HootSuite, but it doesn't game the system and reward just the popular content. The items in your feed don't get any help making it there and don't just show up because they're viral.
It's an ideal platform for both news and communication and transparently leaves content choices in the user's hands -- with minimal curation required. That's the basic gist of steaming services like Pandora (P), Radioio (RDIO) and Spotify as well: Let users build a base of lists or stations, let them streamline those offerings with the help of algorithms and minimal tweaks like thumbs-up or thumbs-down voting, and let them enjoy their experience without bother.
Even Netflix (NFLX), which has earned its share of scorn for customer interaction and unpleasant surprises in the past, is becoming incredibly adept at constructing an ideal streaming environment around individual users. Alexis Madrigal at The Atlantic identified 76,897 microgenres in Netflix's streaming interface earlier this year, from "Emotional Fight-the-System Documentaries" to "Foreign Satanic Stories from the 1980s." Netflix is not only attempting to give users exactly what they want to get them to stick around, it's using that information to create original content with enough attributes to draw those same users in.
We don't want a program telling us what to watch, listen to, read or see. We want to tell that program all of that information once and never have to worry about it again. That's where Facebook is falling short. That's why after unliking a whole lot of news feed content from ordinarily great publications, I may have to unlike Facebook next.
More from TheStreet
ABOUT TECHBIZ
Start investing in technology companies with help from financial writers and experts who know the industry best. Learn what to look for in a technology company to make the right investment decisions.