Tim Cook's kinder, gentler Apple takes shape
The CEO's vision for the tech giant has come into sharper relief as he pushes executives to be more collaborative and broadens the company's laser focus.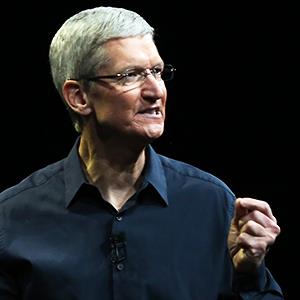 By Daisuke Wakabayashi, The Wall Street Journal
In the first few years of his tenure, Tim Cook's Apple (AAPL) looked a lot like the company he inherited from Steve Jobs.

Then, over six weeks starting in late April, Cook's image of Apple came into sharper focus. Apple agreed to buy back $100 billion of its shares -- more than any company in U.S. history -- after years of hoarding cash. Cook settled a feud with Google (GOOG), a rival that Jobs once targeted for a "holy war."
Recently, Cook agreed to acquire headphone maker and streaming-music service Beats Electronics for $3 billion and will keep the Beats' brash, in-your-face brand rather than subsume it. Earlier, he hired Angela Ahrendts, the former head of British apparel retailer Burberry (BRBY) to run Apple's retail operations, a sign Cook would choose high-profile deputies.
Cook, who joined Apple in 1998, also has presided over moves to crack the tightly managed world of its mobile devices, allowing other companies' apps to talk to and work together on its iPhones and iPads. The software change "has been on our wish list for years," said Phil Libin, chief executive of productivity app maker Evernote. "It does feel like a shift."
The recasting of Apple by Cook, who built his career as a behind-the-scenes operations expert, is in full bloom after years of subtle internal changes. He is pushing Apple to be more collaborative as it faces new challenges, particularly from Google and its Android mobile operating system. At the same time, he appears to be broadening the company's legendary laser focus, forged when Apple was a much smaller company.
Apple is no longer the underdog that Jobs rescued from the brink of bankruptcy. The Cupertino, Calif., company is the most valuable in the world by stock-market valuation, and the most profitable in the technology industry. Its profit for the fiscal year ended September 2013 was triple Google's 2013 earnings and $9 billion more than its nearest competitor, Samsung Electronics (SSNLF).
"Steve was a wartime CEO, while Tim is a peacetime CEO," said one former employee.
The changes are larger than the numbers. For more than a decade, the company revolved around Jobs's unique and mercurial talents. Cook, who is as measured and accessible as Jobs was volatile and intimidating, is more a manager than a visionary, and won't be forgiven in the same way for ignoring shareholders or belittling subordinates. In short, he runs Apple more like most other companies.
"The only thing that Steve cared about was creating great products. The company, the employees were only there to facilitate that goal," said another former employee. "Tim is much more worried about everything at the company."
That includes Apple's board. According to people familiar with the company, Cook is actively seeking new directors to add to Apple's eight-person board, known for its loyalty to Jobs. Six of the seven outside directors are aged 63 or older. Four of them have served for more than a decade, including two who have been on the board since the late 1990s: former Intuit (INTU) Chief Executive Bill Campbell and J. Crew Chief Executive Millard S. "Mickey" Drexler.
Cook also is concerned about Apple's impact on society. He has pushed Apple to become more environmentally friendly, such as having Apple's data centers run on renewable energy sources, and be more responsible in how it procures parts and materials for its products. Cook implemented an employee donation-matching program, a step Jobs long resisted, and is a vocal supporter of gay rights.
For all his success, Cook still must show he has the ability to turn out the insanely great products that has been Apple's hallmark. Cook's Apple is a kinder, gentler workplace, say the more than a dozen current and former Apple employees interviewed for this article. They worry that the frenetic pace and focus that many credit for spurring the development of great products during Jobs's reign is giving way under Cook. Apple declined to make Cook available for this story.
But four years after the iPad -- the most recent of Jobs's great trilogy of mobile products that began with the iPod in 2001 -- Apple's product lineup has changed little. Meanwhile, the competitive landscape is more challenging. Growth in smartphone sales is slowing, and the iPhone is losing market share to competitors running Google's Android operating system. The iPad remains the dominant brand of tablet computers, but the overall surge in tablet sales is waning.
Cook has pledged that Apple will enter a new product category later this year. People familiar with the company's plans say that Apple is working on a smartwatch with advanced sensors to track a user's fitness and health. Apple is expected to introduce the new device, as well as a larger iPhone, in the fall, these people said.
One challenge facing Cook is what Wall Street calls the law of large numbers: even a successful new product may barely move the needle for Apple, which generated $171 billion in revenue in the fiscal year ended last September. A flop could underscore that Apple's product heydays are tied to the late Jobs.
Inside Apple, Cook is less hands-on when it comes to product development, according to people familiar with the matter. Presented with a list of product ideas, Jobs quickly dismissed most with an expletive, said people who worked with both men. Cook tends to encourage staffers with comments like "let's push that forward" or "let's see what we can do with that" in his Southern drawl, a remnant of his Alabama upbringing.
Jobs's repudiations bruised feelings while making sure the company stayed focused on a few projects. Under Cook, current and former employees say Apple may be spreading itself too thin, pursuing too many ideas and compromising the "laser focus" that Jobs used to create the iMac, iPhone and iPad.
"It was Steve's job to say no," one of these people said. "Tim is not as comfortable doing that."
A person close to Apple said it is natural that a bigger Apple would broaden its portfolio. "I think Steve would have been saying yes to more things if he were still running the company," said this person, who noted that while Jobs was an intuitive decision maker, knowing what he liked and didn't like immediately, his snap decisions sometimes led to errors in judgment. Cook is more thoughtful and will take extra time to "minimize mistakes."
Cook also is more willing to delegate to deputies. He has given greater control over product development to Jonathan Ive, Apple's design chief. Ive, who oversaw Apple's hardware designs under Jobs, also is responsible for the look and feel of its software. Other executives gaining authority include Craig Federighi, the software engineering boss; Phil Schiller, the company's marketing head; and Eddy Cue, its Internet services lead, current and former employees said. He has turned over Apple's executive leadership team. Five of the nine members were promoted or hired by Cook.
While Jobs pitted executives against each other, Cook is more of a consensus builder, these people said. The approach has contributed to slower decision making at times, but it has also reduced the chaos that sometimes surrounded Jobs's management style, they said. Senior executives are more collegial and collaborative than under Jobs, said a person close to Apple.
While Jobs dominated the spotlight, Cook has shown a willingness to let others share the attention. At the developer conference, for example, Federighi dominated the stage. Cook also hasn't shied away from bringing in high-profile outsiders, such as Ahrendts and Beats co-founders Jimmy Iovine and Dr. Dre.
The Beats deal represented a departure for Apple. Under Jobs, the company shunned pricey acquisitions. Its biggest previous deal was the purchase of NeXT Software for $400 million in 1997, the acquisition that brought Jobs back to Apple. Under Cook, Apple also completed a flurry of smaller deals -- 24 in the 18 months through April.
"We're not going to go out and buy something for the purposes of just being big. Something that makes more fantastic products, something that's very strategic, all these things are of interest and we're always looking regardless of size," said Cook in a February interview.
Jobs preferred to build Apple's products and services in-house. Cook said he wants to build on Beats Music's subscription-based streaming music service. Apple also plans to maintain Beats Electronics, the headphone and speaker arm, as a separate brand in a first for the company's hardware division.
The deal raises the question of whether Jobs would have done the same.
Cook says he doesn't ask What Would Jobs Do. He says that Jobs told him before he died to never ask that question.
"I've abided by that. I think he did that because I think he wanted to relieve what might have been an enormous burden on me," said Cook in an interview at the time of the Beats deal. "Because of that, I've always been able to kind of block that question."
—Joann S. Lublin and Evelyn Rusli contributed to this article.
More from The Wall Street Journal
DATA PROVIDERS
Copyright © 2014 Microsoft. All rights reserved.
Fundamental company data and historical chart data provided by Morningstar Inc. Real-time index quotes and delayed quotes supplied by Morningstar Inc. Quotes delayed by up to 15 minutes, except where indicated otherwise. Fund summary, fund performance and dividend data provided by Morningstar Inc. Analyst recommendations provided by Zacks Investment Research. StockScouter data provided by Verus Analytics. IPO data provided by Hoover's Inc. Index membership data provided by Morningstar Inc.
ABOUT TECHBIZ
Start investing in technology companies with help from financial writers and experts who know the industry best. Learn what to look for in a technology company to make the right investment decisions.