Twitter adds first female director
The otherwise all-male board will now include former Pearson CEO Marjorie Scardino, but women directors remain a rare sight at Silicon Valley tech companies.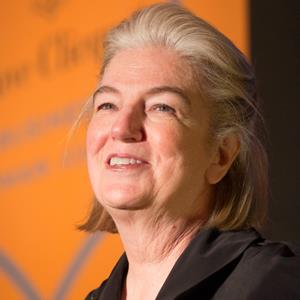 By Yoree Koh, The Wall Street Journal
Twitter (TWTR) named former Pearson (PSO) Chief Executive Marjorie Scardino (pictured) as its first female director, ending speculation as to when the company might diversify its all-male boardroom.
Scardino's appointment is effective immediately, according to a filing with the Securities and Exchange Commission on Thursday. She will join the audit committee.
Twitter was criticized in the weeks leading up to its high-profile initial public offering for a lack of women in top executive positions -- a fact exacerbated by CEO Dick Costolo's seemingly flippant response to critics.
Women are by far still a minority in U.S. corporate boardrooms, particularly among Silicon Valley's disruptive tech firms. Facebook (FB) came under fire last year when it went public with an exclusively male board. The company named Chief Operating Officer Sheryl Sandberg, whose "lean in" philosophy brought fresh attention to the dearth of women in senior positions, to its board in July 2012, two months after its Wall Street debut.
Just 8.4 percent of Silicon Valley companies have women directors, among the lowest averages among counties in California with more than 20 companies, according to an annual study released last December by the University of California, Davis. Nearly 4 percent of the technology companies in the S&P Composite 1500 index don't have women on their boards, according to a Ernst & Young report on board diversity released this week.
Scardino's resume is impressive. The 66-year-old is a law-school graduate and former reporter for the New York Times (NYT), and was the first woman to run a FTSE 100 company when she was appointed CEO of Pearson, a media and education conglomerate, in 1997.
For the next 16 years she was one of the highest ranking female executives in the United Kingdom, during which she tripled profits as she tried to steer the old-school media house, whose portfolio includes the Financial Times and the Penguin Group book publisher, into the digital age. Her experience will bring helpful perspective as Twitter looks to strengthen its ties to the media industry and its evolution into a real-time publishing platform.
When Scardino announced her departure from Pearson, she expressed disappointment that women still were shut out of the upper echelons of the corporate world. "I thought in 1997 that by the time I left Pearson things would be different in terms of how many women there were as chief executives or chairmen or board members," she said last year, according to the Telegraph. "It's not too different and for that I'm sorry."
Until April, Scardino served on the board of Nokia (NOK). She was "brutally honest in a way that doesn't offend and at the same time has an excellent sense of what these times demand from a company in terms of ethics, open-mindedness and fairness," a person who previously served on the board with her said.
Twitter welcomed Scardino on the microblogging service, and the new board member responded with her first tweet:
@twitter: We're pleased to welcome @marjscar to our board of directors.
@marjscar: @twitter Thank you. There couldn't be a more exciting time in Twitter's history to join!

Twitter and Scardino declined to comment on the appointment beyond their tweets.
According to the SEC filing, Scardino was granted a restricted stock unit award of 4,018 shares of common stock. That amounts to about $177,000 based on this morning's stock price of around $44 a share.
Scardino becomes the eighth member of Twitter's board, which includes Costolo as well as founders Evan Williams and Jack Dorsey, who is chairman. Other members include Hollywood executive and former News Corp (NWSA) executive Peter Chernin, venture capitalist Peter Fenton, former Netscape executive Peter Currie, and David Rosenblatt, the CEO of online luxury marketplace 1stdibs.com.
More from The Wall Street Journal:
DATA PROVIDERS
Copyright © 2014 Microsoft. All rights reserved.
Fundamental company data and historical chart data provided by Morningstar Inc. Real-time index quotes and delayed quotes supplied by Morningstar Inc. Quotes delayed by up to 15 minutes, except where indicated otherwise. Fund summary, fund performance and dividend data provided by Morningstar Inc. Analyst recommendations provided by Zacks Investment Research. StockScouter data provided by Verus Analytics. IPO data provided by Hoover's Inc. Index membership data provided by Morningstar Inc.
ABOUT TECHBIZ
Start investing in technology companies with help from financial writers and experts who know the industry best. Learn what to look for in a technology company to make the right investment decisions.