Verizon, Vodafone get closer to a deal
Rising interest rates appear to be driving Verizon to complete a long-considered buyout of its partner in Verizon Wireless. A deal would carry benefits and risks to both parties.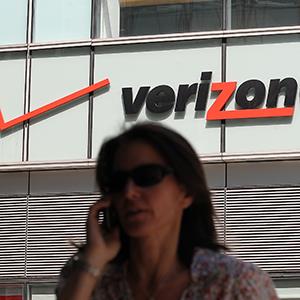 By Antoine Gara
Confirmation that Vodafone Group (VOD) is close to selling its 45% stake in Verizon Wireless to Verizon Communication (VZ) may help shares in the No. 1 U.S. mobile carrier recover from their recent underperformance.

But the proposed $130 billion deal -- which would be the third biggest of all time -- could pose long-term risks for Verizon and Vodafone.
For Verizon, what appears to be a financially attractive deal in today's low-interest-rate environment could carry financial burdens that prove cumbersome. In order for Verizon shareholders to benefit, telecom-sector profitability would have to hold up as the wireless industry matures and smartphone usage in the United States nears saturation point.
Recent earnings reports, commentary and pricing plans from Verizon's low-cost competitors such as T-Mobile (TMUS) and Sprint (S) cast doubt on the sustainability of record wireless profit margins posted by the likes of Verizon and AT&T (T) in recent quarters.
T-Mobile saw its market share in the wireless industry grow for the first time in years in the second quarter, as the telecom firm reported net subscriber additions. Sprint, meanwhile, forecasts that it will reverse chronic market-share losses in 2014, as the company uses a recapitalization by SoftBank to complete its LTE network expansion. Sprint's second-quarter earnings also indicate that smartphone consumers are taking notice of the company's lower-priced unlimited data plans.
If one were to believe in the viability of T-Mobile and Sprint and the pricing of their wireless plans, it might indicate Verizon Wireless profit margins are near a peak, and an acquisition of the rest of Verizon Wireless could be be seen as a way to engineer financially attractive earnings growth. Taking full control of the business would allow Verizon to halt payment of a $10 billion annual dividend to Vodafone as minority owner in the wireless business.
Verizon shares, which yield a heft 4.4% to shareholders, have lagged the Standard & Poor's 500 Index ($INX) in 2013 and over the past 12 months. The stock was up more than 3% at midday on reports that a deal with Vodafone could be completed by Labor Day.
According to a Citigroup analysis in March, the deal could make financial sense to Verizon at almost any price because of historic low corporate bond prices. Plus, a deal could boost Verizon's per-share earnings by 27% and free cash flow by 18% in the first year, Citigroup analysts Michael Rollins and Simon Weeden noted in a March 19 report.
Vodafone may see Verizon Wireless's current strong performance as a smart time for the firm to sell its minority stake.  In June, Vodafone said it would buy Germany's largest cable operator,  Kabel Deutschland, in a $10 billion deal.
And tougher competition could Vodafone's stake in Verizon Wireless, which has 100 million customers, giving Vodafone an incentive to cash out now. 
More from TheStreet.com

DATA PROVIDERS
Copyright © 2014 Microsoft. All rights reserved.
Fundamental company data and historical chart data provided by Morningstar Inc. Real-time index quotes and delayed quotes supplied by Morningstar Inc. Quotes delayed by up to 15 minutes, except where indicated otherwise. Fund summary, fund performance and dividend data provided by Morningstar Inc. Analyst recommendations provided by Zacks Investment Research. StockScouter data provided by Verus Analytics. IPO data provided by Hoover's Inc. Index membership data provided by Morningstar Inc.
ABOUT TECHBIZ
Start investing in technology companies with help from financial writers and experts who know the industry best. Learn what to look for in a technology company to make the right investment decisions.