Wal-Mart's best 2013 Black Friday tech deals
The retailer is offering timed sales of HDTVs, video game consoles and gadgets. But you may have to shop on Thanksgiving Day for the best bargains.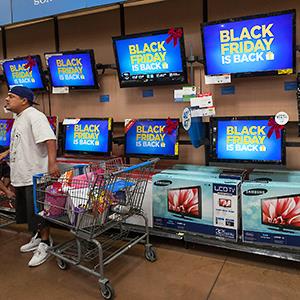 By Louis Bedigian

Wal-Mart (WMT) is continuing the trend of timed Black Friday sales, with the first discount session beginning on Thursday, Nov. 28 -- yes, that would be Thanksgiving Day -- at 6:00 p.m.
The second sale "event" begins at 8:00 p.m., followed by another event at 8:00 a.m. the next morning (Black Friday, Nov. 29).
With three big sales, when should consumers head to the store? Should they skip Thanksgiving dinner and get in line immediately? Or sit back, relax and enjoy the feast at home?
Read on to find out.
6:00 p.m. Thursday
Those who are first through the door will have the chance to get a 60-inch HDTV from Vizio for $688. According to Walmart.com, this is a savings of more than $300.
Apple's (AAPL) first-generation iPad Mini is not on sale, but customers will receive a $100 Wal-Mart gift card if they buy one.
Old-school gamers can get a bare-bones Sony (SNE) PlayStation 3 for $149, or a bundle with two games (including "The Last of Us") for $199.
The 4GB Xbox 360 is getting an $80 discount and will sell for $99 -- while supplies last, of course.
Xbox One and PlayStation 4 will be back in stock, but neither console received a discount.
Beyond that, the retailer will sell the Disney (DIS) Infinity Starter Pack for $38.96 -- roughly a 50 percent savings.
Consumers can also pick up a Nintendo 2DS for $99.
Last but not least, "Grand Theft Auto V" has a one-hour price guarantee at $34, while the current-generation version of Call of Duty: Ghosts will retail for $39.96.
8:00 p.m. Thursday
Wal-Mart is offering a one-hour in-store guarantee for a few of its hottest items, including Beats by Dre Solo Headphones ($114.95 -- an $85 savings) and a 50-inch LED HDTV from Emerson ($288 -- nearly half off the MSRP).
RCA is also offering a generically named Dual Core Tablet for the "special buy" price of $49. Special or not, the device made it onto Gotta Be Mobile's list of Black Friday deals to avoid.
Samsung (SSNLF) has a cornucopia of TVs that are on sale, including a few Smart TVs between 40 and 55 inches. Prices range from $397 for a 40-inch TV to $727 for a 55-inch model.
Wal-Mart will also sell a $178 notebook from Hewlett-Packard (HPQ), but that item appeared on Gotta Be Mobile's "avoid" list as well. According to its report, the laptop (HP 2000-SD09WM) was made specifically for Wal-Mart's Black Friday sale. Thus, it could feature cheaper components and a weaker processor than consumers might expect.
8:00 a.m. Friday
By now, the deals are really beginning to slow down. Those who haven't left the house yet might as well stay home.
At this time, deal seekers can get a $75 gift card with any new iPhone 5C (which will sell for $45) or iPhone 5S (which will sell for $189).
The Galaxy S4 has been brought down to $99, and consumers can get last year's model (the Galaxy S3) for $0.97.
At the time of this writing, Louis Bedigian had no position in the equities mentioned in this report.
Read more from Benzinga:
ABOUT TECHBIZ
Start investing in technology companies with help from financial writers and experts who know the industry best. Learn what to look for in a technology company to make the right investment decisions.