Whatever happened to Apple's halo effect?
Without new products to replenish its ecosystem, Apple runs the risk of losing some of its sway with consumers.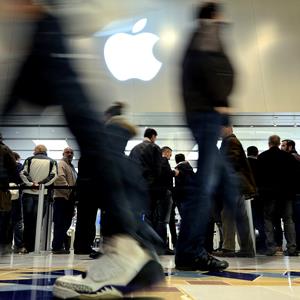 By Rocco Pendola, TheStreet
Those of us who harp on the perceived need for Apple (AAPL) to release a new product might be missing something.

We don't talk much anymore about Apple's halo effect, which is the notion that once you buy an Apple product and you fall so in love with the experience that you buy another, and maybe another after that. 
The effect's earliest, most common and most powerful manifestation involved iPod buyers going on to purchase Mac computers. Apple's customer service and the overall superiority of its products drive the halo effect; but it also has had something to do with the products' seamless assimilation into the user's everyday life. When you connect an Apple gadget to a Macbook, it's easy to use and situate everything from music collections to appointments to personal contacts.
At some point, however, this synergy -- for want of a better buzzword -- will fade. And that will surely happen if Apple continues to merely refresh existing products or make cosmetic changes. Without nourishment, the Apple ecosystem that people find so inviting will wither.
What would Bezos do? 
Consider what Jeff Bezos is doing at Amazon.com (AMZN). He has the company in areas it probably has no business being in. But to Bezos, it's all about extending Amazon's reach. Amazon has no idea what it's doing -- relatively speaking -- with something like original programming, but it's in the space to further the viability of its Instant Video unit, which pumps Prime and thereby helps increase core e-commerce sales. 
I'm not saying Apple should go quite as willy-nilly as Amazon -- the companies have very different core goals. But Apple absolutely needs to find a way to infiltrate new or different aspects of its customers' lives.
For example, if you have an iPhone and love it, you might be more likely to stick with it if the iPhone works in concert with some sort of living-room technology, preferably a television set. Same goes for the iPad. Historically, Apple has done a great job making it easy for you to own just one Apple product while establishing the allure of owning more than one and getting them to easily and efficiently work together.
Nearly every rumor I hear about Apple's plans doesn't sound like Apple at all. A "cheap" iPhone . . . copying others by going with multiple colors or larger screen sizes . . . getting involved in expensive content deals with big media companies. None of these make much sense.
When I think of Apple and world domination, I don't think of market share; rather, I think of the most sticky and aspirational ecosystem in consumer electronics.
More from TheStreet.com
DATA PROVIDERS
Copyright © 2014 Microsoft. All rights reserved.
Fundamental company data and historical chart data provided by Morningstar Inc. Real-time index quotes and delayed quotes supplied by Morningstar Inc. Quotes delayed by up to 15 minutes, except where indicated otherwise. Fund summary, fund performance and dividend data provided by Morningstar Inc. Analyst recommendations provided by Zacks Investment Research. StockScouter data provided by Verus Analytics. IPO data provided by Hoover's Inc. Index membership data provided by Morningstar Inc.
ABOUT TECHBIZ
Start investing in technology companies with help from financial writers and experts who know the industry best. Learn what to look for in a technology company to make the right investment decisions.