Will Obama switch from BlackBerry to Android?
As the smartphone maker clings to its dwindling market share, one of its last and most prominent strongholds – the White House – is reportedly weighing other options.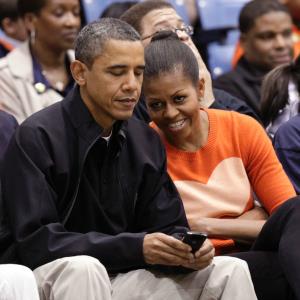 By Will Connors, The Wall Street Journal
The White House is testing smartphones from Samsung (SSNLF) and LG Electronics for internal use, a person familiar with the matter said, threatening one of the last and most high-profile strongholds of BlackBerry (BBRY).
The devices are being tested by the White House's internal technology team and the White House Communications Agency, a military unit in charge of President Barack Obama's communications, the person said. The tests are in the early stages, the person said, and any implementation of Samsung or LG phones is still "months away." There was no indication that President Obama is switching from his modified BlackBerry.
"We can confirm that the White House Communications Agency, consistent with the rest of the Department of Defense, is piloting and using a variety of mobile devices," a Defense Department spokesman said. He declined to comment on the devices in the pilot test or in use at the White House.
A Samsung spokesman declined to comment on whether its phones were being tested at the White House. "We have seen strong interest from the government sector and are working closely with various agencies to deploy pilot programs," he said.
An LG spokesman said the company wasn't aware of such testing.
"For more than a decade, BlackBerry has been securing the U.S. government's mobile communications and only BlackBerry is designed to meet the high-security needs of U.S. and allied government agencies," a BlackBerry spokeswoman said.
President Obama has said he uses an Apple (AAPL) iPad for reading. Apple's iPhone isn't part of the testing program, the person familiar with the matter said.
Apple for the past few years has been chipping away at BlackBerry's once-dominant position in the government sector, however, and Samsung has invested heavily to win more government customers.
BlackBerry's proprietary network is widely considered the most secure among smartphone makers. But phones running on Google's (GOOG) Android operating system have worked to bolster their security, largely by working with third-party software companies.
BlackBerry's loss of government users comes as the Waterloo, Ontario, company has suffered losses among consumers more broadly. BlackBerry once had roughly half of the North American smartphone market, but now makes up just 0.6 percent of that market, according to IDC.
To counter such challenges, BlackBerry over the last several months has undergone a broad executive overhaul and cost-cutting program.
The company's new chief executive, John Chen, has said that winning back government customers is a top priority. BlackBerry is opening a "security innovation center" in the Washington, D.C., area later this year as part of that effort.
Chen has met with officials from the White House to discuss "some of the stuff they like and some of the stuff they would like us to work on," he said in an interview this month with Bloomberg Television.
More from The Wall Street Journal
ABOUT TECHBIZ
Start investing in technology companies with help from financial writers and experts who know the industry best. Learn what to look for in a technology company to make the right investment decisions.