Yahoo targets growth through acquisitions
Driving traffic and users to its mobile properties appears to be the consistent approach Yahoo is using to create a whole new generation of fans.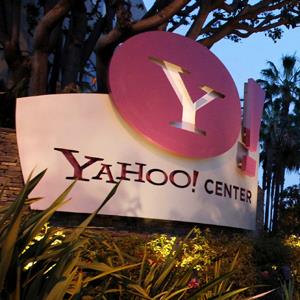 Marc Courtenay, TheStreet
While beefing up its online offerings, Yahoo (YHOO) has shown tenacious determination to grow its advertising revenue.
Its legions of regular visitors have helped drive traffic to Yahoo's myriad display ads. Yahoo remains a formidable force on the Web, accounting for about 10% of all display advertising impressions. That looks like peanuts compared to Facebook's (FB) nearly 32% share of all display ads placements.
Since CEO Marissa Mayer took control of the direction of the company, a vast array of products and services fills an entire page on the company's website.
Yahoo has also awakened to the need to be a gigantic presence in the world of smartphone users and has completed a flurry of deals to make it a dominating mobile competitor. Recently it announced the acquisition of a company called Bignoggins Productions (don't you just love a clever name like that?).
It's a San Jose, Calif., company that develops mobile apps for players in fantasy sports leagues. It is the maker of popular apps such as "Fantasy Monster" and "Draft Monster." It was founded in 2010 by software engineer and developer Jerry Shen.
Part of the deal is that Shen, age 30, will be joining Yahoo's mobile engineering team at the company's Sunnyvale, Calif., headquarters. He is the only Bignoggins employee joining Yahoo!.
Yahoo isn't going to keep distributing Bignoggins apps, but will blend some of the underlying technology into its own services for playing in fantasy sports leagues. In case you didn't know, Yahoo has been successful in its fantasy sports offerings.
The  list goes on 
On June 29, Yahoo announced it completed its acquisition of Tumblr one of the fastest-growing media networks in the world.
Its tremendous popularity and engagement among creators, curators and audiences of all ages brings a significant new community of users to the Yahoo network. The combination of Tumblr and Yahoo is expected to grow Yahoo's audience to more than one billion monthly visitors.
Among Yahoo's other recent acquisitions are Astrid, a task-management app maker; Summly, a news-condenser app maker; Stamped, a mobile-review app maker; Propeld, a location-based apps maker; Jybe, a social recommendation site; Loki Studios, a mobile gaming start-up, and PlayerScale, a gaming infrastructure company.
Acquisitions helped Yahoo increase its menu of mobile offerings to the point where the company has increased its mobile email usage by 70%. Yahoo has also experienced a 50% increase in photo uploads from Flickr, another service it bought not long ago.
Flickr has certainly become one of the most popular online photo management and sharing applications in the world. It appeals to millions who want to share their favorite photos and videos to the world, securely and conveniently.
Driving traffic and users to its mobile properties appears to be the consistent approach Yahoo is using to create a whole new generation of fans. Its search engine business continues to show signs of improvement and its financial sight is bookmarked by millions around the globe.
We'll learn whether these acquisitions and the attempts to strengthen its mobile offerings and recreate its pages have paid off when the company hosts a conference call on July 16 to discuss its financial results for the second quarter that ended June 30

Let's catch a glimpse at a one-year chart to help us see a picture of how the stock has performed in light of Yahoo's quarterly revenue per share. I've also included the trailing 12-month diluted earnings per share (EPS) line. Revenue obviously needs to reverse direction soon.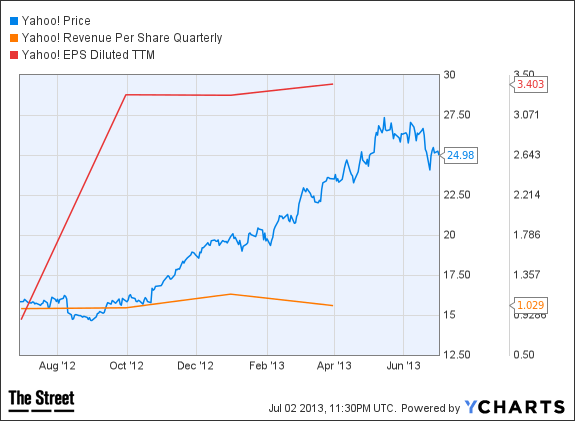 By the way, as of June 16, CEO Mayer owns over 2.5 million shares, which at YHOO's current share price of around $25 equals $64.5 million of personal commitment in the company she leads.
The top institutional shareholder is Third Point. As of March 31, it owned 62 million shares or 5.7% of Yahoo's outstanding shares. That equates to about $1.5 billion of equity, and by anyone's standards that's a strong indicator that an institution believes in the direction of a company.
The shares of Yahoo have had an excellent run and may be due for a pullback. The consensus one-year price target set by the analysts that follow the company is $27.52. That's very close to the 52-week high of $27.68.
Yahoo has exceeded analysts' EPS estimates for four consecutive quarters. In the first quarter of 2013, the company beat estimates by 58%, and it wouldn't surprise me to see them surprise to the upside on July 16. Yahoo is investing its money in living up to this description one smart acquisition after another. The results will speak louder than words and they're already unfolding.
More from TheStreet.com

DATA PROVIDERS
Copyright © 2014 Microsoft. All rights reserved.
Fundamental company data and historical chart data provided by Morningstar Inc. Real-time index quotes and delayed quotes supplied by Morningstar Inc. Quotes delayed by up to 15 minutes, except where indicated otherwise. Fund summary, fund performance and dividend data provided by Morningstar Inc. Analyst recommendations provided by Zacks Investment Research. StockScouter data provided by Verus Analytics. IPO data provided by Hoover's Inc. Index membership data provided by Morningstar Inc.
ABOUT TECHBIZ
Start investing in technology companies with help from financial writers and experts who know the industry best. Learn what to look for in a technology company to make the right investment decisions.