Mayer keeps Yahoo investors content -- for now
Despite second-quarter results that show scant improvement in the core business, Wall Street is being patient with the new chief's growth-through-acquisitions strategy.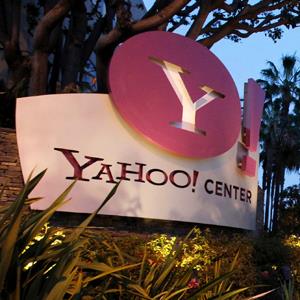 Chris Ciaccia, TheStreet
Yahoo's (YHOO) second-quarter financial results did nothing to answer questions about the core business. However, optimism continues to surround CEO Marissa Mayer and, for shareholders, that's just fine, for the time being.

The Sunnyvale, Calif., company reported earnings of 35 cents a share on $1.07 billion in revenue excluding traffic acquisition costs, as revenue fell 1% year-over-year. Though display revenue fell 11% year over year, there was a slight improvement in search revenue, which rose 5% to $403 million.
It appears that while there isn't an immediate bump in the overall numbers, the story is no longer as bleak as it once was. On the conference call, Mayer said there is a "chain reaction to growth -- people, then products, then traffic, then revenue." 
She also noted that "page view traffic achieved crossover in early June, and has grown year over year."
Strength in Asian assets
Cantor Fitzgerald analyst Youssef Squali, who rates Yahoo shares a "buy," noted that the stock continues to benefit from the optimism surrounding the Asian assets (mainly, Yahoo's 24% stake in Alibaba and it 35% stake in Yahoo Japan), but that the real turnaround may come in 2014. 
"Longer term, however, the stock's performance will have to correlate with the turnaround in Yahoo!'s core business, which we won't have material visibility into until 2014," Squali wrote in the report. "YHOO remains a SOP story, with the Asian assets and cash amounting to ~$21.30/sh and a $1.9B buyback that should limit the downside." The analyst lowered his price target to $29 from $30 following the second-quarter results.
The increase in revenue from Alibaba is especially important, as the Chinese Internet giant gets ready to go public. Oppenheimer analyst Jason Helfstein, who raised his price target to $33, notes the strong performance in Alibaba revenue continues to be a huge boon for Yahoo.
"1Q Alibaba revenue increased 71% y/y, while operating income was 62% above our estimate on higher margins," Helfstein wrote in the note. "As a result, we now value Alibaba at $92B vs. $73B, previously."
Giving the sites an overhaul 
Yahoo's slowly starting to turn itself around, as Mayer noted the benefits of recently relaunched products, such as Flickr, mail, weather and other properties which have been overhauled in the last few months. The recent acquisition of Tumblr, which CFO Ken Goldman said will not provide meaningful revenue this year, may start to affect the top line in 2014.
Credit Suisse analyst Stephen Ju, who has a "neutral" rating and a $23 price target, said it's more of the same from Yahoo, as Mayer reiterated the new strategy but offered no specifics on product road maps.
"Incremental details on the product release road map were not offered, but we were however encouraged to see overall traffic levels (ex-Tumblr) return to growth in June, which should serve as a first fledgling sign of a turnaround," Ju wrote in the note. "That said, we remain in a wait-and-see mode pending further signals that the traffic growth is indeed translating into revenue growth."
While third-quarter revenue estimates were below consensus and non-GAAP operating income was taken down to a range of $900 million and $1 billion, investors are looking past that, assuming that 2014 is shaping up to be a huge year for Yahoo, particularly with the Tumblr acquisition, as well as partnerships, something Mayer believes is crucial for Yahoo's future.
Can Tumblr contribute to the bottom line? 
The Tumblr story is poised to be crucial. The $1.1 billion purchase was something Mayer did to reinvigorate growth in a major way, and Tumblr's growth has accelerated since the acquisition closed. BMO Capital Markets analyst Daniel Salmon, who rates Yahoo! "market perform," noted the importance of Tumblr. "We remain very positive on the adoption of native advertising and believe Yahoo! is positioned well with Tumblr, as well as the in-stream ads on the Yahoo! homepage," Salmon wrote in his note. "The product revamp is moving along well, setting the stage for monetization to ramp later this year."
Mayer asserted that benefits are coming from Yahoo's strengthened partnerships with companies such as Apple (AAPL), Microsoft (MSFT), Google (GOOG), Facebook (FB) and Twitter. (Microsoft publishes MSN Money.)
Yahoo's future is mobile, and both Tumblr and the partnerships are crucial to that future, as Mayer addressed on the earnings call. "I do think that what we're seeing is a terrific opportunity for Yahoo around mobile, all the statistics I shared around weather, Yahoo Mail for mobile, around sports, and many of the other mobile applications that we're working on; I think at least they can really enhance a user experience on the phone, and we wanted to enhance the user experience right out of the box."
As long as the Asian assets continue to appreciate and the stock buyback program continue to remain in place, Mayer and her team will have additional time to turn around Yahoo's core business. 
More from TheStreet.com
DATA PROVIDERS
Copyright © 2014 Microsoft. All rights reserved.
Fundamental company data and historical chart data provided by Morningstar Inc. Real-time index quotes and delayed quotes supplied by Morningstar Inc. Quotes delayed by up to 15 minutes, except where indicated otherwise. Fund summary, fund performance and dividend data provided by Morningstar Inc. Analyst recommendations provided by Zacks Investment Research. StockScouter data provided by Verus Analytics. IPO data provided by Hoover's Inc. Index membership data provided by Morningstar Inc.
ABOUT TECHBIZ
Start investing in technology companies with help from financial writers and experts who know the industry best. Learn what to look for in a technology company to make the right investment decisions.