Yahoo's Mayer tosses around impressive numbers
The tech company's CEO says the company has 800 million active monthly users, up 20% since she took the reins with the mandate of getting Yahoo growing again.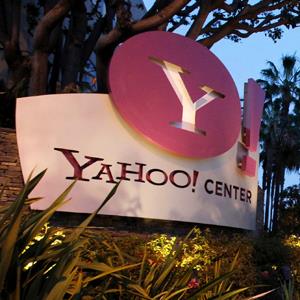 By Chris Ciaccia, TheStreet

Yahoo's (YHOO) Marissa Mayer gave several impressive numbers this week during a fireside chat at the TechCrunch Disrupt 2013 conference, most notably the 800 million monthly active users (a 20% increase) of the Internet portal's properties since she took over as chief executive last summer.
While impressive, there's another number floated by Mayer that's not as persuasive to shareholders: 3, as in the number of years she says it will take for her to truly turn around the company, from a revenue perspective.

Yahoo's revenue for its second-quarter was $1.07 billion, down 1% year over year.
Yahoo has spent over $1 billion in strengthening its team, particularly in mobile, where the company now has 350 million users. As the recent acquisition of micro-blogging platform Tumblr illustrates, Mayer is not shy with Yahoo's checkbook if she sees something as a fit that can help the company grow. Much of that money came not from recent initiatives out of Sunnyvale, Calif., but from Yahoo!'s monetization of its stake in Chinese Internet giant Alibaba.
Mayer has undoubtedly built up goodwill on Wall Street, turning the perception of the company around. She has not been able to get the core function of Yahoo turning in the right direction from a revenue perspective. Page views have started to turn around, as Yahoo surpassed Mayer's former employer, Google (GOOG), in traffic in the month of July for the first time since July 2011. Mayer stressed at the conference that page views ultimately equals revenue, though that's proved elusive so far.
People, products, traffic and revenue were Mayer's key theme during the interview with Michael Arrington. Yahoo certainly has an increase in people, with 800 million monthly users. It certainly has an increase in products, seemingly unveiling a new product almost weekly, the latest ones being the new Yahoo toolbar and the new Yahoo Screen app. Traffic is improving, judging by comScore's latest numbers. Now all she needs is the revenue.
Otherwise, investors will focus less on her superpower (she claimed empathy might be her superpower, but also said she should be making fewer decisions), and more on her inability to date to demonstrate progress on the most important number of all. 
More from TheStreet.com
DATA PROVIDERS
Copyright © 2014 Microsoft. All rights reserved.
Fundamental company data and historical chart data provided by Morningstar Inc. Real-time index quotes and delayed quotes supplied by Morningstar Inc. Quotes delayed by up to 15 minutes, except where indicated otherwise. Fund summary, fund performance and dividend data provided by Morningstar Inc. Analyst recommendations provided by Zacks Investment Research. StockScouter data provided by Verus Analytics. IPO data provided by Hoover's Inc. Index membership data provided by Morningstar Inc.
ABOUT TECHBIZ
Start investing in technology companies with help from financial writers and experts who know the industry best. Learn what to look for in a technology company to make the right investment decisions.