Facebook's mobile push takes toll on profits
The social network posted impressive growth numbers in its most-recent quarter, but Wall Street worries the company is spending too much.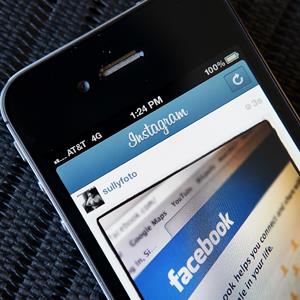 By Chris Ciaccia, TheStreet 
Facebook's (FB) fourth-quarter financial result beat estimates, but Wall Street pushed down the stock on concerns that the social network -- much like the rest of America -- has a spending problem.
Facebook did not provide guidance for the current quarter but executives did note that capital expenditures for 2013 will be around $1.8 billion as the company ramps up hiring and infrastructure spending.
David Ebersman, Facebook's chief financial officer, said total expenses, excluding stock-based compensation, will likely increase by around 50% this year. It will be worth watching where the expenses will be incurred -- Ebersman did not specify during the conference call with shareholders and analyst. But Fusion-IO (FIO), which supplies flash memory technology to Facebook as well as to Apple (AAPL), cut its 2013 revenue outlook, citing delayed orders from its customers.
Citigroup analyst Neil Doshi downgraded Facebook shares to "neutral" on the sharply higher operating expenses and prospects for little, if any, revenue gains from some of the company's newer initiatives.
"We view FB as a core long-term 'Net stock," Doshi wrote. "But with plans to invest heavily in the biz in 2013, and little expected contribution from new initiatives like Gifts or Graph Search, we don't see any near-term catalysts for the stock."
Doshi also expressed concerns that mobile ads, which monetize at a lower rate than desktop, are cannibalizing desktop ads.
Mark Zuckerberg, Facebook's chief executive, and COO Sheryl Sandberg  warned on the conference call that new initiatives like Gifts and Graph Search would not lead to material increases in revenue in the near term but that, over time, these could be big businesses. That's not enough for a stock that's trading at 36 times forward earnings and has gained over 40% in the past three months.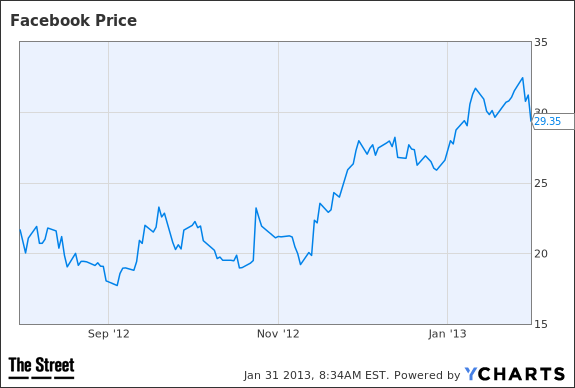 Companies that are in heavy investment mode take a longer-term approach to managing the business and want to see these investments play out over years, not quarter to quarter, as Wall Street so desperately wants. Google (GOOG) experienced this when it was a newly public company, and the story is no different now. 
"Our key issues are investments in our people (Facebook ended the quarter with more than 4,600 employees) and infrastructure," Ebersman said in an interview with TheStreet. "We are investing in engagement and monetization, and we're showing the results."
Managing expectations
One of those initiatives is Gifts. Facebook recently unveiled a way to send gifts to your friends on the platform, most in the $30 and under price range. BMO Capital Markets analyst Daniel Salomon had been expecting Gifts would  boost revenue. "We had been looking to Gifts for help, but management tapped-down expectations, and we have lowered our revenue estimates for it," Salomon noted, in a research report. He downgraded shares to "market perform" with a $32 price target.
On the call, Zuckerberg tempered expectations for Gifts, but analyst Salomon noted that any expectations for Gifts to improve would make him get more "proactive" on the stock.
Not all was negative for the quarter, though as Facebook beat estimates, led by higher advertising revenues. The social networking giant reported non-GAAP earnings of 17 cents a share on $1.585 billion in revenue, as the company's top line jumped 40%. Revenue from advertising was up 41% to $1.33 billion, accounting for 84% of total revenue. Mobile revenue represented 23% of advertising revenue in the fourth quarter, up from 14% in the third quarter.
Analysts surveyed by Thomson Reuters expected Facebook to earn 15 cents a share on sales of $1.53 billion in the fourth quarter.
Citi's Doshi noted that the company's mobile revenue run-rate is now $1 billion-plus for the year. On the conference call, Sandberg noted that Facebook Exchange (FBX) is not yet available on mobile. "We think FB is showing revenue acceleration due to a mobile pricing tailwind, while other companies, such as Google, are facing mobile pricing headwinds," she said.
Jeffries analyst Brian Pitz believes that FBX could be a huge driver of revenue over the next twelve months. 
"During 2012, we believe Facebook will generate close to $4B in revenue off its standard display ad units, which appear on the right side of the page (aka the right rail). This is the same inventory that will be sold on FBX. FBX will allow real-time-bidding (RTB), and will also enable retargeting. Retargeting ads will generate CPC/CPA multiples higher than the ads they displace," Pitz wrote in a note. He downgraded Facebook to "hold," taking down the price target to $30 from $32.
While Wall Street is worried about the short term, Zuckerberg and his team are looking at the long term. Considering that the CEO has taken Facebook from being a hang out for college kids in 2004 into a $60 billion business in 2013, I would say he probably knows what he's doing.
More from TheStreet.com
ABOUT TECHBIZ
Start investing in technology companies with help from financial writers and experts who know the industry best. Learn what to look for in a technology company to make the right investment decisions.