Hulu at a fork in the road
Hollywood's own online video service has been no match for its rivals. Now its owners are under pressure to pony up more money to expand the service.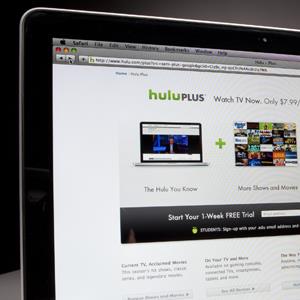 By Christopher S. Stewart and John Jannarone, The Wall Street Journal 
As Amazon.com (AMZN) and Netflix (NFLX) battle it out for dominance in online video, owners of the much smaller Hulu, Hollywood's own online video service, are under pressure to decide which direction to go.
Jason Kilar, the chief executive of Hulu, has asked the site's owners -- Walt Disney (DIS), Comcast (CMCSA) and News Corp. (NWSA) -- for about $200 million to fund more program purchases and an overseas expansion, according to people familiar with the situation. That is roughly twice the amount they contributed this year, one person said.
The request to sink more money into the unprofitable, 5-year-old venture has put the spotlight on differences between Disney and News Corp. -- the two voting partners -- over Hulu's business model, which involves both a free service and a fledgling subscription offering. (For regulatory reasons, Comcast, the majority owner of NBCUniversal, can't vote its stake.)
It isn't known how News Corp. and Disney will respond, but the request could prompt the owners to clarify the strategic vision for Hulu before increasing their bets on it.
News Corp., the parent of the FOX broadcast network, wants Hulu to evolve into solely a subscription service, whereas Disney, owner of the ABC network, favors the free, ad-supported approach.
A Hulu spokeswoman said, "We do not comment on continuing discussions regarding decisions that have yet to be made."
Betting on original programs
Hulu streams shows from its partner channels, as well from other networks, such as Viacom's (VIAB) Comedy Central. Over the past couple of years, it has begun to develop original programming, beginning in earnest with the documentary series "A Day in the Life," directed by Morgan Spurlock, and "Battleground," a 13-episode comedy about a dysfunctional Senate campaign.
Hulu already has incurred heavy costs for expansion. The company doesn't disclose profits or losses, but Disney for the first time gave some indication recently when it reported its fiscal 2012 earnings. Disney revealed Hulu had sustained larger losses for the fiscal year "driven by increased programming and marketing costs, partially offset by higher advertising and subscription revenues." Some number-crunching of Disney's comments indicates Hulu's quarterly operating loss was around $30 million.
Hulu had to borrow $338 million in October to finance the $200 million buyout of Providence Equity Partners' 10% stake in the venture, and a $134 million equity-compensation payout to employees, according to a regulatory filing by Disney. Of the employee payout, about $40 million went to Kilar, according to people familiar with the matter. Hulu's owners guaranteed the loan.
While Hulu invested more than $500 million in content in 2012, its competitors are spending far more.
Netflix has committed to spend $5 billion to secure movies and programming for online streaming over the next few years, with about $2 billion of that due in the 12 months through next September. The outlet has commissioned original series like "House of Cards," as well as paid for rights to an array of Hollywood content, as has Amazon.
Amazon declined to comment on the cost of its content, but Reed Hastings, chief executive of Netflix, estimates his competitor is losing between $500 million and $1 billion a year on building its subscription video-on-demand service.
Amazon this week said it had approved pilots for six original series including "Dark Minions," an animated series about workplace slackers written by stars of "The Big Bang Theory."
"If Amazon and Netflix are stepping it up, what are you going to do? That is the big question for everyone at Hulu," a person familiar with the matter said.
Tension over Hulu's purpose surfaced almost as soon as the site was unveiled in 2007. At that time, online video was beginning to take off and broadcasters were trying to respond. NBC and FOX, the two original driving forces behind Hulu, wanted to draw viewers away from Google's (GOOG) YouTube by making their content available on an array of sites including Web portals operated by AOL (AOL), Microsoft's (MSFT) MSN  and Yahoo (YHOO).
But Hulu has proved no match for YouTube. Hulu had 22 million unique viewers in November, including those visiting via partner sites like Yahoo, while YouTube had 152 million, according comScore.
And since 2007, Netflix's video streaming service has taken off. It had 23.8 million paid subscribers in the United States at Sept. 30. More recently Amazon began offering video streaming for subscribers to its $79-a-year Prime service, which gives customers free two-day shipping.
Anthony DiClemente of Barclays Capital estimates the number of Amazon Prime users is slightly less than half of Netflix's subscriber count.
By contrast, Hulu has just three million subscribers -- although it said this week the figure is double what it was a year ago. Both Netflix and Hulu Plus, the subscription service, are $7.99 a month.
Hulu's partners contemplated throwing in the towel last year when they put Hulu up for sale. But that effort was abandoned, with only Providence being bought out.
More from The Wall Street Journal
How did those 'Ugly Dolls' come to be? 
US expands child online privacy law
ABOUT TECHBIZ
Start investing in technology companies with help from financial writers and experts who know the industry best. Learn what to look for in a technology company to make the right investment decisions.