Tablets gaining fast on smartphones
A new report finds tablet users account for a steadily increasing amount of mobile traffic, and projects that the trend will continue in the months ahead.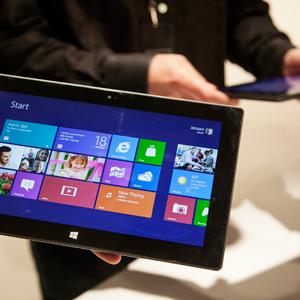 By
Minyanville
As the smartphone market slows, tablets are becoming an increasingly popular way of consuming media, playing games and accessing data, according to a new report by mobile advertising network Jumptap.
Jumptap, which helps companies understand mobile audiences and cater to them, said tablets last year accounted for 18% of mobile traffic on its advertising network, which covers 134 million mobile customers in the United States and a total of 206 million worldwide. 
That represents a sharp jump from the 7% of mobile traffic on the network in 2011, the company said. Smartphones represented 78% of the network's traffic, but their share is rapidly shrinking: Jumptap projects that tablets will make up close to one-third of its network traffic by the end of 2013.
"Advertisers who increase their mobile investment, but leave tablets out of their strategy, will miss close to one-third of the mobile market," Jumptap asserted in its report.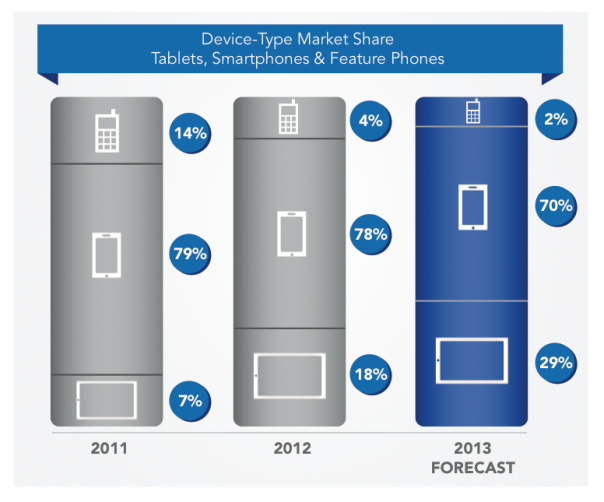 Source: Jumptap 

Other data bolsters this view. Research firm IDC recently raised its forecast for tablet sales in 2013 to 172 million units from 165 million units, and forecast that tablets would account for 10% of sales of Web-enabled mobile devices this year.
Jumptap's pro http:// jection suggests that tablet users spend more time using their devices than do users of smaller-screened smartphones.
Based on Jumpstart's data,
Android
(
GOOG
) and
iOS
(
AAPL
) continue to be the leading mobile platforms, with
BlackBerry
(
BBRY
) and
Windows
(
MSFT
) struggling to catch up.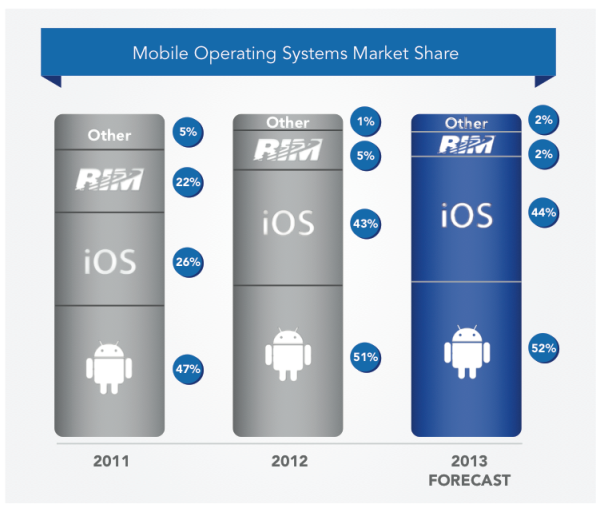 Source: Jumptap 
The growing popularity of tablets is good news for Apple, at least for now. As tech research firm Gartner has noted that Android's dominance of the smartphone market is growing and accounted for early 70% of the market at the end of 2012; Apple's iOS had just 20% of the market.
In the tablet market, however, Apple and its iPad remains the top dog by a considerable margin. IDC noted that Apple's share of the global tablet market was a robust 43.6% in the fourth quarter of 2012, though that was down from 51.7% a year earlier.
While Samsung has become the serious challenger to Apple in the tablet market (its fourth-quarter market share grew to 15.1% from 7.9% a year earlier, the Seoul, South Korea, company has yet to produce a tablet that has captured users' imaginations the way that its Galaxy S smartphones have. 
Jumptap projects that Samsung's share of the Android smartphone market will grow in 2013.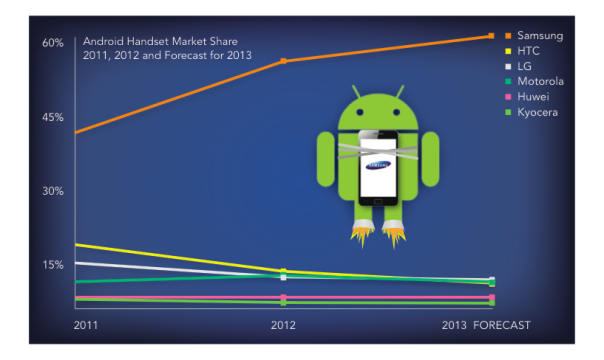 Source: Jumptap 

"As Samsung creates more distance between itself and other Android handset brands, it may begin to pose a threat to Google's multi-device model," Matt Duffy, vice president of marketing at Jumptap, said. "Regardless of whether Google puts more muscle behind any other Android handset brand, we believe Samsung will increase its dominance of the Android device market in 2013," Duffy said in the company's report on mobile traffic.
Minyanville has a business relationship with BlackBerry.

DATA PROVIDERS
Copyright © 2014 Microsoft. All rights reserved.
Fundamental company data and historical chart data provided by Morningstar Inc. Real-time index quotes and delayed quotes supplied by Morningstar Inc. Quotes delayed by up to 15 minutes, except where indicated otherwise. Fund summary, fund performance and dividend data provided by Morningstar Inc. Analyst recommendations provided by Zacks Investment Research. StockScouter data provided by Verus Analytics. IPO data provided by Hoover's Inc. Index membership data provided by Morningstar Inc.
ABOUT TECHBIZ
Start investing in technology companies with help from financial writers and experts who know the industry best. Learn what to look for in a technology company to make the right investment decisions.