Google up, Apple down -- for now
As Google's share price surpasses $800 for the first time, Wall Street's perceptions of the two tech titans are starting to diverge. But investors are notoriously fickle.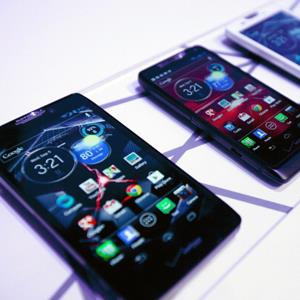 By Chris Ciaccia 

The fortunes of Google (GOOG) and Apple (AAPL) have become polar opposites on Wall Street, as Google's share price surpasses $800 for the first time and Apple's free-fall continues.
Investors think that Google, as led by CEO Larry Page, seemingly can do no wrong. That's how Apple was perceived for much of the past few years, but that's quickly changed. 
Apple shares have shed 19% over the past three months, while Google is up 20% over the period.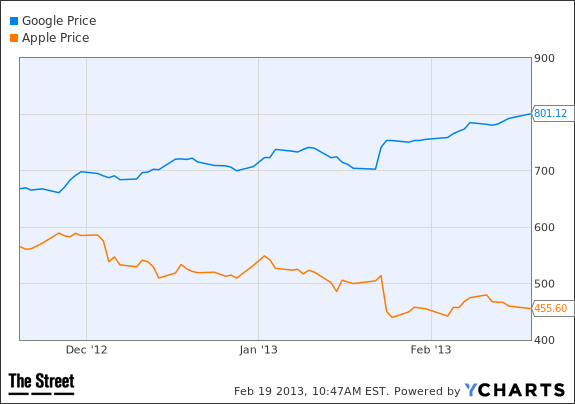 Google's fourth-quarter results showed that cost per click (CPC) -- a key metric for online advertising -- fell 6% year over year but was up 2% sequentially. The recent trend alleviated some of Wall Street's biggest concerns about Google's revenue and served as a partial catalyst for the stock's recent run-up.
Apple, on the other hand, was punished for its recent revenue miss. This comes even though Apple reported 17.6% annual revenue growth, or 27% when factoring in that last year had an extra week to account for the leap year.
Becoming more like Apple 
Google is becoming more like Apple, especially as it branches outside of its key advertising model. Rumors of Google-branded retail stores, an area where Apple has enjoyed great success, are making the rounds.
Google already is making its own hardware. The Nexus 4 smartphone, as well as the Nexus 7 and Nexus 10 tablets, have sold well, though none has approached the success Apple has had with the iPhone. Apple, of course, has been selling hardware for years, first with the iPod, then the iPhone and now the iPad.
It seems as if Google is being rewarded for becoming more like Apple while Apple is being punished for trying to be more like Google. In fact, Apple CEO Tim Cook even made the point at a recent tech conference that Apple isn't a hardware company, perhaps trying to change people's perceptions of the tech giant.
"Because we're not a hardware company, we have other ways to make money and reward shareholders," Cook said at the Goldman Sachs Technology and Internet conference earlier this month. "This doesn't get noticed very much, for some reason," he added.
Cook pointed out that Apple generated $3.7 billion in revenue from services and software in its most recent quarter.
Perceptions of Apple have have changed dramatically over the past few months. Hedge funds actively sold the stock during the fourth quarter, with big names such as Third Point, Omega Advisors and Jana Partners liquidating their positions.
The market is notoriously fickle, and can change on a dime. Apple is no stranger to this phenomenon, something that Google has also experienced. Just don't be surprised if perception changes again sometime in the very near future. 
More from TheStreet.com
DATA PROVIDERS
Copyright © 2014 Microsoft. All rights reserved.
Fundamental company data and historical chart data provided by Morningstar Inc. Real-time index quotes and delayed quotes supplied by Morningstar Inc. Quotes delayed by up to 15 minutes, except where indicated otherwise. Fund summary, fund performance and dividend data provided by Morningstar Inc. Analyst recommendations provided by Zacks Investment Research. StockScouter data provided by Verus Analytics. IPO data provided by Hoover's Inc. Index membership data provided by Morningstar Inc.
ABOUT TECHBIZ
Start investing in technology companies with help from financial writers and experts who know the industry best. Learn what to look for in a technology company to make the right investment decisions.