Apple and iWatch: The next frontier?
Wearable computers could be the next big thing, and few companies could do more than Apple -- and its army of developers -- to make a smartwatch a must-have accessory.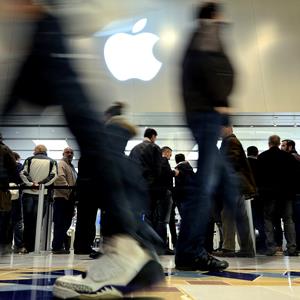 By Theresa Poletti, MarketWatch  
Wearable computers, such as a wristwatch that makes phone calls, have for many years been the stuff of comic books, science-fiction novels and spy movies.
But recent reports that Apple (AAPL) is developing a so-called "smartwatch" mean that the company could turn wearable computers into computing's next frontier and singlehandedly revive watch-wearing among younger generations.
"We see the body as the next frontier for personal computing," said Sarah Rotman Epps, an analyst with Forrester Research. "It would be strange for Apple to be absent from that, they absolutely have something to contribute to that."
Rumors that Apple is possibly working on such a device have been around for some time, based on patents it has filed and other clues. In early January, analyst Gene Munster of Piper Jaffray wrote a note to clients, saying that while he was unsure of the timing, he believed Apple "will eventually introduce some type of wearable computing product."
Apple did not respond to a request for comment.
Indeed, Apple would not be the first company to create such a device. For example, Sony (SNE) already makes a $130 SmartWatch that works with Android-based smartphones and displays texts, emails and social media updates, along with letting you know who is calling you.
But Apple has the marketing heft and technological chops to make such a device popular -- and fashionable -- in the mainstream.
And investors, who have seen Apple's stock plummet over the last few months over worries that its hyper-growth phase is slowing, may jump on some fresh product buzz.
Guaranteed to look cool
"Apple, like every other consumer electronics company out there, is trying to figure out the next big thing," said Paul Saffo, head of foresight at Discern Analytics. "The next big thing may be a bunch of little things. What do you do after you have a laptop, a smartphone  and a tablet? You accessorize."
A smartwatch would likely at first just connect to an iPhone for phone calls, electronic payments and receiving messages on the screen. One aspect of what Apple is reportedly working on seems to involve its partner Corning (GLW) with its new curved glass, called Willow Glass.
This invention would make the iWatch more novel, enabling it to have a larger screen that could curve over the wrist.
"It is guaranteed to look cool," Saffo said." It most probably will do something useful. It will be an open invitation for developers to figure out what it's good for."
One early use of a smartwatch could be as a replacement for a Bluetooth headset, which will have everyone walking around "looking like a secret service agent," Saffo added. Or like Dick Tracy, the famous police detective who started talking into a two-way wrist radio to his colleagues on the force in the late 1940s.
Forrester Research wrote in a report last month that in 2012, many companies introduced wearable devices for health and fitness, which track activity with sensor chips, such as the Nike+ Fuelband. But Forrester noted that while these devices are promising, they fall short in areas such as data quality and lack a coaching feature to take advantage of all the data that has been gathered by the device.
'Becoming like tagged bears'
In addition, the downside of a device that is worn all the time on your body is that users could potentially be tracked even more easily than they are with smartphones.
"We're all becoming like tagged bears," said Saffo, adding that whether or not smartwatches track more than smartphones will depend on what electronics they contain, such as GPS chips.
But it is unlikely that more tracking will dissuade consumers, if they find an iWatch fast and easy to use to pay for things, or if it offers other conveniences.
"Americans complain about privacy, but offer them the cheapest trinket, or a free cup of coffee and they will spill the most intimate details of their lives," he said.
How far out this potential iWatch could be is the real question now for investors. As Rotman Epps pointed out, reports of Apple TV last year have yet to turn into a solid product yet.
"The speculation on timing was a little premature," she said. "I don't know that Apple is going to do this."
More from MarketWatch:
Tim Cook doesn't define Apple as hardware maker

ABOUT TECHBIZ
Start investing in technology companies with help from financial writers and experts who know the industry best. Learn what to look for in a technology company to make the right investment decisions.