Investing in the next tech revolution
Combine computing with manufacturing and you get 'making.' Add robotics and you have what could prove to be the next great merger of technologies.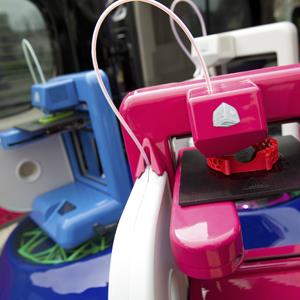 By Dana Blankenhorn, TheStreet
Technologies are constantly merging. The cloud is the product of the combination of distributed computing and virtualization. The marriage of laptop computers and phones produced tablets.
Big technology mergers are on the horizon in this decade, and none  may have a bigger impact than the merger of computing and manufacturing.
Chris Anderson, perhaps the best tech writer of my generation, recently quit the journalism scene to join the startup  3D Robotics. In an interview with The Atlantic, Anderson described the company -- a manufacturer of robots -- as "a natural outgrowth" of the "maker" movement he began covering five years ago at Wired magazine. 
For investors, this movement may still be a mystery. But its essence is simple: Instead of producing virtual goods with computers, makers produce real goods.
 "Making" is where personal computing itself was 40 years ago, a hobbyist niche looking to become a mass movement.
A manufacturing revolution? 
Think of 3D printers as the computers of this new movement. Companies such as 3D Systems (DDD) and Stratasys (SSYS) are what Intel (INTC) and Texas Instruments (TXN) were to the digital revolution; their printers are at roughly the stage where the Intel 4004 chip was after its creation. The best printers made by these companies are capable of creating such practical products as dental implants from wax molds and aeronautics parts from metals.
Hewlett-Packard (HPQ) had a private labeling deal with Stratasys but ended it amid speculation it would get into this business on its own. General Electric (GE) recently bought two high-end 3D printing outfits, Morris Technologies and RQM, through its aviation unit, as reported by 3Ders, which you might call the Datamation magazine of this field.
Early investors have been rewarded for buying into 3D Systems and Stratasys. 3D Systems' 215% run-up over the past 12 months has come despite short-term worries, including an increasing amount of time management is forced to spend in court protecting its niche. Those issues will work themselves out.
The uptrend in Stratasys (176% over the past 12 months) seems more secure, as it appears to have a better handle on the differences between the prototyping and production areas of the business. But both companies should do well.
Put down your pen 
The real excitement is on the low end, with start-ups like MakerBot, based in Brooklyn. The company focuses on the consumer market, producing hardware and software, encouraging the growth of the hobbyist market and doing demonstrations such as a 3D "photo booth" that can produce small sculptures of your head from a photograph. Its Replicator 2 can turn plastic filament into finely detailed parts for about $2,200. 
Think of these as being like HP calculators back in the day. They're cool, and if you're a college student or an engineer you're going to be jazzed. Events like the Maker Faire have the vibe of the old West Coast Computer Faires from the 1970s, complete with long-haired geeks speaking a language their parents don't understand.
It's from this cohort that the big breakthrough will come. We're still awaiting the Apple II or the Radio Shack TRS-80 of the maker revolution. Something, and someone, in the next few years, is going to transform 3D printing from a niche market into a mass market, into something every business has to have in-house and every family will want to own. Vast new markets in software, materials and products will flow from that.
What Anderson's adventure is pointing to, however, is something even bigger. That is the merger of making with motors. 3D Robotics is in the build-your-own-drone​ business; these are smaller versions of the war machines that have transformed fighting against al-Qaeda from a defensive struggle to an offensive one.
But that's just the tip of the iceberg. Where it all leads is unknown, and that's the most exciting place for any business to be, at the bleeding edge. It's enough to make a great writer put down his pen.
More from TheStreet.com
No disrespect, Dionisios... but technology is a helper not a leader. Weak-minded people haven been using it to change Man. If you put a baby in an empty room and do not talk to it or teach it anything, it does not learn anything and it is not inspired. When you eliminate the learning process with shortcuts and apps, you sap the ability to learn, grow, expand and create. You are 85. In 85 more years without direct engagement in life and living, Man becomes the baby in that room. I support technology when it takes us further but condemn it when it replaces basic function. When we ban business intervention and meddling manipulation, we will begin toward your COTTAGE.
If today's fake rally proves anything at all, it proves that the markets are not engaged in exchanges, business or financial investments at all, they are completely strangled by wealth-mongers who will see us DIE before giving up one buck. Forget the Fiscal Cliff... deploy the Armed Forces and grind the greedy into pulp. The Republican Party took control of the economy and is holding it hostage to get it's way. The markets should be in the urinal again today and banks should be withholding the Kool Aid until job recovery can be validated. RECOVER JOBS to balance the nation. If you won't or can't do it... surrender peacefully.

A new world will develop, a new revolution, which I have named the COTTAGE Revolution.It will allow many to become more free from government,from huge industrial giants,and unions.It will allow man to experience freedoms beyond their wildest imaginations.At my age of 85 and an electronic engineer I have been at the pinprick of technology througout my blessed career and believe we are on the threshold of greatness on a worldwide basis.An age of imaginative artisans and artists with an entreprenourial spirit that will lead the way.But remember these are gifts you must use wisely.
Are you sure you want to delete this comment?
ABOUT TECHBIZ
Start investing in technology companies with help from financial writers and experts who know the industry best. Learn what to look for in a technology company to make the right investment decisions.