Cirrus ready to rocket if Apple rebounds
Shares of the small-cap audio chipmaker should easily outpace the tech giant's own gains on the investor excitement that inevitably will greet release of the next Apple product.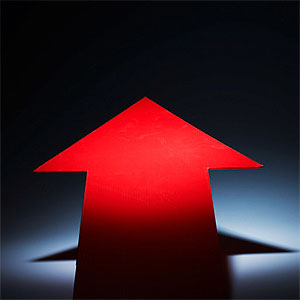 By David Sterman
Shares of
Cirrus Logic
(
CRUS
) have been in a freefall for the past six months, losing 54% of their value. The culprit: a loss of investor confidence in 
Apple's
(
AAP
L
) ability to hold onto its share of the smartphone market. 
Cirrus, founded in 1984 and based in Austin, Texas, develops analog, mixed-signal and embedded integrated circuits for products such as the iPhone. 
Apple accounts for most of Cirrus' sales, and as Apple's release of new products has slowed to a crawl, Cirrus has seen its own sales take a hit.
Cirrus' shares fell to a fresh 52-week low this week after the company conceded that Apple's dearth of new products would lead to worse-than-expected results in its fiscal first quarter that ends in June.

How bad will the June quarter be? Cirrus now expects to generate sales in the $150 million to $170 million range in the quarter. Analysts had been expecting sales of around $195 million. And per-share profit in the quarter is now forecast to be less than $0.50, well below the $0.75 consensus forecast.
An opening for contrarians
Yet, this seemingly bleak situation actually provides an opening for contrarian investors. Note that Cirrus simply issued guidance for the current quarter and will actually discuss the outlook for subsequent quarters in a conference call with investors on April 25.
What will management say on that conference call? We can anticipate a few topics:
First, Cirrus will likely discuss its efforts to diversify its customer base beyond Apple. The company has made major investments in both R&D and sales, and hinted on the last quarter's conference call that it is inching closer to key design wins with other customers.
Design wins typically translate into revenue growth two to three quarters later. Investors have been penalizing Cirrus for its overwhelming dependency on Apple, which is why shares trade for a single-digit earnings multiple. Broadening the customer base should help lift the multiple.
Second, Cirrus may (or may not) discuss its outlook for Apple-related sales. And this is the key reason to focus on this stock now. Although Apple is likely to be fairly quiet in the current quarter in terms of new product releases, the subsequent quarter should be much more active, perhaps including a new version of the iPhone and an iPad Mini with retina display.
If Cirrus can make a case for a solid quarterly rebound in its fiscal second quarter (ending in September) on its April 25 conference call, then shares could quickly move back into the mid-$20s as investors look ahead to an upturn.
Highest beta-play on Apple
Yet, even if investors take a wait-and-see approach later in April, the coming months could prove to be much more helpful to this stock. That's because the drumbeat of news ahead of Apple's product launches will grow louder, and as that happens, investors will seek out corollary plays to an Apple rebound. And Cirrus is perhaps the highest-beta play on Apple around.
Analyst Bobby Burleson, who follows Cirrus for research firm Cannacord Genuity, sums it up best: "We expect strong design win share for CRUS at Apple, combined with constructive gross margin commentary for the June quarter (rebounding back to 50%-52% range) to support the shares ahead of Apple's product refreshes this summer."
Burleson sees shares rebounding to $25, though they may move even higher if Cirrus delivers both solid September quarter guidance (either on April 25, or in July, when the next guidance is issued) and announces new customer design wins outside of the Apple relationship. However, if Cirrus is unable to issue inspiring guidance, shares could drift into the mid-teens.
I think Cirrus will deliver, and $25 is a good conservative target for the small-cap stock. More aggressive investors could consider buying call options to leverage this move into triple-digit profits.
Recommended trade setups:
-- Buy CRUS up to $20.50
-- Set stop-loss at $16.50
-- Set initial price target at $25 for a potential 22% gain in four months
-- Buy CRUS Sept 20 Calls for $2.50 or less
-- Do not use a stop-loss
-- Set initial price target at $5 for a potential 100% gain in five months
This article was originally published on StreetAuthority's sister site,
ProfitableTrading.co​m.
More from ProfitableTrading
DATA PROVIDERS
Copyright © 2014 Microsoft. All rights reserved.
Fundamental company data and historical chart data provided by Morningstar Inc. Real-time index quotes and delayed quotes supplied by Morningstar Inc. Quotes delayed by up to 15 minutes, except where indicated otherwise. Fund summary, fund performance and dividend data provided by Morningstar Inc. Analyst recommendations provided by Zacks Investment Research. StockScouter data provided by Verus Analytics. IPO data provided by Hoover's Inc. Index membership data provided by Morningstar Inc.
ABOUT TECHBIZ
Start investing in technology companies with help from financial writers and experts who know the industry best. Learn what to look for in a technology company to make the right investment decisions.