IPhone 5 not dragging on telecom earnings -- yet
Telecom investors can breathe a sigh of relief following the release of Verizon Communications' solid third-quarter results.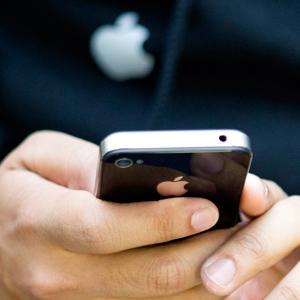 By Antoine Gara
Verizon Communications' (VZ) stronger than expected third-quarter earnings cast doubt on the assessment of skeptics warning that Apple's (AAPL) iPhone 5 will be a drag on telecom-sector profits. Undeterred, some skeptics are reaffirming their expectations that the smartphone is likely to cut into carriers' earnings by year's end.
In reacting to Verizon's third quarter -- which was bolstered by higher than expected wireless margins and subscriber additions -- analyst Shing Yin of Guggenheim Securities said AT&T (T) is likely to see an iPhone 5 earnings hit this quarter. The analyst suspects other carriers will face margin pressures heading into 2013 as the iPhone 5 goes global.
In his Oct. 19 note, Yin noted that AT&T is poised to show large iPhone 5 subsidy payments to Apple when the carrier posts its third-quarter results on Oct. 24. The transfers would hit AT&T's profit margins, the analyst said, noting that AT&T took more iPhone 5 handsets for delivery in the quarter than Verizon did, and that its customers are nearly twice as likely to be due for a subsidized smartphone upgrade.
Yin's conclusion is that while Verizon earnings indicated that dividend-yielding telecom sector leaders may continue to benefit from strong smartphone-based earnings, handset subsidy risks may yet materialize. "Verizon's strong (third-quarter) margins may lead some investors to expect AT&T to similarly beat wireless margin expectations, but we believe such a conclusion is unwarranted," notes Yin.

Taking market share
In analyzing the significance of Verizon's earnings for the broader telecom sector, Yin noted that strong subscriber additions are likely the result of market-share losses by industry also-rans like Sprint Nextel (S), T-Mobile and MetroPCS (PCS). 
Regardless of whether the iPhone 5 will hit AT&T when it reports earnings, operating trends through the first nine months of the year are adding to the conviction that large carriers are poised for an earnings renaissance as they try to profit from increasing smartphone data loads coming from Apple iPhones and Google (GOOG)-Android powered devices.
Credit Suisse on Oct. 22 initiated Verizon and AT&T with "neutral" and "outperform" ratings, respectively, citing price increases on data plans, lower subsidies for the iPhone 5 in contrast to earlier models like the 4S, and overall margin improvements for the wireless business.
"We believe AT&T and Verizon will continue to report solid results for 2H12, with wireless churn continuing to improve y/y and margins significantly better," writes Credit Suisse analyst Stefan Anninger.
A wait-and-see attitude
A more bearish view focuses on the iPhone 5, launched by Apple a little more than a month ago. As launch numbers rolled in, investors and analysts following AT&T and Verizon began to wonder whether the adoption of Apple's latest smartphone would wreck telecom-sector profitability and disprove the notion that, after spending billions to build national networks, the two biggest carriers' investment would pay off in steadily rising profits.
At issue is whether the carriers can use new smartphone launches to profitably steer users onto their networks.

On one hand, carriers pay in the range of $500 a phone in subsidies to handset makers like Apple to lure in customers -- or to meet the terms of upgrade schedules -- in a relationship that can cost big money. Over the long term, carriers expect to make their money back on subsidized handsets by way of the monthly cost of wireless contracts and, in particular, the tiered pricing of smartphone data usage.
Verizon's earnings -- and, in particular, record wireless revenue and profit margins -- show that iPhone 5-related fears are unproved. At least for now, the company's earnings momentum continues to build.
As profit margins grow, Verizon also appears to be adding new iPhone and Google Android-addicted subscribers at a faster than expected clip, potentially disproving a theory peddled by analysts that waves of subscriber additions and phone upgrades could turn stable telecom earnings cyclical.
The results indicate that the carrier can lure subscribers onto its network using flashy iPhone and Android devices without wrecking its profit margins. 

In the wake of Verizon's earnings, Bernstein Research's Craig Moffett suspended his thesis that Verizon's earnings momentum would tip negative on the iPhone 5 launch.
"The test we all knew about was wireless margins. Even solid growth (which brings commensurately high customer acquisition cost) and a new iPhone (available for a single week in Q3) couldn't derail the (Verizon Wireless) margin juggernaut," wrote Moffett, in an Oct. 18 note to clients. The analyst highlighted softer wire-line revenue -- the company still gets nearly 50% of revenue from cord-attached phones -- as a reason overall earnings estimates met expectations, in spite of Verizon Wireless's clear beat.
It isn't the first time in October Moffett's had to step back from his negative outlook on the telecom sector. In March, he began handicapping Sprint's eventual bankruptcy, but readily available debt financing and the recent investment by Softbank forced the analyst to suspend odds making on the carrier's demise.
For now, telecom investors can breathe a sigh of relief on the impact of the iPhone 5 on carrier profit margins.
More from TheStreet.com
DATA PROVIDERS
Copyright © 2014 Microsoft. All rights reserved.
Fundamental company data and historical chart data provided by Morningstar Inc. Real-time index quotes and delayed quotes supplied by Morningstar Inc. Quotes delayed by up to 15 minutes, except where indicated otherwise. Fund summary, fund performance and dividend data provided by Morningstar Inc. Analyst recommendations provided by Zacks Investment Research. StockScouter data provided by Verus Analytics. IPO data provided by Hoover's Inc. Index membership data provided by Morningstar Inc.
ABOUT TECHBIZ
Start investing in technology companies with help from financial writers and experts who know the industry best. Learn what to look for in a technology company to make the right investment decisions.