Google's photo booth is a smash hit at DNC
The search giant's photo booth is one of the most popular attractions in Charlotte this week.
By Joe Deaux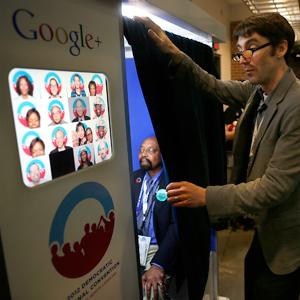 The most popular attraction at the Democratic National Convention has been around since your grandparents' high school days: A photo booth.
The Google (GOOG) photo booth has been a smash hit among delegates, thanks to the technology-enhanced twist it puts on the original concept. The search giant's version takes four photographs of a person, emails the images to them and displays the pictures on the massive screen inside the Time Warner Cable Arena here in Charlotte.
A constant stream of convention attendees have been anxiously waiting in line for upwards of 30 minutes in a corner of the arena to sit inside a small booth for three minutes and pose for the portraits, which can also be posted to Google+, the company's social networking site.
Manning the booth is Matthew Rechs, an employee of privately held Photoboof, the San Francisco-based company that provided Google the structure for its booth.
Rechs said Photoboof created the Microsoft Windows-based program that displays a Barack Obama campaign logo in the background. The company distributes a hard copy of any photos taken, and even built the booth -- which is a solid structure that can break down into four pieces for easy mobility.
Google pays Photoboof a fee to set up the vendor inside the arena, and Photoboof's service expands the search giant's reach among users, said Rechs.
The fee varies. For weddings, Rechs said Photoboof typically charges a flat $1,300 for the whole day -- the amount of hours doesn't matter.
When asked how much the company is charging Google for each day at the convention, Rechs said he isn't sure, but that it's higher than a wedding fee.
On Wednesday, the Google booth hosted more than 500 sessions -- it's called sessions because each photo can be taken with more than one person. So if four people go in at once, it is called a session instead of one turn.
Each session involves a three-step process: first, the user poses for four individual snapshots. Next, the user selects whether he wants to have the photo emailed. Then, the user chooses to have the photo uploaded to the Google+ arena television. Finally, the booth distributes a card with the Google+ logo above large portrait and four thumbnails of all pictures taken in the session; the bottom of the card reads "2012 Democratic National Convention."
Of those 500 sessions, Rechs said that 287 sessions selected "yes" to have their photos uploaded to the screen.
How did Google come to partner with Photoboof? Rechs said one of the founders got a good break.
Photoboof started at Burning Man -- an event held in Black Rock Desert in Nevada -- as its founder drove around on a "meter maid" cart with a camera and a screen set up. He would snap photos of passersby from the cart. The idea was a hit, Rechs said, when a company picked up a Photoboof for a function. Google eventually heard about the company and partnered up with them.
As Rechs describedthe brief history of Photoboof, a woman emerged from the structure and admired her photo.
"This is so much fun! It's exciting," the woman said as she darted off down the hall.
Rechs said he attends to every person that steps into the booth and reminds them to smile and have fun. He said he he travels all over the country for functions. And with one man comes the responsibility of knowing everything about the photo booth -- programming the software, constructing it and even driving around town to get parts if something breaks.
"Photoboof promotes creativity, which draws me in. If it was a job...," Rechs paused, grinned then scampered to the booth to help another user pose for her Google+ portrait.
More from TheStreet.com
DATA PROVIDERS
Copyright © 2014 Microsoft. All rights reserved.
Fundamental company data and historical chart data provided by Morningstar Inc. Real-time index quotes and delayed quotes supplied by Morningstar Inc. Quotes delayed by up to 15 minutes, except where indicated otherwise. Fund summary, fund performance and dividend data provided by Morningstar Inc. Analyst recommendations provided by Zacks Investment Research. StockScouter data provided by Verus Analytics. IPO data provided by Hoover's Inc. Index membership data provided by Morningstar Inc.
ABOUT TECHBIZ
Start investing in technology companies with help from financial writers and experts who know the industry best. Learn what to look for in a technology company to make the right investment decisions.