Are original movies in Netflix's future?
The company's subscribers may place a higher value on TV series, which are more conducive to 'binge viewing' and are superior at engaging a fan base.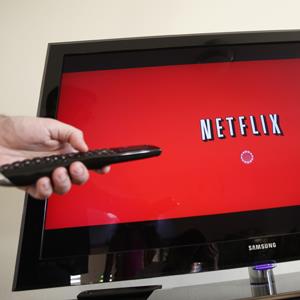 By
Minyanville 
"House of Cards," the much-hyped original series from 
Netflix
 (
NFLX
), ha
s
received mostly positive reviews since it was released earlier this month. The $100 million production is part of Netflix's strategic move to use original content to attract and retain subscribers.
Original shows can also help the video-streaming service "become HBO faster than HBO can become us," as Netflix's Chief Content Officer Ted Sarandos said in an interview with GQ.

More original series have been lined up, including the eagerly awaited resurrection of the cult favorite comedy "Arrested Development,"  which will be released in April.
The pivot toward original programming, made in the face of rising content-acquisition costs, seems to have pleased Wall Street -- Netflix shares are up 105% year to date.
 
Given the positive reception to its original series, an obvious question is whether original movies might be the next stage of the company's content-development strategy

This path would not be an unexpected one to take, especially given the company's stated intent to head down the HBO route. Besides hit series like "The Sopranos" and "Game of Thrones," HBO has produced many original movies, including the Emmy Award-winning "Game Change" and"Hemingway & Gelhorn."
Tilting toward TV shows
Netflix's biggest direct competitor,
Amazon.com
(
AMZN
), is also developing original movies via its Amazon Studios division. The online shopping giant even has a deal with Warner Bros. Pictures: The latter will distribute films produced by Amazon Studios, which is yet to produce its first film. 
Would it be a good idea for Netflix to produce original movies? Daedalus Howell, a media blogger and independent producer, is skeptical, pointing out on his blog that Netflix's subscription-based revenue model inherently values TV series more than movies because of the former's greater "stickiness." 
"Part of what's unique about the Netflix viewing experience is the notion of 'binge viewing,' which serves content like "House of Cards"  quite well, as it converts viewers into 'experts' of a particular story world," Howell said in an email to Minyanville. 'This has tremendous social utility for the fan and often leads to evangelizing of the series in question. This behavior doesn't necessarily carry over into feature films, which are usually one-off productions."  
Howell's opinion is supported by data provided by Sarandos that suggests that TV shows accunt for 70% of the viewing on Netflix's streaming service, with the rest mainly consisting of films the company licenses from movie studios. 
While it's still anyone's guess how much more appealing an original movie would be to Netflix subscribers, Howell thinks "Netflix has the gravitas to attract A-list talent." Whether original movies would succeed "ultimately comes down to the particular project" and whether it will "find fans (or) serve Netflix's business needs," Howell added.  
Partnerships to consider
In fact, Netflix ran a small film unit, Red Envelope Entertainment, for about two years. The unit was tasked mainly with the acquisition, financing and distribution of independent movies. For theatrical releases, the unit usually partnered with a bigger company to lower its risk profile. Red Envelope was shuttered in 2008, in part because Netflix did not want to compete with movie studios, many of which, including 
Walt Disney
(
DIS
) and
DreamWorks Animation
(
DWA
), it has DVD and streaming partnerships with. 
Given that Netflix has since made its move toward original content, it's reasonable to assume that we'll once again get to watch Netflix original movies, although Howell doubts that they will be released theatrically. 
"I'm not convinced Netflix would be comfortable ceding some control (by releasing original movies theatrically). If it were going to amortize the expense of development, production, distribution, and marketing of a film as an exercise in 'branded entertainment,' perhaps it could be justified. Producing films for theatrical release could be an interesting brand extension but a very risky and expensive one," he said. 
For now, Netflix appears to be happy with its current slate of original series.
ABOUT TECHBIZ
Start investing in technology companies with help from financial writers and experts who know the industry best. Learn what to look for in a technology company to make the right investment decisions.