Down the road, could Google buy Ford?
The tech titan may want an automaker as it pursues its plan for a driverless car.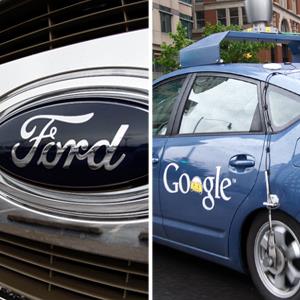 By Dana Blackenhorn, TheStreet

Sometimes I engage in a silly exercise of who might buy whom, based strictly on market cap.
In playing the game early this week I noticed that Google (GOOG) is now worth more than $240 billion and Ford Motor (F) is worth just less than $52 billion. Google could buy Ford more than four times over.
The idea sounds ridiculous, until you realize how much work Google has been doing in the last few years on self-driving cars.
Car companies and tech companies are growing closer. Google has a deal with Hyundai to put its Google Maps into select vehicles, starting this year. All car companies have been increasing the amount of electronics in their vehicles -- it's a relatively cheap upgrade that can add significantly to the price and perceived value of a new vehicle.
Car companies are also getting more serious about autonomy, which is what they call the way station on the road to self-driving cars. At the Consumer Electronics Show this week, Toyota Motor's (TM) Lexus division announced an "active safety" concept car, equipped with lasers, cameras and radar that make a driver more like an airline pilot. Drivers are technically in charge, but more and more of the work is being done by the computer.
Smiling in the back seat with an iPad
KPMG has produced a white paper on driverless cars; it forecasts that the necessary regulatory, design and market changes required to put the vehicles on the road could be in place by 2025.
The KPMG paper (.pdf file) is filled with pictures of happy young executives in back seats smiling over iPads. But I think the market reality is different. Once these vehicles become available, I can easily see drunk drivers sentenced to using them, and older drivers being pushed into them by their worried offspring.
Even semi-autonomous cars -- like those Toyota is working on now -- might, once they come down in price, be scooped up by driving schools. Those deals might push new drivers toward them.

Avis Budget Group's (CAR) recent announcement that it would acquire Zipcar (ZIP) is another marker on this road. Why should a Zipcar sit at a train station waiting for its driver? Why couldn't it come to you? And if it's already coming to you, why couldn't you plug in your destination and just act as a back-up on the way there?
An urban revolution 

Self-driving cars could be a revolution for our cities. It's easy to see the market model moving from purchase to short-term rental, and to see most cars spending their days on the road, not stuck in parking lots. Right now, parking represents one-third of the physical space in many of our cities.

Self-driving cars could also, in theory, take up less space on roads. No more of that confusion you always face at exits, with drivers darting across multiple lanes after suddenly realizing they did indeed want to get off there. No more speed demons darting in and out, either, and fewer slowpokes making the speed demons even more dangerous. Relative speeds are what create the most danger on our roads. 
That, and drivers impaired by age, drink, drugs, cellphones, hamburgers, hot coffee, ADD (squirrel!) and kids fighting in the back seat.
But here's another market reality: I don't expect car companies like Toyota or Ford to simply give over control of their cars to some tech outfit. They will want to create their own technology regardless of the cost, and their influence on regulators could easily be used to keep tech-heavy rivals out of the market.
If the tech companies want in, they may have to buy their way in.
Now consider this: Ford had revenue of $136 billion last year. Google had revenue of $38 billion. When Google decided it needed to get into phone hardware to make headway in that market, it did not hesitate to buy Motorola Mobility, never mind the margin hit.
A combined "Foogle" would have had earnings of $4 billion on revenue of $46 billion last quarter, by my calculation.
So call me crazy. But just watch the technology evolve over the next few years. By this time in 2018, I may not sound so crazy.
At the time of publication the author had positions in Google and Ford.
More from TheStreet.com
ABOUT TECHBIZ
Start investing in technology companies with help from financial writers and experts who know the industry best. Learn what to look for in a technology company to make the right investment decisions.