Chasing dragons: The 38 Studios debacle
Rhode Island's $75 million gamble on Curt Schilling's video game company now stands as a cautionary tale on overreaching expectations in a misunderstood industry.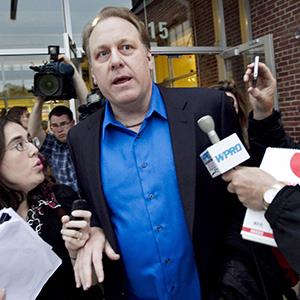 By
Paul Tassi, Forbes Contributor
It seems like a simple tale -- almost an admirable one: A retired sports star loved video games so much, he wanted to make one of his own.
The result had the potential to break stereotypes about who likes and makes games, and to create hundreds of new jobs, millions in revenue and a hopefully a fun new game for everyone to enjoy.
Unfortunately, Curt Schilling's 38 Studios now stands as a cautionary tale on overreaching expectations in the video game industry, and the full extent of just how poorly the government can manage money if given the chance. In this case, a tiny state had a massive hole blown in its budget through the folly of just a few lawmakers.
The New York Times recently published a sprawling piece about the creation and subsequent demise of 38 Studios, a story only now able to be fully told now that the dust has settled. It's a fascinating read full of blinding idiocy from both Schilling's side and also the government of Rhode Island, who backed the venture. 
It all started at a Massachusetts fundraiser where Rhode Island's then-governor Don Carcieri chatted up the baseball legend:
"I said, 'Well, what are you doing?' And he said, 'I've got this business, this company, creating video games.' Which I knew nothing about -- my grandkids know more about it than I do. But he was describing it. He said: 'It's a great little company, it's growing,' et cetera. And he was looking to grow it further."
Schilling wasn't just looking to grow it further. He was shooting for the moon, the stars and galaxies so distant their light hasn't even reached Earth yet. The game was Kingdoms of Amalur: Reckoning, meant to be a
World-of-Warcraft-st​yle
sword and sorcery massively multiplayer online game (MMO). The game was supposed to make Curt Schilling, in his own words, "Bill Gates rich."

That's the point where trouble should have been apparent to anyone and everyone.

The rest of the story focuses mainly on Rhode Island politicians, some apparently wanting to score a win against their "one-sided rival" Massachusetts. There was something delicious about taking a Boston Red Sox player and funding his tech startup so that it would bring hundreds of jobs across state lines. It was a win for everyone. After all, how hard could it be to make another World of Warcraft?

That's a question that would make anyone with even a passing interest in gaming burst out laughing. The real story here is how badly everyone involved in the 38 Studios debacle misunderstood the gaming industry. Rhode Island greenlit a $75 million investment in 38 Studios. The company ended up with $130 million in debt. Now how did that happen?
For as much as Schilling claimed to love gaming, he was entirely delusional about the ease of crafting smash hits in the genre. Companies far more established than his have been trying to make a dent in World of Warcraft's armor for a decade now, and if a few hundred million dollars and a Star Wars license couldn't do it for The Old Republic, what hope did this unknown property have?
Eventually, the MMO idea was put on hold. The new move was to make a console role-playing game out of Kingdoms of Amalur whose sales would be so fantastic that they would drive funding of the eventual MMO. But again, only a few people involved in the financing seemed to have any clue as to how the gaming industry actually worked. Sean Esten was one of them, who served as Rhode Island's Economic Development Corporation's financial portfolio manager.
"According to the state's pending lawsuit, Mr. Esten was alarmed that 38 Studios' worst-case projection for its business seemed to rely on releasing a successful game every two years -- a track record that most gaming companies can only dream of."

"I don't think I can support a $75 million guarantee to any single company in this industry due to the wide volatility in commercial success of game releases," Mr. Esten told his bosses in an e-mail."
The saddest aspect of this story is that Kingdoms of Amalur was not a bad game. If it was simply a haphazardly assembled Duke Nukem-ish disaster, that would be one thing, but it wasn't. With backing from
Electronic Arts
 (
EA
), a story crafted by fantasy writer R.A. Salvatore (still owed $2 million for his work), art from Todd McFarlane and guidance from The Elder Scrolls: Oblivion's Ken Roston, the game had all the right pieces to be great.
And it was actually pretty damn good. The game averaged a respectable 81 on the infamous Metacritic with many outlets, including our own Erik Kain, giving it high praise for being a fresh and fun take on an often tired genre.
The game sold 1.5 million copies, which is perfectly applaudable for a debut title from a new studio for a franchise with a completely unknown name.
But 1.5 million copies in the video game world when someone has given you $75 million in funding is not a success. It's a disaster.
The Times story details Schilling's good intentions but complete mismanagement of his resources. The average salary at 38 Studios was $86,000, and employees had one of the best health care plans around. The company even assumed mortgage responsibility on its employees' homes. It added hundreds of new jobs to please Rhode Island, but the money simply was not there. Though the game should have been a success, it didn't come anywhere near the stratospheric expectations set for it.
Rhode Island should have known better. Even a cursory amount of research into the video game industry would have shown that the market is volatile, especially for new and untested titles. This wasn't investing in
Activision
(
ATVI
)
when a new Call of Duty title was about to come up. This was a complete leap of faith on the promise of a few hundred jobs the state desperately needed. A leap directly off a cliff. Everyone hoped that perhaps they'd sprout wings before they hit bottom, but evolution doesn't work like that, and neither does the video game industry.
Now Schilling is being sued with the charge that he knew that Kingdoms would fail and he was purposefully asking for more money knowing full well that it could never turn the game or company around. It's hard to see this as true. From start to finish, Schilling was a true believer in his game. He apparently really did think it would be a smash hit that would rake in millions and spawn endless equally profitable follow ups.
It's one thing to believe in yourself and your team, but it's another to say "give me a $75 million and I guarantee I can make a must-have game from scratch." But even if he misjudged the market and his game's own potential, there shouldn't be anything criminal there.
You can take your pick of lessons to be learned here. If you're a struggling state, don't fall for the first celebrity with a winning smile and big dreams. If you made your millions playing sports, don't assume you know some secret formula to striking it rich in the video game world. And both sides should have realized from the start that investing $75 million in an untested company and a completely unknown product was a recipe for disaster in the already tumultuous video game industry. Even a quality game can be a failure if too much money was spent making it.
There's no happy ending here. Schilling lost his baseball fortune and is now tied up in court. Rhode Island lost its investment and the good faith of its citizens.
Perhaps the only bright spot in all this is Kingdoms of Amalur itself. It's a pretty good game. You might want to check it out some time.
More on Forbes:
ABOUT TECHBIZ
Start investing in technology companies with help from financial writers and experts who know the industry best. Learn what to look for in a technology company to make the right investment decisions.