Microsoft: Cooler than it was a year ago
A new survey shows that advertising for Windows 8 and the touch-screen Surface tablet has helped raise product awareness and brand likability.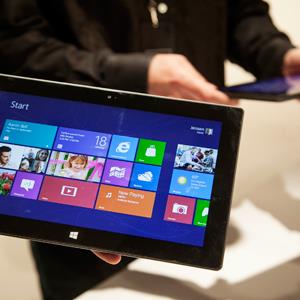 By
Minyanville 
For more than a decade,
Apple
(
AAPL
) has been synonymous with technological cool, its MacBooks, iPods and iPhones the preferred gadgets by the trendsetting creative class. And
Microsoft
(
MSFT
), the red-hot brand in the '90s, has more recently been seen as the stodgy competitor whose products are highly valued only in the enterprise world, where utility trumps aesthetics. (Microsoft owns MSN Money.)
However, Microsoft has gotten an image boost in the past year, thanks in large part to heavy promotion of its new Surface tablets.
The changing perceptions around Microsoft is reflected in a new Reuters/Ipsos poll, in which half of those between the ages of 18 and 29 said the software giant is cooler today than it was a year or two ago.
Of course, Apple has no reason to despair. The survey found that 60% of respondents thought that the Cupertino, Calif., company is cooler than ever. But the survey's surprise is that Apple no  longer has a lock on hipness.

Josh Johnson, a 24-year-old gaming fan, is among survey respondents who say they are seeing Microsoft in a more positive light. Microsoft has improved, Johnson said, since its release of its consumer-oriented Windows 8 products.
"It's more customizable, and not as rigid as an Apple phone, where you have to buy all the products from Apple," Johnson told Reuters. "If you want a ringtone, you don't have to pay iTunes. I know Apple is the cool, hip brand right now, but if Microsoft keeps coming out with new tech, I'm sure it'll be back soon."
Inroads with teens
Beside improving its image among young adults, Microsoft has become a a more desirable brand to teenagers. A January report from Buzz Marketing Group, an agency that specializes in youth marketing, found that teenagers find Apple passé and prefer devices from Microsoft and Samsung.
"Teens are telling us Apple is done," Tina Wells of Buzz Marketing told Forbes magazine. "Apple has done a great job of embracing Gen X and older (Millennials), but I don't think they are connecting with Millennial kids. (They're) all about Surface tablets/laptops and (the Samsung) Galaxy."
Indeed, powered by the increasing popularity of Samsung's Galaxy smartphones and tablets, which have become formidable rivals to Apple's market-leading product,
Google's
(
GOOG
) Android was crowned the coolest tech brand in the Reuters/Ipsos survey, receiving a 70% score.
Since the launch of the Surface, Microsoft has promoted its tablets aggressively to younger demographics, buying product placements on CW's youth-oriented TV series such as "The Vampire Diaries," "Arrow" and "Gossip Girl."

Will sales follow?
While Microsoft's marketing strategy appears to be paying dividends in terms of heightened product awareness and brand likability, it's unclear if the Surface tablets have sold well, with Microsoft so far declining to release sales figures. 
There have been reports in the tech blogosphere that customers have been unable to get their hands on the tablets, but Minyanville's tech columnist Michael Comeau points out that "a sell-out of a product isn't necessarily a reason to jump for joy, simply because they can be artificially created through limited supply."

Comeau continued, "The question I'll pose to you is this -- if the Surface Pro was selling in huge numbers, would the company not be announcing it to the world?"
Still, it bodes well for Microsoft's long-term plans that teenagers find its products cool. Teenagers today will become working adults with purchasing power tomorrow, after all.

In the meantime, Microsoft CEO Steve Ballmer has been sounding a realistic note about Surface sales targets.

"Surface is a real business," Ballmer said this week in an interview with MIT Technology Review. "In an environment in which there's 350 million PCs sold, I don't think Surface is going to dominate volume, but it's a real business."
ABOUT TECHBIZ
Start investing in technology companies with help from financial writers and experts who know the industry best. Learn what to look for in a technology company to make the right investment decisions.