For Google, Motorola Mobility is a millstone
The cellphone maker was responsible for $527 million in losses in the tech titan's most-recent quarter, more than triple its amount from the same quarter last year.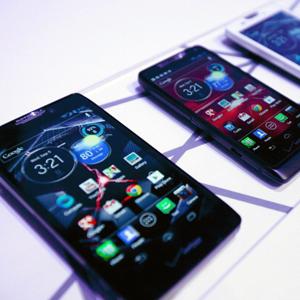 By Richard Saintvilus, TheStreet
It's been more than a year since search giant Google (GOOG) shelled out $12.5 billion to acquire Motorola Mobility. The acquisition was touted as a way for Google to secure a valuable portfolio of hardware patents and improve the company's competitive position in the market for smartphones and tablets, which has been dominated by Apple (AAPL).
So far, at least, the deal hasn't worked for Google. And on the heels of the company's disappointing third-quarter earnings report -- which was issued Oct. 18 and included the first full-quarter contribution from Motorola Mobility -- investors are beginning to wonder if it ever will. 
Growth has never been an issue at Google. Revenue soared 45% in the third quarter. While that was short of estimates, it still contributed to year-over-year growth of 51%, reaching $11.3 billion. This was particularly noteworthy because it included traffic acquisition costs.
On the other hand, Google missed earnings-per-share estimates by 15% -- a meaningful disappointment. Not only did earnings of $9.03 fall short of expectations, but the number also represented a year-over-year decline of 7%. Aside from a tough macroeconomic climate that has affected the entire tech sector, Google's third-quarter bottom line was hurt by a year-over-year decline of 15% in cost per click, which also shed 3% compared with the previous quarter.
Motorola weighed on Google's performance by producing third-quarter revenue of $2.6 billion, or 11% below consensus estimates. This is the company that Google last year decided was worth a premium of 60% above its prevailing market value -- making it Google's biggest acquisition in the company's brief history.
Was it a mistake? At this point, I think this is a question worth asking for many reasons.
Questions for management 
For instance, the third quarter showed meaningful erosion in Google's operating income. Although that metric grew to almost $4 billion, or 8.8%, it was much slower than the 24% gain generated in the same period a year ago. Likewise, another appalling quarter from Motorola is likely to turn the analyst community negative on Google's management, which can produce pessimism in its estimates about future prospects. The potential adverse effect on the stock will certainly be felt.
Google's recent decision to divest itself of Motorola's home-business unit raised further questions about whether the price tag was too high. The home-business group includes set-top boxes and home-networking gear. Google is expecting the sale of the unit to generate approximately $2 billion. The decision came after rounds of job cuts and other cost-saving measures that failed to produce the bottom-line impact Google once enjoyed in terms of profits.
When reports surfaced of Google's Motorola acquisition, I doubted whether it would work. After all, what did Google know about hardware? The company wanted to be more like Apple and establish its own ecosystem, with the hope that its Android software would come together perfectly with the hardware. So far, Google has gotten it half right, since most of Android's dominance comes from partners such as Samsung and HTC.
A fast-moving mobile marketplace 
The concern is not so much that Google is screwing up synergistic opportunities with Motorola. It is that competition is not sitting idle and waiting for Google to get the integration right. Early indicators are that Apple's iPhone 5 has been a smash hit.
Additionally, there's competition from Microsoft's (MSFT) new Windows phone and from Nokia (NOK), which is hoping that its Lumia 920 phone, due out later this month, can turn around the company's mobile fortunes. So it's not as if Google has time for trial and error with Motorola.
There is no doubt that Google will overcome this. And it's hard not to give Google the benefit of the doubt that it will eventually figure things out. Still, the Motorola setback will take a toll on investor confidence in the acquisition.
The good news is that Motorola presents Google with a potential stronghold in a smartphone market that can one day drive Android further. The only question is when.
If nothing else, Google now owns roughly 17,000 Motorola patents, which should give the company several options and avenues from which to maneuver. But in the meantime, the company can't escape the question of whether it paid too dearly for patents whose value is eroding in the fast-moving mobile marketplace.
At the time of publication, the author was long Apple and held no position in any of the other stocks mentioned.
More from TheStreet.com
DATA PROVIDERS
Copyright © 2014 Microsoft. All rights reserved.
Fundamental company data and historical chart data provided by Morningstar Inc. Real-time index quotes and delayed quotes supplied by Morningstar Inc. Quotes delayed by up to 15 minutes, except where indicated otherwise. Fund summary, fund performance and dividend data provided by Morningstar Inc. Analyst recommendations provided by Zacks Investment Research. StockScouter data provided by Verus Analytics. IPO data provided by Hoover's Inc. Index membership data provided by Morningstar Inc.
ABOUT TECHBIZ
Start investing in technology companies with help from financial writers and experts who know the industry best. Learn what to look for in a technology company to make the right investment decisions.