Sports opens door for Apple TV
As sports programming drives up the monthly TV bills of fans and non-fans alike, there's an opportunity for someone to provide an unbundled alternative.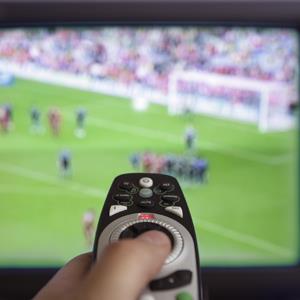 By Dana Blackenhorn, TheStreet
The chances for success for Apple's (AAPL) TV are greater than you might think. And that reason can be summed up in a single word: sports.

Almost half your monthly cable bill now goes to sports programming. Walt Disney's (DIS) ESPN is the big dog in this game, but the other networks are getting in on the action, bidding up rights fees in the process.
Comcast's (CMCSA) half-owned NBC Universal unit recently paid $250 million to grab the rights to English Premier League soccer games from ESPN and News Corp.'s (NWS) Fox. The three-year deal gives NBC Sports the exclusive U.S. rights to 380 games a year and should help transform NBC Sports from the bicycling-rodeo channel it's been into a soccer-hockey-footba​ll franchise.
There's a second trend -- channels devoted to a single team or conference. News Corp. recently spent $1.5 billion to buy 49% of the New York Yankees' YES Network, with an option to acquire as much as another 30% of the network over the next three years.
The recent addition of Rutgers and Maryland to the Big Ten Conference was all about adding markets for the conference's Big Ten Network. The trend is being followed by teams like the University of Texas, which currently is part of a sports network run by ESPN.
As teams and leagues take control of their own programming, the value of their broadcast rights rises. That comes out of the bills you pay to your cable or satellite provider, whether you watch the games or not. ESPN has even done a deal with Internet service providers for online access to its ESPN3 network, driving up monthly bills for both sports fans and non-sports fans.
An iTunes alternative
What does this have to do with Apple TV? Plenty.
Accelerating bills for basic cable or satellite service creates an opportunity for those that can provide an unbundled alternative.
Netflix (NFLX), Hulu, Google (GOOG) and Amazon.com (AMZN) are competing to provide on-demand streaming video of TV programs, but they can't yet break down the programmers' resistance on more than just old shows, as part of a single-priced bundle.
That's what iTunes can do. The infrastructure is already there. It has already done this with music. A compelling product, with a business model that consumers already support, is something that the cable networks would have to deal with. And that's what Apple knows how to deliver.
The physical product is already taking shape. Think Retina screens in a variety of sizes, up to 40 inches across or more, with the highest possible aspect ratios, brighter than any screen on the market. The new iMac already sports a 27-inch screen, with a full computer inside it. Take the computer out and put that money into the screen.
Imagine a high-capacity DVR inside that screen, connected to the cloud for unlimited choice in programming, with your iMac, iPhone or iPad used as the "clicker" and Wi-Fi as the glue connecting it all. Now imagine a business model that gives you any programming you want, when you want it, at a fraction of the cost of your existing cable bill.
For a cable network like AMC, this might be a premium price, compared with what cable subscribers pay. But for subscribers who don't like sports, it's a huge savings.
Can Google or Amazon follow Apple through such a market opening? No doubt they could. But they will be followers. It will take something huge to blow through the existing cable business models, and only Apple can offer that something.
My guess is, that's what Apple is working on right now. It's negotiating with Hollywood, not Korean parts makers.
At the time of publication, the author owned shares of Apple and Google.
More from TheStreet.com
ABOUT TECHBIZ
Start investing in technology companies with help from financial writers and experts who know the industry best. Learn what to look for in a technology company to make the right investment decisions.