Can Redbox succeed at streaming?
Betting that there's still of plenty of life in discs, Redbox Instant will offer DVD rentals along with online access to movies.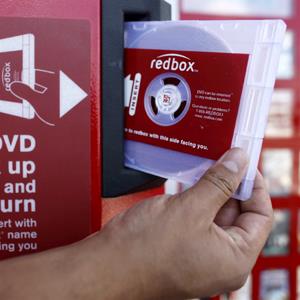 Brad Stone, Bloomberg Businessweek 
Consumers have plenty of ways to watch movies over the Internet. 
There's Netflix (NFLX), Amazon.com's (AMZN) Instant Video, Wal-Mart Stores' (WMT) Vudu and Apple's (AAPL) iTunes. Now the market for buying and renting films online is about to get more crowded.
A new service, Redbox Instant by Verizon (VZ), plans to throw open its virtual doors to customers willing to pay $8 a month. Subscribers will gain online access to a catalog of older films at no extra fee, an on-demand store of newer movies available for rent or purchase and DVD rental credits good for four recent releases each month from Redbox's kiosks at supermarkets and drugstores around the country.

"This is about choice," say Shawn Strickland, the chief executive of Redbox Instant. "We have all the movies of the other services, but the four DVD credits bring fresher content into the offering. If consumers want new movies, they can go to the grocery and pick them up."

Tepid reception in blogosphere
Joint ventures between media companies tend to be received poorly initially-- recall the skepticism about Hulu, the Web video hub developed by NBC and Fox.
Redbox Instant is no exception. It's the product of a union between Verizon, which offers its FiOSTV service to about 4.6 million customers, and Redbox, a division of Coinstar (CSTR) that has installed 42,000 DVD kiosks over the last 10 years.
When Redbox Instant laid out its pricing details and timetable at the International Consumer Electronics Show in Las Vegas on Jan. 9, tech bloggers compared the service unfavorably with rivals, pointing out that Redbox Instant will not include any TV shows at first and suggesting that users will be confused by the combination of movie streaming and kiosk rentals.
Richard Greenfield, an analyst at BTIG Research, says it's strange that Redbox Instant is pegging its hopes to physical discs, a medium that's in irreversible decline as the pace of on-demand movie viewing keeps accelerating.
"The question is, why is putting these two things together ultimately better for the consumer?" Greenfield says. "It's not obvious to us that the impulse in the home and the impulse at the kiosks are two actions that naturally fit together."
DVDs in demand
Verizon and Coinstar figure that there's still life in physical discs. Strickland notes that 37% of consumers purchased a DVD or Blu-ray disc over the holiday season and that 200 million DVD players have been sold over the last 10 years.
"Consumers still like just how easy it is to watch a DVD," he says.
Hollywood studios like to roll out their films gradually, wringing revenue from each stage of the home video market, in a system known as "release windows." Redbox Instant believes it's best structured to exploit that system to provide immediate gratification.
A movie like "Lincoln," for example, typically will first be available on disc in Redbox kiosks, then a few weeks later will move to Redbox Instant's video-on-demand store, where subscribers can buy or rent it on a computer, mobile device or set-top box. Eventually members will be able to stream it for free.
"We think we have an opportunity to partner with studios to extend the life of their windowing structure," Strickland says.
So far, studios seem to like the approach. Warner Bros. (TWX), Sony Pictures (SNE), Lionsgate (LGF), NBC Universal (CMCSA) and Paramount Pictures will sell and rent films through the service; Redbox Instant also has licensed content from Epix, a joint venture between the major movie studios, for its streaming catalog.
Still in the second inning
Strickland, a veteran Verizon executive who helped roll out FiOS in parts of New York state, says the partnership between Verizon and Coinstar was struck more than a year ago and was "opportunistic rather than defensive." Verizon already licenses movies for FiOS and wanted to exploit those licenses for a national audience.
Coinstar, which has a 34% share of the DVD rental market, needed a partner to help it take its first steps into streaming.
While Redbox Instant pushes toward a public launch sometime in the next three months, many of its competitors are working to acquire programming and create their own shows that can't be found elsewhere. Netflix is producing a new season of the cult television show "Arrested Development" and plans to make all 14 episodes available in June. And Amazon is planning to produce six original comedy series.
Strickland believes Redbox Instant can play in this field as well, though it will be up to Verizon to make the investment.
"I think we're at the top of the second inning," he says. "We think you're going to see an industry that plays out not too differently from the way cable played out, with room for many winners."
More from  Bloomberg Businessweek
DATA PROVIDERS
Copyright © 2014 Microsoft. All rights reserved.
Fundamental company data and historical chart data provided by Morningstar Inc. Real-time index quotes and delayed quotes supplied by Morningstar Inc. Quotes delayed by up to 15 minutes, except where indicated otherwise. Fund summary, fund performance and dividend data provided by Morningstar Inc. Analyst recommendations provided by Zacks Investment Research. StockScouter data provided by Verus Analytics. IPO data provided by Hoover's Inc. Index membership data provided by Morningstar Inc.
ABOUT TECHBIZ
Start investing in technology companies with help from financial writers and experts who know the industry best. Learn what to look for in a technology company to make the right investment decisions.