Lessons for Apple in Sony's fall
Sony's unprecedented ability to innovate in the realm of consumer electronics hit a wall as the company failed to move on, to reinvent and to think differently.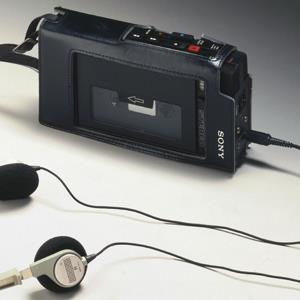 By Dana Blackenhorn, TheStreet

Sony (SNE) was once  what Apple (AAPL) is now.
Under the late Akio Morita, the Tokyo-based company was where consumer electronics came from; Sony was an iconoclastic company that marched to the beat of its own entrepreneurial drummer.
Before there was the Cult of Steve, there was the Cult of Morita-san.
It's impossible for young people today to understand just how revolutionary the Walkman was in its time. It let us take our music -- not the radio station's programming but whole albums -- with us wherever we went. And it ran on regular AA batteries. 
If the iPod is a telephone, the Walkman was a telegraph, the first revolution, not a refinement. 

This week, Sony posted its eighth-consecutive quarterly loss. This one was a surprise, because many investors believed new CEO Kuzuo Hirai, who came from Sony's profitable games division, had started turning things around.
Hirai will be in New York on Feb. 20, where CNET and others expect that he'll unveil the PlayStation 4, the first reboot of the game console since 2006. The website GameSpot says the new device will sell for about $425 and feature biometric controls and cloud streaming.
To which investors are likely to say, ho-hum. Been there, done that.
The latest earnings news halted some momentum Sony stock had in January. Its market cap in dollars is now about one-fourth of its annual sales in yen.
More prized than cash
What does this have to do with Apple? Apple is in a position similar to that which Sony occupied in the 1980s, when it was piling up cash and playing from strength to strength. Sony put that cash into content, buying CBS Records and Columbia Pictures. Sony Pictures led the U.S. box office last year. Those assets may be worth more than the whole company is now. 
David Einhorn has sued Apple to extract cash for shareholders, saying it should issue preferred stock tied to the company's dividend. The hedge fund investor accuses Apple of having a "Depression-era mentality" and says the $145/share in cash on its books needs to go to the company's owners.
Whether the cash goes to shareholders or to buying other companies matters less, however, than what new products and new categories Apple opens.
Its stock price problems would vanish if investors saw another iPad-like hit on the horizon. What disturbs us most is the notion that the company is repeating itself, delivering new versions of what it already has, rather than something truly new.
That's what happened to Sony. Its biggest hit was the Trinitron TV, and it has kept selling TVs to this day, even though flat screens are now commodities that don't wear out as tubes did. The Trinitron was Sony's Macintosh, as the Walkman was its iPod. Sony's failure to move on, to reinvent, to think differently, especially after Morita-san suffered a stroke in 1993 and retired in 1994, was its undoing.
Right to be concerned
Apple shareholders are right to be concerned. Cash, in the form of dividends or preferred stock, won't feed our hunger. Neither will acquisitions.
We need something new, something that convinces us CEO Tim Cook has a little of that Jobs magic in him. We need the magic that Morita's successors, starting with Norio Ohga, failed to deliver to Sony. 
We're right to need that, because we saw what failure to innovate did to Sony. Until we're convinced Cook can think differently, Apple stock will languish -- no matter how financial engineers try to prop it up.
More from TheStreet.com
ABOUT TECHBIZ
Start investing in technology companies with help from financial writers and experts who know the industry best. Learn what to look for in a technology company to make the right investment decisions.