What my free online education taught me
Expect the $475 billion market for higher ed to be cut in half by the rise of no-cost online college courses.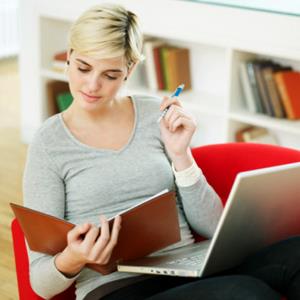 By Jonathan Blum
It's almost June. Time for dads and grads, and enumerating the living from the dead in the collapsing U.S. market for higher education.
Because if my month of learning collegiate-level data science via Coursera -- a Mountain View Calif., provider no-cost online courses -- is any indication, it's time for parents, educators, employers, students and investors (not to mention college real estate speculators) to learn how ugly it's going to get for institutions charging a lot to learn a lot.
Investors are already familiar with the course syllabus: Just like in the music, financial services and corporate IT sectors, it's absolutely, positively possible to get high-quality, first-rate content (in this case, a job-fetching college education) for nothing.
"When I have heard about your site and the courses you offer," posted Paolo Scolamacchia, a Milan, Italy, computer specialist and one of my roughly 65,000 Coursera no-cost data science classmates. "I was very surprised and excited to join them."
Intricate and complex topics 
What's remarkable about learning intricate and complex topics, such as MapReduce and SQLite, with nothing more than a PC is not that automated grading tools work. Or that online social schooling really does substitute for much of what a traditional teacher does. Or that the same gut-wrenching collapse felt by giants including Warner Music Group, the New York Stock Exchange or Hewlett-Packard(HPQ) await the giants of higher education.
What's stunning is how ordered, well understood and -- let's be honest -- mundane the process of digital devaluation will be.
Absolutely positively free online higher education is on the by-now classic explosive Web trajectory of dazzling growth. Geez, Coursera has meetups in 1,646 cities; content from 62 universities, including Yale, and investors such as Kleiner Perkins Caufield & Byers.

Heck, its teachers will have bigger followings than rock stars.
That means some sort of significant financial event is a certainty. Harvard and MIT's joint online ed effort edX or my sleeper pick, the private Khan Academy, are also in this group. But Coursera is at the head of the class. It is already a popular play on private exchanges such as SecondMarket.
Remember, this is the Web. Coursera will be as profit-challenged as Facebook (FB), Amazon (AMZN) or any other Internet company. But for the lucky few close to this investment, some sort of lucrative funding event -- maybe even an IPO -- will graduate to the market say, by midyear 2014.
Only 5 will survive 
Now comes those who won't make the grade. Only five institutions of traditional higher education -- Harvard, Yale, Princeton, Stanford and MIT -- have the $10 billion in endowments needed to match Coursera's free tuition model for all its students.
After that, all the rest of the 843 remaining institutes of higher education, as tracked by the National Association of College and University Business Officers, will simply not be able to foot education costs for its attendees. That absolutely includes the likes of Columbia, Rice and Boston College, public institutions such as the universities of Michigan, Washington and Ohio and private for-profits schools including Kaplan University, a unit of the Washington Post (WPO) company, and the University of Phoenix, a unit of the Apollo Group (APOL).
These schools will slog it out in the by now familiar collapsing digital bubble of diminishing resources and rising costs. 
Already storied, once-free institutions such as New York's Cooper Union have started charging $20,000-a-year tuition. And the Washington D.C.-based Center on Budget and Policy Priorities has reported a dramatic rise in costs at public universities. Arizona led the way in 2012 with an increase in tuition of about $4,000 as well as consolidation or elimination of 182 colleges, schools or programs. And the University of Phoenix saw a dramatic drop in enrollments and a 13.3% revenue collapse in the second quarter from a year earlier.
"Higher education is rapidly evolving as work force demands and technological innovations drive change in our global economy," said Apollo Group CEO Greg Cappelli in the statement.
The grim totals
For investors who have to have their numbers, the grim totals are easy enough to figure out.
The Record Industry Association of America says it took 10 years for the music business to shrivel from $19 billion in annual sales to about $7.9 billion. The $3.1 trillion corporate information-technolo​gy market is about eight years from being a roughly $2.1 trillion business. That would mean, in round numbers, that the estimated $475 billion higher-education market should wind down to the $245-billion range by 2023.
What we are all learning here, friends, is that free online higher education might make us all smarter. But it will also certainly make us all poorer. 
More from TheStreet.com
ABOUT TECHBIZ
Start investing in technology companies with help from financial writers and experts who know the industry best. Learn what to look for in a technology company to make the right investment decisions.