Honeymoon phase nearly over for Yahoo
The stock has surged 70% in the 10 months since Marissa Mayer was brought in. It's about time for the company's bold moves to start paying off.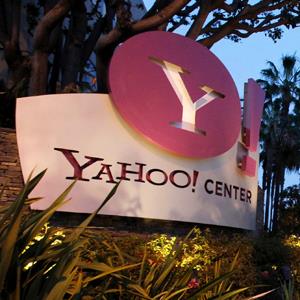 By David Sterman    

Any time a new chief executive takes the reins of a struggling company, he or she is typically given a full year to implement a full turnaround.
That's the time in which the CEO can boost flagging employee morale, articulate a fresh game plan for Wall Street to assess and put the wheels in motion for a sustained upturn in sales and profits.
Yet when that one-year grace period (also known as the "honeymoon phase") is over, investors tend to take a much more circumspect view. Talk becomes cheap, and financial results start to speak for themselves.
July 16 marks the one-year anniversary of Marissa Mayer's debut as CEO of
Yahoo 
(
YHOO
), so the time is at hand for a steady path to much improved results.
Considering that shares have rallied 70% since Mayer arrived 10 months ago, investors already appear to be anticipating solid growth ahead. Yet judging from current forecasts, such growth might not materialize.
The Alibaba bonus
To be sure, some of the surge in Yahoo's shares is attributable to the rising value of its stake in Chinese e-commerce firm Alibaba Group. Analysts now think Alibaba is worth roughly $70 billion (the company is still private but rumored to be going public later this year). Yahoo owns one-fifth of Alibaba, or around $14 billion, equating to $13 a share for Yahoo's total value.
But here's the problem with the $70 billion figure being cited by Goldman Sachs and others. That price equates to roughly eight times 2013 sales, on an enterprise value basis.
To put that in perspective,
Google
(
GOOG
), which itself has made a stunning upward move, is worth less than five times projected 2013 sales (on an enterprise value basis). Yahoo's stake in Alibaba is likely worth closer to $10 a share, if that analogy holds.
Fixing Yahoo's core
Putting the stake in Alibaba aside, Mayer understands the need to fix Yahoo's broken core business.
Youssef Squali, who covers the company for Cantor Fitzgerald, sums up the tasks ahead for Mayer: "Step one was the stabilization phase (i.e., stop the bleeding), which is almost complete; step two is to rebuild the audience and engagement, and (the recent Tumblr) deal is a big component of that; and finally, step three will be increased monetization and spur growth."
Indeed, it looks as if bold acquisitions such the just-announced $1.1 billion purchase of Tumblr, a multimedia-focused social-networking site, is part of the strategy to grow Yahoo's audience and figure out how to better profit from it. Trouble is, real headwinds remain.
For example, Yahoo has seen a decline in page views (on a year-over-year basis) for 13 straight months. In effect, other popular sites such as
Facebook
(
FB
) continue to bleed traffic from Yahoo.
A well-trod (if unprofitable) path
Mayer has not been able to stop the hemorrhaging, though the acquisition of Tumblr could help. The plan is to get Tumblr loyalists to become better acquainted with Yahoo's other sites, though the broad platform style approach hasn't worked for Yahoo in the past.
People surf the sites they like, regardless of whether they are all run by the same parent company. That's also a painful lesson learned by
IAC/InterActive
(
IACI
) and others.
The Tumblr purchase highlights another problem: Its users have become accustomed to using the site for little or no money, and Tumblr had just $13 million in revenue in 2012. That's the "monetization" challenge that analyst Squali speaks of. Mayer concedes that it's not yet apparent how that $1.1 billion purchase price of Tumblr will generate a suitable return.
Make no mistake, the Tumblr deal reflects well upon Yahoo's bid for industry relevance. Merrill Lynch's Justin Post noted, "This is the type of deal that was difficult for Yahoo to complete prior to (Mayer's) tenure, as startups were generally not interested in Yahoo."
If Mayer can restore a sense of vibrancy to Yahoo's rank-and-file through deals like this, then she at least will have succeeded in stemming a long-standing flight of talent away from the company.
Risks to consider: As an upside risk, the culture at Yahoo appears to be on the mend, and newly motivated employees could help to more meaningfully build growth into this flagging business model. 
Action to take --> What Wall Street really cares about is sales and profits, and on that score, much more needs to be done. Analysts expect revenue to grow just 1.4% this year (to more than $4.5 billion) and another 2.8% in 2014 (to nearly $4.7 billion). In contrast, both Google and Facebook are on track for sales growth in excess of 30% this year, and 15% to 25% next year.
Simply put, Google and Facebook are continuing to build their audiences and finding more ways to monetize their user bases. Sooner rather than later, Yahoo's Mayer will be held to that same standard, and if she fails, the share price gains could vanish.
David Sterman does not personally hold positions in any securities mentioned in this article. 
StreetAuthority owns shares of YHOO in one or more of its "real money" portfolios. 
More from StreetAuthority
DATA PROVIDERS
Copyright © 2014 Microsoft. All rights reserved.
Fundamental company data and historical chart data provided by Morningstar Inc. Real-time index quotes and delayed quotes supplied by Morningstar Inc. Quotes delayed by up to 15 minutes, except where indicated otherwise. Fund summary, fund performance and dividend data provided by Morningstar Inc. Analyst recommendations provided by Zacks Investment Research. StockScouter data provided by Verus Analytics. IPO data provided by Hoover's Inc. Index membership data provided by Morningstar Inc.
ABOUT TECHBIZ
Start investing in technology companies with help from financial writers and experts who know the industry best. Learn what to look for in a technology company to make the right investment decisions.