How China Mobile could get the iPhone 5
The Chinese company is the one major carrier in the world without access to Apple's smartphone. But that could be about to change.

By Chris Ciaccia
China Mobile (CHL) is the one major carrier in the world without Apple's (AAPL) iPhone. Qualcomm (QCOM) may be about to change that.
Qualcomm this week announced a new Long Term Evolution (LTE) chipset, the RF360 Front End Solution, which for the first time offers a truly global 4G LTE design for mobile devices. It can run on all seven modes, including LTE-FDD, LTE-TDD, WCDMA, EV-DO, CDMA 1x, TD-SCDMA and GSM/EDGE.
That's important, because China Mobile's 3G network is TD-SCDMA-based, though it is working on a 4G network with its own homegrown technology. Part of the reason Apple has not brought the iPhone to the world's largest carrier is that the technologies did not match up.
But the new Qualcomm chip may change that.
Alex Katouzian, Qualcomm's senior vice president of product management, hinted at this in a press release related to the new chipset. "Our new RF devices are tightly integrated and will allow us the flexibility and scalability to supply OEMs of all types, from those requiring only a region-specific LTE solution, to those needing LTE global roaming support." 
Apple uses Qualcomm components for the iPhone 5.
Welcome news for shareholders 
Despite not officially having a contract with Apple, China Mobile is thought to have as many as 15 million iPhones on its network. An official deal could mean a significantly higher number of iPhones on the telecom giant's network.
China Mobile is currently the only major provider in China that does not have direct access to the iPhone 5. Both China Telecom (CHA) and China Unicom (CHU) signed deals with Apple to bring the iPhone 5 to their networks last year.
A deal with China Mobile would be welcome news for Apple shareholders, who have had a tough go of it in recent months. Over the past three months, Apple shares have fallen 20.6%, compared to a 7% gain in the Nasdaq ($COMPX).
In an analyst note last month Evercore Partners analyst Rob Cihra said he believes China Mobile will eventually need to come to the table with Apple, as it's losing market share for the most important clients, ones who use data plans, or 3G customers. 
"We think China Mobile could be starting to 'need' the iPhone more, since it has seen its 3G market share erode by -7% to 37% since 2011 vs. China Telecom+Unicom having gained +7% to 63%," Cihra wrote in his note.
Last month, Apple CEO Tim Cook and China Mobile's Chairman Xi Guohua met to discuss "matters of cooperation." This was taken as big news, given that China Mobile has more than 700 million users, and more than 10% of those users have 3G access, or data plans.
Apple has long said that China is incredibly important to its future, and brought the iPhone 5 to the country in mid-December. The latest iPhone was very well received, with Apple announcing that it sold 2 million iPhone 5's in its first weekend in the country.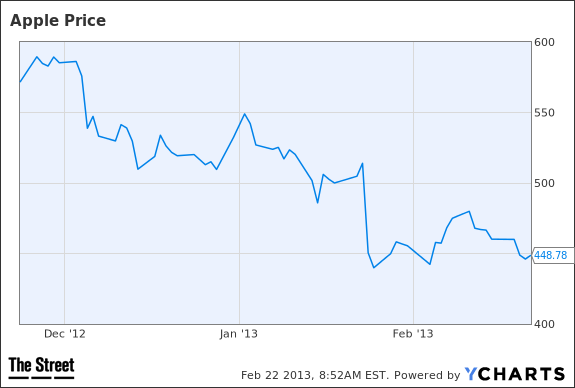 In its most recent quarter, Apple noted that revenue from Greater China (which includes the Peoples Republic, Hong Kong and Taiwan) was $6.8 billion, representing 67% year-over-year growth despite only having the iPhone and the new iPad in the country for the last two weeks of the quarter.
Qualcomm's new global LTE chipset only adds further credence to the story that the iPhone may in fact be closer to its China Mobile arrival than many think. By bringing the iPhone 5 to China Mobile, it would be a huge coup for Apple -- one that will help turn the tide against Samsung, ZTE and other handset makers already firmly entrenched in China.
More from TheStreet.com
DATA PROVIDERS
Copyright © 2014 Microsoft. All rights reserved.
Fundamental company data and historical chart data provided by Morningstar Inc. Real-time index quotes and delayed quotes supplied by Morningstar Inc. Quotes delayed by up to 15 minutes, except where indicated otherwise. Fund summary, fund performance and dividend data provided by Morningstar Inc. Analyst recommendations provided by Zacks Investment Research. StockScouter data provided by Verus Analytics. IPO data provided by Hoover's Inc. Index membership data provided by Morningstar Inc.
ABOUT TECHBIZ
Start investing in technology companies with help from financial writers and experts who know the industry best. Learn what to look for in a technology company to make the right investment decisions.