Why eBay deserves a higher bid
Shares of the online auctioneer look like a value as the fast-growing company transforms itself into a cutting-edge retailer.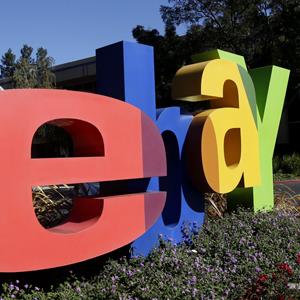 Teresa Rivas, Barron's 
EBay is known for its hidden treasures, but the online auctioneer's stock may be the best bargain.
Compass Point analyst Douglas Greiner upgraded eBay (EBAY) to "buy" from "neutral" on June 4, establishing a $63 price target, representing about 18% upside.
"EBay is remarkably well positioned to benefit from the structural shift in retail to omnichannel solutions," writes Greiner. "We see the recent broader market turbulence as an opportunity to again re-visit owning the shares."
On June 3, the company announced that it will lead a $50 million investment in Indian rival Snapdeal.com. Along with an equity stake, eBay will also get access to the New Delhi-based firm's 20 million users and distribution network.
Excitement around PayPal's prospects
Greiner's case is that the company's expanding user base and the success of its PayPal online payment processor will combine to boost earnings power and cash flow, and ultimately to reward shareholders.
"There is excitement around PayPal's long-term prospects versus Visa (V), MasterCard (MA) and American Express (AXP)," he notes. "This group of elite payments companies is at the forefront of the industry in terms of brand and scale."
PayPal has seen its transaction volume double in the last three years, and eBay expects it can repeat that feat by 2015. Moreover, nearly half of PayPal's transactions come from overseas and 10% come from mobile devices, two markets that are growing very rapidly.
Wedbush Securities analyst Gil Luria, who thinks the stock can rise to $64, wrote in a recent note that mobile commerce data from comScore suggests eBay is the "clear leader in the transition to mobile. . . . We believe mobile devices play into eBay's strengths as consumers become more focused on a smaller number of well integrated shopping apps."
Mobile is increasingly taking hold abroad as well, another positive for eBay. Overall, 52% of eBay's sales came from outside the U.S. last year, and its presence in 40 countries gives it a first-mover advantage in many quickly developing markets.
EBay already has more than 123 million active users, a base that is growing by about one million new users per month.
Expansion in new areas
The company is shifting its focus away from its auction business, expanding into new areas such as eBay Now, a same-day delivery service that works with large domestic brick-and-mortar companies.
"We believe eBay's desire to partner, not compete, with other merchants makes it an intriguing player in the evolving world of commerce," wrote Morningstar's R.J. Hottovy last month.
At less than 16.5 times forward earnings, eBay doesn't look overpriced, especially considering high multiples at companies such as Amazon.com (AMZN), which trades for a whopping 82 times 2014 estimates.
Its long-term earnings growth rate of 16% is ahead of the industry average, and it has a healthy 13.5% return on equity.
Compass Point's Greiner notes that the company's strong fundamentals leave plenty of room for valuation to expand.
"The top end of management's 2015 adjusted EPS guidance equals approximately $4.00. A 20 times P/E multiple justifies an $80 share price based on earnings power," the analyst notes. "EBay ended 2012 with approximately $6 per share in net cash. EBay's guidance assumes at least $11 billion in cumulative 2013-2015 free cash flow (equal to $8 per share). Adding it up -- earnings power plus today's net cash  plus 2013 to 2015 cumulative free cash flow -- we calculate a bull case value of $94."
It might be too optimistic to hope that eBay will trade that high in the near future, but we think eBay still has room to run. 
More from Barron's:
ABOUT TECHBIZ
Start investing in technology companies with help from financial writers and experts who know the industry best. Learn what to look for in a technology company to make the right investment decisions.