Yahoo upgrades email to woo mobile users
The revamped service is designed to be faster and easier to navigate with smartphones and tablets.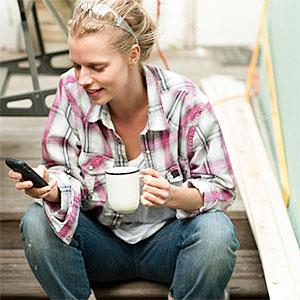 By Douglas MacMillan and Brian Womack for 
Bloomberg
Yahoo (YHOO) upgraded its e-mail service to woo mobile users, the first major product unveiling since CEO Marissa Mayer took over with a mandate to improve tools and services to lure back customers.
The revamped e-mail service is designed to be faster and easier to navigate on the Internet, smartphones and tablets, the Sunnyvale, Calif., company said Dec. 11 in a Web posting.
Mayer, a former Google (GOOG) executive, is seeking to reverse three straight annual sales declines by updating widely used products, including mail, the Yahoo Messenger chat service and Yahoo's home page. The efforts will likely stoke competition with her former employer, which has added millions of users to Gmail as Yahoo Mail has stagnated.
"I don't think this in itself will be what saves Yahoo," Shar VanBoskirk, an analyst at Forrester Research, said in an interview. "This looks like a nice feature set. It certainly looks like it will be a cleaner experience for e-mail users."
The shares have gained 21% this year.
Comeback strategy
Versions of Yahoo's new email service will be available for devices running software such as Microsoft's (MSFT) Windows 8, as well as Apple's (AAPL) iPhone and iPad and machines powered by Google's Android operating system. (Microsoft is the publisher of MSN Money.)
"Because mobile is everything these days, Yahoo! Mail now has a consistent look and feel across devices," Mayer said on the blog.
Yahoo products have failed to keep up with changes in online habits, the chief executive said on a call with analysts in October.
Internet communication is "primed to be re-imagined," Mayer said on the call. "There is great opportunity to modernize Yahoo Mail and Messenger, especially given the continual increase in the amount of communication we're all receiving."
Mayer has said she plans to invest in hiring engineers with expertise in mobile applications, boosting the company's technology for buying and serving ads, and building services that are more personalized for individual users.

The chief executive kicked off her Yahoo comeback strategy by hiring several senior deputies, including Henrique de Castro, previously Google's vice president of global partner business solutions, as operating chief. Mayer promoted Adam Cahan, the founder of a social-TV startup acquired by the Web portal last year, to lead mobile services at the company.
Yahoo's U.S. email user base slipped to 77.7 million people in November, down from 92 million a year earlier, according to market researcher ComScore.
More from Bloomberg:
·         What $1 billion was worth in tech in 2012
·         Buying Groupon hard for anyone as growth slows
·        Google: Android winning mobile war with Apple
DATA PROVIDERS
Copyright © 2014 Microsoft. All rights reserved.
Fundamental company data and historical chart data provided by Morningstar Inc. Real-time index quotes and delayed quotes supplied by Morningstar Inc. Quotes delayed by up to 15 minutes, except where indicated otherwise. Fund summary, fund performance and dividend data provided by Morningstar Inc. Analyst recommendations provided by Zacks Investment Research. StockScouter data provided by Verus Analytics. IPO data provided by Hoover's Inc. Index membership data provided by Morningstar Inc.
ABOUT TECHBIZ
Start investing in technology companies with help from financial writers and experts who know the industry best. Learn what to look for in a technology company to make the right investment decisions.