Nokia needs the Lumina 920 to shine
The Finnish handset maker is desperate for a winner that can reverse its perilous slide toward irrelevance.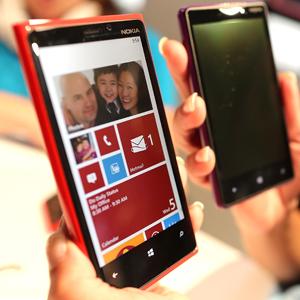 By Richard Saintvilus, TheStreet
It's hard to fault investors for having abandoned phone giant Nokia (NOK). What was once a prominent company in a fast-growing market sustained a series of self-inflicted wounds,  essentially ceding the smartphone market to Apple (AAPL) and Samsung.
But with renewed excitement stemming from Nokia's new Lumia 920, running on Microsoft's (MSFT) Windows 8 mobile operating system, investors want to know whether Nokia deserves a second look. (Microsoft publishes MSN Money.)
I'd like to think that Nokia can revive its fortunes with its new phone, but it's hard to discuss the prospects of the Lumia 920 without first considering its predecessor, the Lumia 900 -- particularly given how the company botched the launch. After getting its tail kicked by Research in Motion's (RIMM) BlackBerry, which then gave way to Apple's iPhone, Nokia needed a spark.
The Lumia 900 was supposed to be that device, Billed as Nokia's "corner-turning" product, it was the first phone launched in partnership with Microsoft. Except it was launched on Easter! Yes, the holiday that all but guaranteed that a significant portion of stores would be closed. It was remarkable how two prominent companies could have gotten something this important so incredibly wrong.
What made Nokia's gaffe so eye-opening was that the company was already playing catch-up in the smartphone market. Apple was executing flawlessly. Nokia, meanwhile, has lost close to 80% of its value during the course of the past five years, after having once enjoyed almost 50% of the global mobile phone revenue.
Today, as Nokia is fighting for its life, it is still burning through cash like nobody's business. What's more, its issues have been compounded by the fact that neither Apple nor Samsung have made enough mistakes to present it with an opening. Fumbling the ball with the Lumia 900 does not inspire confidence, but does Nokia deserve a second chance with Wall Street?
Reviews positive overall
There is plenty to like with the Lumia 920. For example, it sports a screen sensitive enough that it can be used while wearing a glove -- I think that's pretty impressive, even if you don't live where it's cold.
Also noteworthy is the phone's wireless charging support. The phone is by far the best on the Windows platform. It's powerful and feature-rich. Still, I wonder about what looks like a considerable amount of excess. For instance, it's unnecessarily heavy -- weighing 6.5 ounces, or twice as heavy as the iPhone 5. Also the Lumia 920 is taller and wider than the 900.
While this helps slightly from the standpoint of an increased screen size, one loses the convenience of storage. For pockets, I would have to wear much looser pants. On the other hand, my wife may not have a problem if she elects to carry it in her purse -- although she'll develop some shoulder strength, albeit an unintended consequence.
Overall, reviews have been positive. But they come with many questions. What does Nokia stand to benefit by having AT&T (T) be the exclusive carrier? Likewise, that Microsoft has exclusivity with the operating systems could be both a plus and a minus. If Windows 8 turns out to be an overwhelming success, it could signal more entrants to that platform -- essentially adding pressure to any advantage Nokia might have developed. But if consumers don't embrace Windows, Nokia has nowhere to run.
Another concern is the cost of the 920 -- currently retailing for close to $800. I wonder if this is the market Nokia should be in if it wants to truly generate volume to ignite a turnaround. 
After all, Samsung took an entirely different approach in attacking Apple's dominance, which is to win on being the least expensive option while offering similar value. So far it has worked to perfection. 
Believing in Nokia requires having faith that the Lumia 920, and whichever products that follow, can be significant enough to win converts among consumers. Likewise, making a bet on the stock requires investors to believe that eventually Apple or Samsung will slip up.
I tend to think there are better odds elsewhere. But that is not to say that Nokia can't enter the discussion and stay relevant. So far the Lumia 920 looks promising. But let's hope the company does not botch this one.
At the time of publication, the author owned Apple shares.
More from TheStreet.com
ABOUT TECHBIZ
Start investing in technology companies with help from financial writers and experts who know the industry best. Learn what to look for in a technology company to make the right investment decisions.