Facebook search: Why the mystery?
CEO Mark Zuckerberg says the company is looking to move into search, but this is the first time the company has talked about it publicly.
By Chris Ciaccia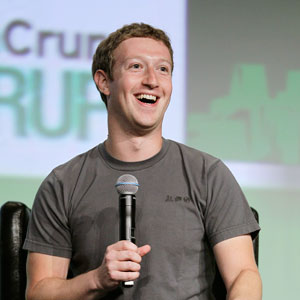 Facebook (FB) CEO Mark Zuckerberg touched on a number of topics Tuesday at a TechCrunch conference, but the topic that's getting the most attention is the company's moving into search. Why wasn't search made a bigger deal in the company's S-1 filing?
A search for the word "search" in the company's S-1 filing turns up limited hits. Nowhere in the filing does it mention search as a business, yet Zuckerberg made that a focus during his discussion with moderator Mike Arrington.
Arrington asked about Google (GOOG) and its social network, Google+. Zuckerberg shied away from that but did talk about search.

Post continues below.
"Search is interesting. We do on order of a a billion inquiries a day, and we're not trying," Zuckerberg said. "I think that there's a big opportunity for us (in search). We just have to find it."
If there is such a big opportunity in search, why was this not at the forefront of discussion? Why not talk about this opportunity and get investors excited about it before the IPO, which went anything but swimmingly? This seems like a bit of a marketing ploy to me, but it's gotten the attention of Wall Street analysts.
"The biggest takeaway from (the event) was Zuckerberg's confirmation that Facebook would eventually enter the search business," Jefferies analyst Brian Pitz wrote in a research note. He rated shares buy with a $30 price target. Zuckerberg said that search was a "big opportunity," and said could help people "locate good sushi restaurants, or locate people who have worked for a specific company."
Pitz was careful not to get too excited over the prospect of search, but he noted there is upside for Facebook's revenue, as it's not included in estimates.
"Facebook already has a team in place working on search, which is not surprising given the company sees so many daily queries. But monetization will take time and we think the relatively narrow scope of Facebook's search limits overlap with GOOG, for now," Pitz said.
In the prospectus, it specifically mentions that Facebook competes "with Google's social networking offerings, including Google+, which it has integrated with certain of its products, including search and Android. In addition, we compete with other, largely regional, social networks that have strong positions in particular countries." While it does go on to say that Facebook will eventually move into new products, nowhere does it mention search, which is the core of Google's business. Given that Facebook is doing more than 1 billion inquiries a day, that seems like a fairly large business that investors would want to know about.
JPMorgan analyst Doug Anmuth noted that this was more of a "headline risk for Google, than a real, near-term fundamental concern, but the two companies could ultimately overlap more in search down the line." He rated Facebook shares overweight with a $30 price target.
While shares are reacting positively to the news Wednesday, color me skeptical on this issue for now. If it was such a big deal to the company, Zuckerberg and staff would've mentioned it by now.
Interested in more on Facebook? See TheStreet Ratings' report card for this stock.
More from TheStreet.com
ABOUT TECHBIZ
Start investing in technology companies with help from financial writers and experts who know the industry best. Learn what to look for in a technology company to make the right investment decisions.